---
Album Info
Album Veröffentlichung:
2022
HRA-Veröffentlichung:
09.08.2022
Das Album enthält Albumcover Booklet (PDF)
Ülo Krigul (b. 1978): Vesi ise:

1

Krigul: Vesi ise

14:02

And the Sea Arose:

2

Krigul: And the Sea Arose

13:42

Aga vaata aina üles:

3

Krigul: Aga vaata aina üles: No. 1, Hingamisi

03:54

4

Krigul: Aga vaata aina üles: No. 2, Öö on pime

04:37

5

Krigul: Aga vaata aina üles: No. 3, Puud aina kasvavad

02:55

6

Krigul: Aga vaata aina üles: No. 4, Ainuski pilv ei tule tagasi

02:55

7

Krigul: Aga vaata aina üles: No. 5, Lahkuda onnidest

01:49

8

Krigul: Aga vaata aina üles: No. 6, Kui vanasti räägiti tuulest

07:24

Liquid turns:

9

Krigul: Liquid turns

13:03

Total Runtime

01:04:21
Info zu Ülo Krigul: Liquid Turns
Ülo Krigul studied in Tallinn and Vienna, and has written music in a wide variety of genres. Three works on the present disc – And the Sea Arose, Aga vaata aina üles ('But Look Always Up') and liquid turns – were completed in 2019–20 when Krigul was composer-in-residence with the Estonian Philharmonic Chamber Choir. Linked by a common concept and the recycling of musical material, the three form a triptych-like set, here preceded by Vesi ise ('Water Is') from 2015. The latter is the first piece that Krigul wrote for the choir and its conductor Kaspars Putniņš and includes ideas that has been carried over into their later collaboration.
If Vesi ise here functions as a prelude, liquid turns is to an extent a summation of the programme: the composer has sampled text and music from the two preceding works and random phrases interact and emerge as a new whole. Krigul has chosen his texts from the New Testament, the writings of the philosopher Uku Masing and the sound poetry of Ilmar Laaban.
Estonian Philharmonic Chamber Choir
Tallinn Chamber Orchestra
Kaspars Putniņš, conductor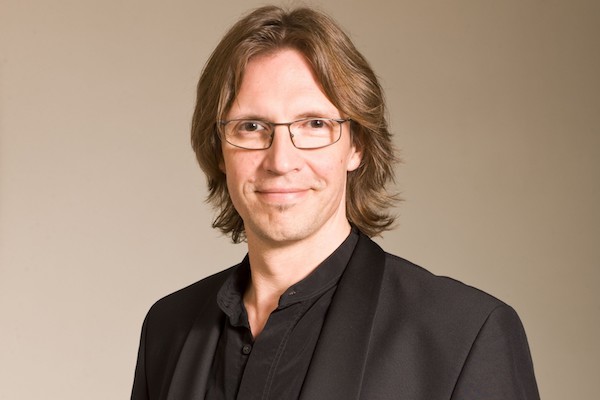 Kaspars Putniņš
ist Dirigent des Latvian Radio Choir seit 1994. Mit der Saison 2014/15 wurde er zum Chefdirigent und Künstlerischen Leiter des Estnischen Philharmonischen Kammerchors ernannt.
Der lettische Dirigent ist ein gefragter Gastdirigent bei führenden Chören wie dem RIAS Kammerchor, NDR Chor Hamburg, SWR Vokalensemble Stuttgart, Schwedischer Rundfunkchor, Danish National Vocal Ensemble and Choir, Netherlands Radio Choir u.a. Zukünftige Einladungen folgen beim NDR Chor Hamburg, RIAS Kammerchor, Projekte mit dem Estnischen Philharmonischen Kammerchor beim Festival de Wallonie, Liège September Festival u.a.
Kaspars Putniņš umfangreiches Repertoire reicht von der Polyphonie der Renaissance bis zu zeitgenössischer Musik, wobei ihm die Förderung herausragender neuer Chormusik ein besonderes Anliegen ist. Mit zahlreichen baltischen und nordischen Komponisten wie Maija Einfelde, Mārtiņš Viļums, Gundega Šmite, Toivo Tulev, Lasse Thoresen, Gavin Bryars und Andris Dzenitis hat er eine enge Zusammenarbeit aufgebaut und Standards mit seinen Interpretationen gesetzt. Er initiierte verschiedene szenische Projekte in Zusammenarbeit mit Schauspielern und bildenden Künstlern.
Seine Diskographie beinhaltet Einspielungen von Peteris Vasks' Mate Saule für BIS Records, Jonathan Harvey's The Angels für Hyperion, Werke von Bryars, Vasks, Esenvalds, Maskats und Silvestrov jeweils mit dem Latvian Radio Choir sowie die CD New Latvian Harvest mit zeitgenössischen lettischen Kompositionen zusammen mit den Latvian Radio Chamber Singers. Darüber hinaus hat Kaspars Putniņš Rachmaninows The Divine Liturgy of St. John Chrysostom mit dem Flemish Radio Choir für Glossa und Rachmaninows Vespers mit dem Netherlands Chamber Choir für BIS aufgenommen.
In jüngster Zeit hat der lettische Dirigent Meisterkurse für junge Sänger und Chorleiter geleitet u.a. an der Bachakademie Stuttgart, Kurt Thomas Kurs, Vocaal Talent und Meesters Gezellen. Von 2013-2017 war er Künstlerischer Leiter des Tenso Europe Chamber Choir.
Kaspars Putniņš ist Preisträger des lettischen Grand Prix für Musik und des Preises für herausragende kulturelle und wissenschaftliche Leistungen in Lettland.


Booklet für Ülo Krigul: Liquid Turns