---
Album Info
Album Veröffentlichung:
2016
HRA-Veröffentlichung:
23.04.2021
Das Album enthält Albumcover Booklet (PDF)
Federico Mompou (1893 - 1987): Suite Compostelana:

1

Mompou: Suite Compostelana: I. Preludio

02:32

2

Mompou: Suite Compostelana: II. Coral

02:18

3

Mompou: Suite Compostelana: III. Cuna

02:22

4

Mompou: Suite Compostelana: IV. Recitativo

02:10

5

Mompou: Suite Compostelana: V. Canción

02:24

6

Mompou: Suite Compostelana: VI. Muñeira

02:40

Miguel Llobet Solés (1878 - 1938): Cançons Populars:

7

Solés: Cançons Populars: Plany

01:40

8

Solés: Cançons Populars: El Noi de la Mare

01:40

9

Solés: Cançons Populars: La Pastoreta

01:44

10

Solés: Cançons Populars: La Filla del Marxant

02:34

11

Solés: Cançons Populars: L'Hereu Riera

00:58

12

Solés: Cançons Populars: Cançó del Lladre

02:01

13

Solés: Cançons Populars: La Filadora

00:47

14

Solés: Cançons Populars: El Mestre

02:45

15

Solés: Cançons Populars: El Testament d'Amèlia

01:32

16

Solés: Cançons Populars: Lo Fill del Rei

01:27

17

Solés: Cançons Populars: Lo Rossinyol

00:57

18

Solés: Cançons Populars: La Presó de Lleida

01:30

19

Solés: Cançons Populars: La Nit de Nadal

01:56

Federico Mompou: Cançó i Dansa No. 10 (Version for Guitar):

20

Mompou: Cançó i Dansa No. 10 (Version for Guitar): Cançó

01:26

21

Mompou: Cançó i Dansa No. 10 (Version for Guitar): Dansa

01:39

Cançó i Dansa No. 13:

22

Mompou: Cançó i Dansa No. 13: Cançó

02:12

23

Mompou: Cançó i Dansa No. 13: Dansa

02:06

Juan Manén (1883 - 1971): Fantasia-sonata, Op. A-22:

24

Manén: Fantasia-sonata, Op. A-22

15:13

Total Runtime

58:33
Info zu Cançons i Danses Catalanes
Katalonien gehört dank eigener Sprache und reicher literarischer Tradition zu den eigenständigsten und interessantesten Regionen Spaniens. Auch katalanische Musik und Tanz sind einzigartig und haben nur wenig mit der herkömmlichen spanischen »Folkore« zu tun. Spät in der zweiten Hälfte des 19. Jahrhunderts erlebte die katalanische Kultur eine ganz besondere Blüte und brachte Kopmonisten und Künstler wie Enrique Granados, Alicia de Larrocha und Pablo Casals hervor.
Auf diesem Album stellt Franz Halász drei weitere bedeutende Komponisten vor, die in dieser Reihe zu nennen sind: Frederic Mompou, bekannt vor allem durch seine Klavierwerke, Miquel Llobet, der international als Gitarrist unterwegs war, und schließlich Joan Manén, der eine große Karriere als Geiger machte. Er war aber auch ein begabter Komponist, der mit seiner Fantasia-Sonata, die er Andrés Segovia widmete, einen interessanten Beitrag zum Gitarrenrepertoire leistete.
Franz Halász, Gitarre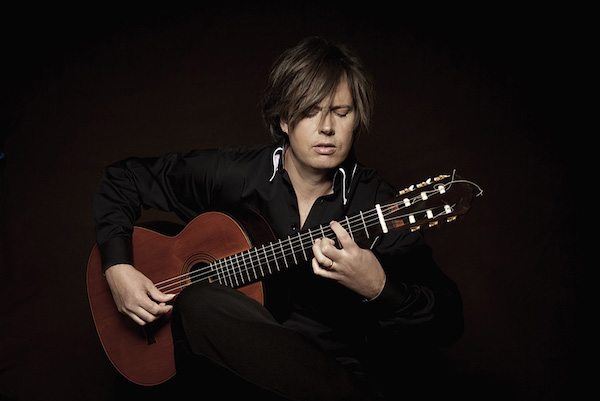 Franz Halasz
Latin-Grammy-Awardwinner Franz Halász stands in the forefront of outstanding artists in the guitar field. Judged by Soundboard Magazine in his New York debut as "simply electrifying!"and by Gramophone's critic as "the most remarkable guitarist in many years", Franz Halász began his career in 1993, winning first prizes at the "Andres Segovia Competition" in Spain and the "Seto Ohashi" Competition in Japan.
In his debut CD with spanish guitar music he was praised by the prestigious critic Colin Cooper:"For the modern spanish repertoire, Franz Halász is unsurpassed, able to deliver Turina's message as no one ever has before - no, not even the great Segovia."
A guest performer at major festivals and events all over the world, Franz Halasz is holding since 2010 the Chair of Guitar at the University of Music and Performing Arts in Munich .
Since winning first prizes at the Andres Segovia Competition in Spain and the Seto Ohashi Competion in Japan in 1993 Franz Halasz started an impressionating career.The orchestral dimension of Franz Halasz' performances and the clarity and precision of his musical vision have rejoiced audiences between Tokyo and New York. A guest performer at major festivals and events such as the Rose Augustine Series-New York(USA), Toru Takemitsu Memorial Concert-Tokyo(Japan), Kissinger Sommer, Brandenburgische Sommerkonzerte, Mecklenburg Vorpommern (Germany), Bath and Wirral(England), Santo Tirso(Portugal), Puerto Rico and Dell' Arte Series - Rio de Janeiro (Brazil), he also shared the stage with well known artists like Boris Pergamenschikov, Siegfried Jerusalem, Patrick Gallois,András Adorjan, Robert Aitken, Ingolf Turban,Wen-Sinn Yang,Hariol Schlichtig ,Sebastian Hess and Alban Gerhard, among others.
Franz Halasz stayed for many years as a Professor at the Hochschule für Musik Nürnberg-Augsburg and led there one of the most succesfully guitar classes in Europe. He also offers master classes at Institutes around the world including the Manhattan School of Music - New York, New England Conservatory- Boston, Royal Academy Stockholm, the Academy of Music-Oslo, Mozarteum Salzburg , Sao Paulo University , Esmuc in Barcelona and Musikene San Sebastian.
Since October 2010 he is holding the chair for guitar at the University of Music and Performing Arts in Munich, which was established for the first time in the long history of this renowned institution.
His many CDs for BIS - always rated as reference recordings - include among others the complete guitar music by Joaquin Turina and Toru Takemitsu.
For Naxos Records, Franz Halasz was first presenting the complete works for guitar by Hans Werner Henze and also the original works by Ferdinando Carulli for guitar and piano.
In 2014 there were released four Discs, including the Integral of the spanish composer Regino Sainz de la Maza (Naxos), a CD with Radames Gnattali( BIS) ,Sofia Gubaidulinas Complete for Guitar (BIS) and finally a tribute to the spanish Fandango with works from Corelli,Boccherini ,Soler,Granados,De Falla ,Torroba and Rodrigo.
The actual BIS-Album "Cancons i Danses Catalanes " includes works by Mompou.Manen and Llobet.
2007 he was awarded with the prestigious "Bavarian Culture Price" by the State of Bavaria for his work as a performer and teacher.
2015 Franz Halasz received for " Alma Brasileira" the Latin GRAMMY -Award of the Grammyfoundation as "Best Classical Album" .


Booklet für Cançons i Danses Catalanes