---
Album Info
Album Veröffentlichung:
2020
HRA-Veröffentlichung:
02.04.2020
Das Album enthält Albumcover Booklet (PDF)
Johann Sebastian Bach (1685 - 1750): Sonata No. 1 in B Minor, BWV 1014:

1

Sonata No. 1 in B Minor, BWV 1014: I. Adagio

03:19

2

Sonata No. 1 in B Minor, BWV 1014: II. Allegro

02:51

3

Sonata No. 1 in B Minor, BWV 1014: III. Andante

03:03

4

Sonata No. 1 in B Minor, BWV 1014: IV. (Allegro)

03:28

Sonata No. 2 in A Major, BWV 1015:

5

Sonata No. 2 in A Major, BWV 1015: I. Dolce

02:58

6

Sonata No. 2 in A Major, BWV 1015: II. Allegro

03:12

7

Sonata No. 2 in A Major, BWV 1015: III. (Allegro)

03:14

8

Sonata No. 2 in A Major, BWV 1015: IV. Andante un poco

04:14

Sonata No. 3 in E Major, BWV 1016:

9

Sonata No. 3 in E Major, BWV 1016: I. Adagio

03:53

10

Sonata No. 3 in E Major, BWV 1016: II. Allegro

02:50

11

Sonata No. 3 in E Major, BWV 1016: III. Adagio ma non tanto

04:36

12

Sonata No. 3 in E Major, BWV 1016: IV. (Allegro)

03:41

Sonata No. 4 in C Minor, BWV 1017:

13

Sonata No. 4 in C Minor, BWV 1017: I. Largo

04:38

14

Sonata No. 4 in C Minor, BWV 1017: II. Allegro

04:35

15

Sonata No. 4 in C Minor, BWV 1017: III. (Allegro)

03:22

16

Sonata No. 4 in C Minor, BWV 1017: IV. (Largo)

04:48

Sonata No. 5 in F Minor, BWV 1018:

17

Sonata No. 5 in F Minor, BWV 1018: I. Largo

06:04

18

Sonata No. 5 in F Minor, BWV 1018: II. Allegro

04:36

19

Sonata No. 5 in F Minor, BWV 1018: III. Adagio

03:36

20

Sonata No. 5 in F Minor, BWV 1018: IV. Vivace

02:30

Sonata No. 6 in G Major, BWV 1019:

21

Sonata No. 6 in G Major, BWV 1019: I. Allegro

03:39

22

Sonata No. 6 in G Major, BWV 1019: II. Largo

01:45

23

Sonata No. 6 in G Major, BWV 1019: III. (Allegro)

04:37

24

Sonata No. 6 in G Major, BWV 1019: IV. Adagio

02:50

25

Sonata No. 6 in G Major, BWV 1019: V. (Allegro).

03:18

Total Runtime

01:31:37
Info zu J.S. Bach: Complete sonatas for obbligato harpsichord and violin
First-prize winner in the International Harpsichord Competition in Montreal in June 1999, Violaine Cochard worked with the finest teachers to develop a personal and inventive style. In 1991 she was awarded a first prize at the Conservatoire (CNR) in Angers, where she studied with Françoise Marmin, and entered the classes of Christophe Rousset and Kenneth Gilbert at the Paris Conservatoire (CNSM). Three years later she graduated with three first prizes – for continuo and harpsichord – awarded unanimously by the jury. She continued her training with Pierre Hantaï and Christophe Rousset (advanced course at the CNSM in Paris).
Violaine Cochard was a founding member of Amarillis, a baroque ensemble with a variable line-up which currently ranks amongst the most original groups in Europe. The Ensemble has been awarded three international first prizes.
Stephanie-Marie Degand, violin
Violaine Cochard, harpsichord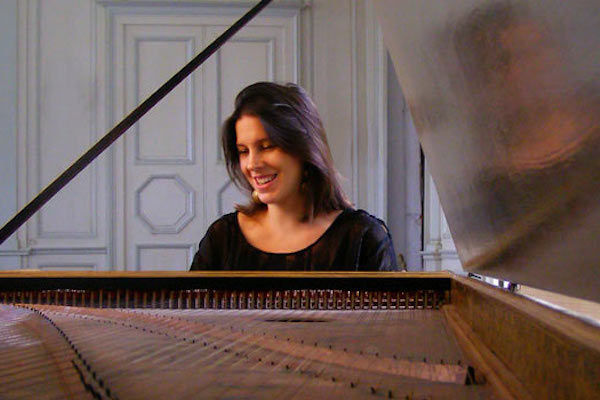 Violaine Cochard
First-prize winner in the International Harpsichord Competition in Montreal in June 1999, Violaine Cochard worked with the finest teachers to develop a personal and inventive style. In 1991 she was awarded a first prize at the Conservatoire (CNR) in Angers, where she studied with Françoise Marmin, and entered the classes of Christophe Rousset and Kenneth Gilbert at the Paris Conservatoire (CNSM). Three years later she graduated with three first prizes – for continuo and harpsichord – awarded unanimously by the jury. She continued her training with Pierre Hantaï and Christophe Rousset (advanced course at the CNSM in Paris).
An inspired continuo player, a fine soloist, a teacher for three years (1999-2002) at the Conservatoire (CNR) in Montpellier, Violaine Cochard devotes much of her time to chamber music, working regularly with various ensembles, including the Ricercar Consort (Philippe Pierlot), Il Seminario Musicale (Gérard Lesne), Les Paladins (Jérôme Corréas) and, of course, Amarillis, playing continuo or solo. She also plays continuo for operatic productions by Les Talens Lyriques (Christophe Rousset) and Le Concert d'Astrée (Emmanuelle Haïm). Violaine Cochard gives recitals and chamber concerts at festivals in France, elsewhere in Europe, and in Latin America (Cité de la Musique in Paris, La Chaise-Dieu, Nantes, Ambronay, Beaune, Montreux, Utrecht, Pisa…). She is also heard on France Musique and has been invited to take part in broadcasts for the BBC.
She records with Amarillis for the Ambroisie label. Other recordings include Les quatre saisons by Boismortier with Les Festes Vénitiennes (K617), the Symphonies of Pugnani with Academia Montis Regalis (Opus 111), Persée by Lully with Les Talens Lyriques (Naïve), Apollo e Dafne by Handel with Les Paladins (Arion), and Dido and Aeneas by Purcell with Le Concert d'Astrée (Naïve)…
Violaine Cochard recorded two solo CDs of François Couperin' music in 2005 and in 2008 for the label Ambroisie. Her next solo recording, on Johann Sebastian Bach' music is available since novembre 2011 for the label Agogique.


Booklet für J.S. Bach: Complete sonatas for obbligato harpsichord and violin