---
Album Info
Album Veröffentlichung:
2016
HRA-Veröffentlichung:
10.08.2018
Das Album enthält Albumcover
1

Mono, Pt. 2

03:41

2

Tornado Alley

03:27

3

Ogallala

02:52

4

Ballad of Olof Johnson

04:23

5

Talking Girlfriend Blues

03:22

6

Settlin' or Sleepin' Around

03:07

7

Lost Cowboy

02:28

8

For Jonny

03:26

9

Don't Go

03:50

10

Dream

03:46

Total Runtime

34:22
Info zu Rangers & Valentines
Der Americana-Geheimtipp aus Milwaukee auf New-Wave-Trip: Der Name lässt an einen Freizeitcowboy in Castrop-Rauxel denken: Trapper Schoepp. Ob der in Wirklichkeit aus Milwaukee stammende Singer/Songwriter auch laut Geburtsurkunde so heißt, ist nicht überliefert. Letztlich auch egal. Was zählt ist bekanntermaßen die Musik, und die ist immerhin fast so originell wie sein Name. Seit 2008 gehört der schmächtige Mann mit der erstaunlich kräftigen Stimme zu den Geheimtipps im Genre-Auffangbecken Americana. Zunächst mit seiner Band Trapper Schoepp & The Shades, doch seit ein paar Jahren ist er solo unterwegs – und experimentierfreudiger denn je, wie sein zweites Werk RANGERS & VALENTINES belegt. Obwohl Mister Schoepp offenkundig wenig von Stilschubläden hält, scheint es ihm eine Epoche gerade besonders angetan zu haben: jene der britischen New Wave. Jedenfalls versprühen Cover-Styling und Titel wie ›Mono Pt. II‹ und ›Tornado Alley‹ ganz den Spirit des Swinging London in den 80ern – mit flotten Zweiviertel-Beats, dünn klingendem (Synthie)Gebläse und reichlich ungezügelter Energie. Originell. Aber nicht umwerfend. Eine bessere Figur macht er da schon in erdigeren Titeln. Etwa im gemäßigten Southern-Rocker ›Ballad Of Olof Johnson‹, im köstlichen Tex-Mex-Kitsch von ›Dream‹ und beim soliden Country-Song ›Lost Cowboy‹. Um welch begnadeten Storyteller es sich bei Trapper Schoepp handelt, wird allerdings erst so richtig bei dem ruhigen Folksong ›For Jonny‹ deutlich.
Tanner Schoepp, vocals, guitar, harmonica
Spencer Cullum Jr., stell guitar
Marc Maron, lead guitar
Steve Selvidge, guitar
John Davis, guitar
Geoff Sanoff, acoustic guitar, bells, whistle
Jason Verstegen, guitar
Micah Hulscher, piano, organ
Dana Robbins, saxophone
Roland Barber, trombone
Quentin Ware, trumpet
Jonny Phillip, drums
Brendan Benson, percussion, vocals
The McCrary Sisters, vocals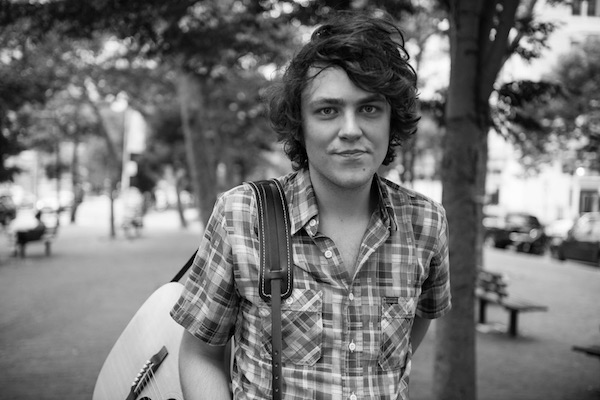 Trapper Schoepp
is a young man who's befriended a strange and diverse cast of characters during his 24 years. That small army of rogues and rebels, drifters and dreamers, soldiers and schemers populate his songs, their tragedies and comedies, their lives and deaths recalled in his finely etched musical vignettes.
The Minnesota-born, Wisconsin-based tunesmith and teller of tales (both tall and true), returns with his second effort Rangers & Valentines (Xtra Mile Recordings). The record follows his critically acclaimed 2012 debut Run Engine, Run, with his band the Shades. That LP earned notices in Rolling Stone, American Songwriter and Paste, with the folks at Huffington Post calling him a "master storyteller" and PBS hailing his "story songs that explore and explode the conventions of rock and roll."
On Rangers & Valentines, Schoepp defies the limitations of the standard-issue Americana platter, hopping genres – you'll hear lots of brass, backing singers and B-3 -- as the songs build to delirious musical highs. His narratives, meanwhile, find subjects in the narrow margins of society, the strange twists (literal and metaphorical) in the weather, and the vagaries of a troubadour's transient life – with lyrics that flash a lacerating wit and humanist streak that's at the core of his craft.
Produced by pop polymath and Raconteurs member Brendan Benson at his Readymade Studios in Nashville, the record finds Schoepp handling vocals, guitar and harmonica. He's aided by an array of estimable musicians including his brother and musical-foil-since-birth Tanner Schoepp (providing bass guitar and vocal harmonies), Steve Selvidge (The Hold Steady), John Davis (Superdrag), the McCrary Sisters -- even comedian and WTF podcaster Marc Maron chips in on background vocals and lead guitar.
Schoepp shines up the well-worn clichés of singer-songwriterdom and renders them anew. Evoking a series of vivid protagonists and settings (fittingly, each track will have its own accompanying video, solidifying the cinematic quality of this set) his work variously recalls prime Prine (John, that is), the nuances of Newman (Randy, of course), the boozy bonhomie of The Replacements, and the unflinching language of someone well-versed in the Zevonian dialect.
Schoepp mixes fact and family lore to conjure the hardscrabble history "Ballad of Olof Johnson" and chides modern-day wannabes on "Lost Cowboy." The road story "Ogalalla" answers the question: what happens to your mind when you're snowbound in Nebraska with nothing but a bottle of Nyquil and The Hobbit at the local picture show for company? Meanwhile, the arch love song satire "Talking Girlfriend Blues" deftly explains how to preserve your dignity while hitchhiking to a date – and what to do when your ride turns out to have eyes for the same girl.
Elsewhere, "Don't Go" offers a poetic post-9/11 story of love and war; while "Settlin' or Sleepin' Around" questions modern-day swipe right, hook up culture. Schoepp continues his affinity for songs set in hospitals with "Mono Pt. II" – which explores the kissing disease and the institutional runaround of health care in America (unfortunately a familiar subject for the young man). And he pays tribute to old friends and outsized characters with "For Jonny" (dedicated to his longtime drummer Jonny Philip) and the heart-rending requiem "Dream."
Having released his debut on SideOneDummy, Rangers & Valentines is being put out by London-based Xtra Mile Recordings. Hipped to Schoepp's work by fellow singer-songwriter Frank Turner, among others, Xtra Mile honcho Charlie Caplowe quickly signed him to the label.
Schoepp – who's already crisscrossed the country sharing stages with fellow travelers like The Wallflowers, The Jayhawks and The Old 97's – will be back on the road throughout 2016 in support of Ranger & Valentines, starting with a 3-week run throughout the UK and Europe supporting Jesse Malin.


Dieses Album enthält kein Booklet