---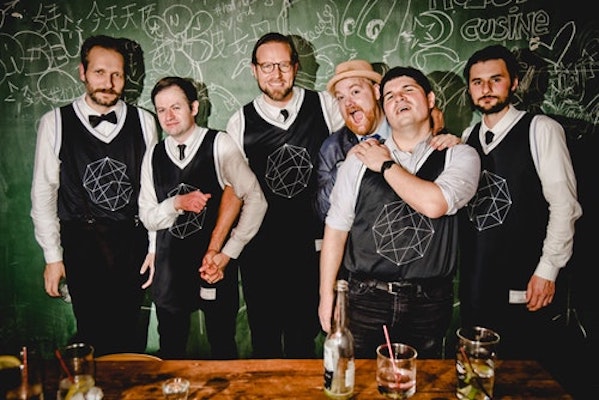 Hess Is More
Hess Is More started out in 2003 as an electronic solo project by Danish musician Mikkel Hess. These 8 musicians, with their unique instrumentation and unorthodox arrangements create a very danceable yet at times puzzling concert. Catchy melodies and chant like lyrics that can haunt you for days. Hess Is More started out as an electronic solo project for Danish musician Mikkel Hess. Through 5 albums and various tours and collaborations the project has developed into a full blown Transatlantic Live Music Ensemble, working with a more collective approach.
Their new album "Myheadisaballroom / Whonoeedsapalaceanyway" (Concierge Records / This Is Care Of) was written and arranged during the group's residency at Clocktower Gallery in downtown New York. The album is a celebration of the energy and interplay of the live ensemble – sounding in the borderland between electronic dance music, afrobeat, krautrock and jazz.
In 2015 Hess Is More has teamned up with the prestigous German label Gomma Records for the release of singles and remixes entitled "Bearsong / Primate" – featuring works from Lorna Dune, Dimitri from Paris and Pollyester.
– The ensemble has performed at a long list of international festivals and venues, including concerts in Sao Paolo, Montreal, Istanbul, Moscow, Copenhagen…. and New York!
– Hess Is More has over the years received various awards and nominations, including "Danish Music Award Jazz" and a selection into "Top 10 best music of the year" by Time Out Magazine New York.
– Hess Is More counts much sought after musicians from New York bands such as Midnight Magic, Low Mentality, Candy Shop Boys, Listening Center, Volunteeer, Global Motion & San Fermin.
– Mikkel Hess is also known for writing and producing music for film and theatre – later works include collaborations with The Royal Danish Ballet and orchestral score for the feature film "When Animals Dream" which was premiered as part of "Selection de la Critique" at Cannes Film Festival 2014.