---
Mats Eilertsen, Harmen Fraanje, Thomas Strønen
---
Biographie Mats Eilertsen, Harmen Fraanje, Thomas Strønen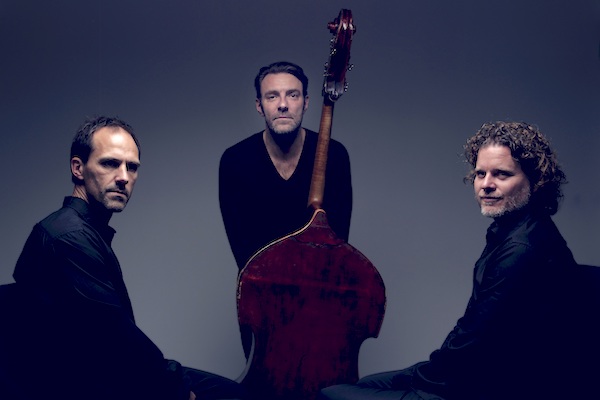 Mats Eilertsen
is educated from the Jazz Department at the Conservatory of Music in Trondheim. He works with bands like Dingobats, Håkon Kornstad Trio, Food (with English saxophonist Iain Ballamy), and Bobo Stenson/Fredrik Ljungkvist/Thomas Strønen/Mats Eilertsen quartet.
Harmen Fraanje
is a pianist, composer and educator from the Netherlands. He leads and co-leads several projects like his solo project, trio Reijseger Fraanje Sylla, a quartet with Magic Malik, Brice Soniano and Toma Gouband, a duo with Anton Goudsmit and a new quartet with Fredrik Ljungkvist, Clemens van der Feen and Tristan Renfrow. These groups mostly perform original works with a lot of space for improvisation.
Harmen is also very active as a sideman in various projects in the European jazz scene, like several groups of Mats Eilertsen, Michael Moore's Fragile Quartet, Thomas T Dahl & Court…
With these projects he frequently performs at festivals and concert venues throughout the world. Recordings of the projects he's involved in have been released by renowned record labels like ECM, Winter & Winter, Hubro Music, Challenge Jazz…
Furthermore Harmen founded the label / platform 'Astropi' with Brice Soniano and Toma Gouband.
Harmen collaborated with the likes of Ambrose Akinmusire, Mark Turner, Kenny Wheeler, Thomas Morgan, Tony Malaby, Han Bennink, Ernst Reijseger, Anton Goudsmit, Jesse van Ruller, Magic Malik, Nelson Veras, Cristina Branco, Theo Bleckmann, Ben Monder, Enrico Rava, Werner Herzog, Trio Mediaeval, Perico Sambeat, Igor Roma, Louis Moholo, Ferenc Kovács, Rudi Mahall, Trygve Seim…
Harmen is in the faculty of the Conservatory of Amsterdam / University of the Arts Amsterdam. He is frequently invited to give workshops and masterclasses at other conservatories in Europe.
Thomas Strønen
is a prolific drummer, composer, arranger, improviser, producer, and bandleader. He has participated in or self-created some 70 albums on his own and in cooperation with a wide variety of talent, including the bands Food (with Iain Ballamy, Arve Henriksen, Mats Eilertsen, and Fennesz), Humcrush (with Ståle Storløkken), Parish (with Bobo Stenson), his own Time Is a Blind Guide, and the Maria Kannegaard Trio. He has also played on and/or composed for recordings by Eivind Aarset, Nils Petter Molvaer, John Taylor, Tore Brunborg, Ingebrigt Håker Flaten, Sidsel Endresen, Bugge Wesseltoft, Tomasz Stańko, and Stian Carstensen. Strønen graduated from the Music Conservatory of Trondheim, Norway in 1999 after studying jazz and composition for six years. Since his student days he has been involved with improvised music in many different contexts. He is an interactive musician who enjoys creating different musical forms to generate unexpected results. Strønen is a melodic, almost circular drummer who plays both acoustic and electronic music. He has record deals with Norway's Rune Grammofon and ECM. His most celebrated recordings are Humcrush (2004), Parish (2006), six Food albums divided between the two labels from 2002-2015, and two Time Is a Blind Guide albums, including 2018's Lucus.