---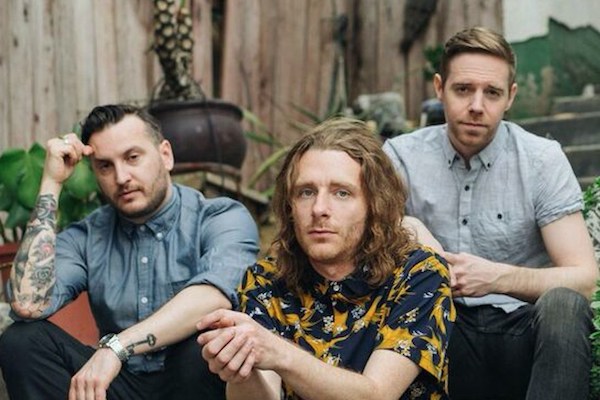 Bear Hands
debuted their new music video for their song "Reptilians," created by Alex Russek and the band. The lyric video uses classic sci-fi footage to accompany the song's spacey atmosphere.
Bear Hands recently announced their fourth studio album Fake Tunes, a deep dive into a twisted modern era, paranoid yet hopeful, celebrity obsessed and introspective, an unmistakable sign of troubled times. Written and recorded in the plastic warmth of Los Angeles, Fake Tunes marks an evolution beyond the confines of the tri-state area, whilst drawing upon newly formed collaborative relationships with producer Christopher Chu of POP ETC and outsider artist Ursula Rose. Their most auspicious release to date, Fake Tunes is available for pre-order on all formats here.
Bear Hands will support twenty one pilots on their extensive North American tour. The tour will kick off on May 12th at Vancouver's Rogers Arena with additional stops in Brooklyn, Miami, Charlottesville and Austin (full dates below). Tickets for these dates are on sale now here. Bear Hands have previously announced West Coast dates opening for Foals and tickets for these shows are on sale now here.
From the "metronomic electro-pop" (New York Times) of album opener "Blue Lips (feat. Ursula Rose)," a song about listening to someone's problems over and over until it drains you completely, to the dreamy lilt of "Clean Up California," a song about finding salvation (or not) across state lines, Fake Tunes traces the anxiety of life and love in America today. Songs like "Mr. Radioactive" and "Ignoring the Truth" inspect imperfect characters, while "Back Seat Driver (Spirit Guide)" evokes feelings of helplessness and the desire to give up control in search of inner peace.
Recently, Bear Hands premiered the music video for their single, "Blue Lips (feat. Ursula Rose)," via Alternative Press, who call it: "another highlight for the long-running outfit of [Dylan] Rau, bassist Val Loper and drummer TJ Orscher." The video was directed by Jon Chu, who reveals: "I felt like the song was centered around miscommunication, and I wanted to visually convey that feeling of speaking into a void, not sure if anybody is listening. TVs seemed like the best representation of that idea. There are always people talking on screens but who is listening?" Dylan Rau, Bear Hand's lead singer, also spoke with Alternative Press about the new video and single. Watch the music video for "Blue Lips (feat. Ursula Rose)" and read Rau's interview via Alternative Press here.
Founded in NYC, Bear Hands quickly made a name for themselves and paid their dues by playing the city's many bars and sweaty DIY venues as well as touring with acts including Passion Pit, Cage The Elephant, and GZA. The band has previously had success on radio with their singles "Giants," "Agora," "2AM," and "Boss." The band includes Rau (vocals guitar, keyboards), Val Loper (bass), and TJ Orscher (drums).