---
Benjamin Mørk & Arve Henriksen
---
Biographie Benjamin Mørk & Arve Henriksen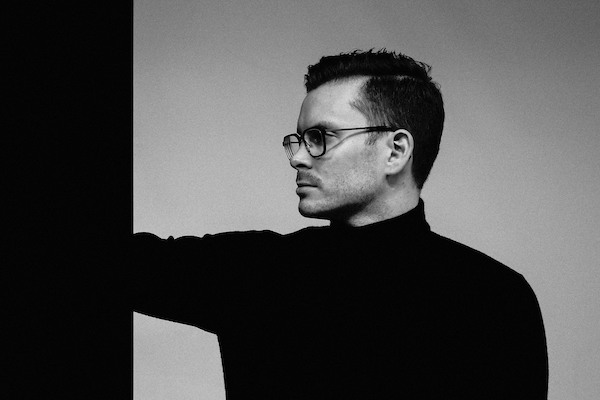 Benjamin Mørk
The invention of Benjamin Mørks' sound and playing-style is a direct consequence of him buying a beat-up old grand piano that was spray-painted blue, and that had generally seen some really heavy use.
Instead of trying to make it sound like a modern concert grand he removed all the unnecessary parts and discovered there were lots of mechanical sounds inside the instrument.
Through a system of homemade microphones we can now hear the mechanical sounds from i.e the release of the keys and the pressing/lifting of pedals.
«I think my spine would have been just as frozen if I were to listen to it during summer[…]» (Nya Upplagan, Sweden)
Benjamin Mørk is from the island Senja in the northern part of Norway. His musical influences range from Esbjørn Svenson and Ryuichi Sakamoto to Ben Frost, John Hopkins and Bicep.
At 26 he was the youngest ever artist-in-residence at Arctic Arts Festival.
He has released 2 albums with piano, double bass, guitar and drums - Karasho (2013) and Meantime Lifetime (2015).
Arve Henriksen
Born in 1968, Arve Henriksen studied at the Trondheim Conservatory from 1987-1991, and has worked as a freelance musician since 1989.
He has worked with many musicians, including Jon Balke Magnetic North Orchestra/Batagraf, Edward Vesala, Jon Christensen, Marilyn Mazur, Nils Petter Molvær, Misha Alperin, Arkady Shilkloper, Arild Andersen, Stian Carstensen, Dhafer Youssef, Sidsel Endresen, Pekka Kuusisto, Christian Wallumrød Ensemble, Nils Økland, Karl Seglem, Per Oddvar Johansen, Iain Ballamy, Thomas Strønen, Gjermund Larsen, Svante Henryson, Mats Eilertsen, David Sylvian, Jon Hassell, Hope Sanduval, Laurie Anderson, John Paul Jones, Erik Honoré, Toshimaru Nakamura, Trygve Seim Ensemble, Jan Gunnar Hoff, Tord Gustavsen, Giovanni Di Domenico, Tatsuhisa Yamamoto, Gavin Bryars, John Potter, Johanna McGregor, Imogen Heap, Guy Sigsworth, Ryuichi Sakamoto, Bill Frisell, Terje Rypdal, Maria Schneider, Kate Havnevik, Live Marie Roggen, Silje Nergaard, Odd Nordstoga, Kari Bremnes, Sondre Bratland, Jannis Anastasakis, Lars Danielsson, The Source, Vox Clamantis and many more.
He has played in many different contexts, bands and projects, ranging from working with koto player Satsuki Odamura to the rock band Motorpsycho via numerous free improvising groups with Ernst Reisiger, Sten Sandell, Peter Friis-Nilsen, Lotte Anker, Hasse Poulsen, Terje Isungset, Benoit Delbecq, Steve Arguelles, Lars Juul and Marc Ducret.
He has collaborated with the composers Peter Tornquist, Helge Sunde, Terje Bjørklund and Tõnu Kõrvits in cooperation with orchestras and chamber settings like Cikada String Quartet, Nidaros String Quartet, Zapp 4, The Norwegian Chamber Orchestra, Kristiansand and Trondheim Symphony Orchestra, London Sinfonietta, Britten Sinfonia, Deutsche Kammerphilharmonie Bremen, The Norwegian Wind Ensemble and Trondheim Soloists.
He has worked together with video and visual artists like Anastasia Isachsen, Tord Knudsen and Lillevan.
Today he is connected to and in collaboration with:
Supersilent (Helge Sten and Ståle Storløkken)
Trio Mediaeval´s Rimur (Linn Andrea Fuglseth , Berit Opheim and Anna Maria Friman)
Sinikka Langeland´s Starflowers and Magical Forest (Anders Jormin, Trygve Seim and Markku Onaskari)
Saumur (Hilmar Jensson and Skuli Sverrisson)
Warped Dreamer (Teun Verbrüggen, Jozef Dumoulin and Stian Westerhus)
Atmosphéres (Jan Bang, Eivind Aarseth and Tigran Hamasyan)
"Sommeren der ute" (Ellen Bødtker, Jan Erik Vold and Eirik Raude)
Fennesz-Henriksen (Christian Fennesz)
And various percussive settings including Audun Kleive, Helge Norbakken and Ingar Zach.
Henriksen has composed and commissioned music for festivals, films and documentary programs. He has a long discography counting over 140 records in total. Received together with Supersilent The Alarm Award 2004. He has been the artist in residence at Moers Jazzfestival 2006, OIOI-festival in Bergen 2008 and at Molde Jazz Festival 2009. From 2004-2006 he was a part of the European Jazz Launch project. He has received Norsk Jazzforums Buddy Award 2005. Radka Toneffs Memorial Award 2007, Paul Acket Award at North Sea Jazz Festival 2011 and DNB and Kongsberg Jazzfestival´s Musician Award 2011. He has been nominated to Nordisk Råds musikkpris 2009 and also nominated to European Jazz musician of the year 2009. In 2016 he became Doctor Honoris Causa at The University of Gothenburg. Nominated with Supersilent for Nordisk Råds Musikkpris to be announced in October 2017. Commissioned music for The Humber Bridge project Hull City of Culture 2017.