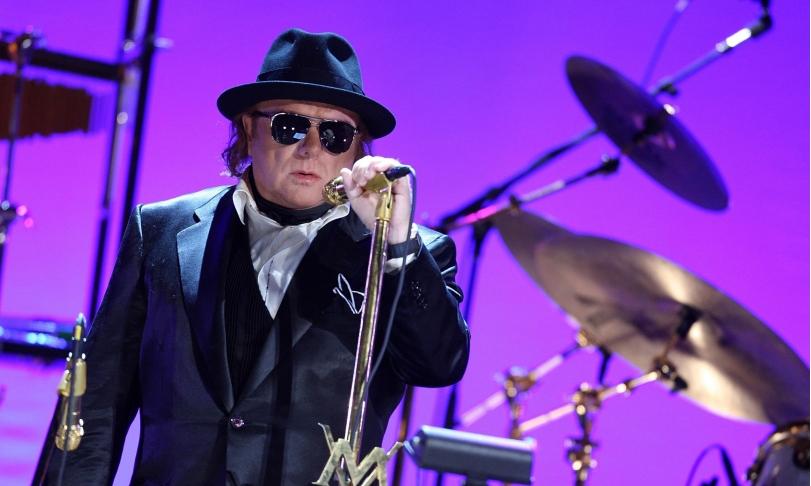 Roll With The Punches, das ist nichts anderes als eine geballte Ladung Rhythm and Blues, angerichtet und scharf gewürzt von Mr. Rhythm and Blues, von Van Morrison. Alle die bereits der Ansicht waren, der viel beschäftigte und noch mehr aufnehmende, 72 Jahre alte Van Morrison habe nicht mehr den alten Biss, wird hier nachdrücklich eines Besseren belehrt. Mit Roll With The Punches, seinem siebenunddreißigsten Album präsentiert sich der älter gewordene van Morrison in absoluter Höchstform und befindet sich dadurch in direkter Konkurrenz zu seinem jüngeren Selbst, einige Jahrzehnte früher. Wie zu seinen besten Zeiten zerreibt er Wörter zwischen seinen Zähnen zu Brei und spuckt sie gut durchgekaut wieder aus. Wer außer Van Morrison schafft es schon, altehrwürdigen Hits solch hochkaratiger Leute wie Sam Cooke oder Bo Diddley neues Leben einzuhauchen und diese dadurch so wie die hier versammelten fünf eigen Songs neu wie am ersten Tag erklingen zu lassen? Das schafft nur ein über die Jahrzehnte auf zahllosen Bühnen und auf sonstigen Live Acts gestähltes Phänomen vom Schlage eines Van Morrison, dessen Markenzeichen der Auftritt im Anzug mit Hut und Sonnenbrille ist, und den die britische Queen für seine herausragende Lebensleistung mit dem Schwert zum Sir geschlagen hat. Nur ein knorriger Ire, wie Van Morrison, besitzt die nach all den wilden, von Drogenexzessen gekennzeichneten Jahrzehnt in seinem siebten Lebensjahrzehnt die Kondition, um wie ein Stehaufmännchen, scheinbar unangestrengt Energie im Übermaß zu versprühen, die einem Jungen gut anstehen würde.
Dass With The Punches unvermeidlich zu einem der erfolgreichsten Alben des Irisch stämmigen Rhythm und Blues Barden werden wird, dafür sind auch seine prominenten Mitstreiter wie der Vokalist Paul Jones oder der Pianist Jason Rebello und der E-Gitarrist Jeff Back verantwortlich sowie nicht zu vergessen, die Background -Sängerinnen, denen für ihren erstklassigen Beitrag ein Ehrenkranz zu winden ist. Die gute Stimmung, die dieses Album von Song zu Song weitergibt ist ein untrügliches Zeichen dafür, dass alle Beteiligten, Van Morrison vorne weg ihren Spaß an seiner Erstellung gehabt haben. Unter solch idealen Umständen glücken nicht nur rhythmisch aufgeladene Songs wie der Titelsong oder "Stormy Monday / Lonely Avenue" von T-Bone Walker und Doc Pomus überzeugend, sondern auch emotional an die Grenze gehende Songs, wie "Teardrops From My Eyes" aus der Feder von Ruby Tooms und "Goin' von to Chicago" von Count Basie & Jimmy Rushing.
Wer Van Morrison noch nicht live erlebt hat, sollte das bald nachholen, geht der doch demnächst mit Songs aus seinem neuesten Album an Bord, allerdings zunächst erst einmal in den USA wieder auf Tour. Bis sich in Europa die Gelegenheit ergeben wird, Van Morrison live zu erleben, kann man ihn sich mit dem hochaufgelösten Download von Roll With The Punches in die eigenen vier Wände oder unterwegs auf seine Kopfhörer holen.