---
I`m sorry!
Dear HIGHRESAUDIO Visitor,
due to territorial constraints and also different releases dates in each country you currently can`t purchase this album. We are updating our release dates twice a week. So, please feel free to check from time-to-time, if the album is available for your country.
We suggest, that you bookmark the album and use our Short List function.
Thank you for your understanding and patience.
Yours sincerely, HIGHRESAUDIO
1

All

03:07

2

Repeat Infinit I

00:28

3

Morgentau

02:29

4

Autoscooter

03:38

5

Shawney

03:23

6

Classics

02:24

7

Ozeanblau

03:37

8

Ketten

03:45

9

Melodie

04:31

10

Oslo

04:16

11

Repeat Infinit II

00:24

12

Mach Mich High

03:21

13

Geld

02:51

14

Mailbox

02:45

15

Karma

00:32

16

Fiebertraum

03:30

17

Extrem

03:52

18

Repeat Infinit III

00:52

19

Wo ist der Punk?

03:20

Total Runtime

53:05
Info for Lieder für die Autobahn

Exclusive - fünf Freunde, die sich schon seit dem Kindergarten kennen, gibt es nunmehr schon gut 10 Jahre.
Angefangen von ihrer Entstehungszeit in der Hochphase des Brit-Pop, als sie auf Englisch sangen und sich in der Münchner Musikszene rund um das Atomic Café etablierten, entwickelte sich die Band ab 2012 in eine vollkommen andere Richtung. Sie erfand sich neu. Es wurde deutsch gesungen und die Musik wandelte sich von Brit-Pop zu einer neuartigen Mischung aus elektronischen-dubigen Elementen und echter Rockband mit Schlagzeug, Bass und Gitarre.
Gleich die erste deutschsprachige Single »Nachtmensch« war ein Achtungserfolg und Ausrufezeichen. Das gleichnamige Album folgte kurz darauf. »Nachtmensch« fungierte dabei als Türöffner: Von Touren und Festivals wie Rock am Ring oder Deichbrand bis zum Gewinn des New Music Awards 2013 erlebte das Quintett in wenigen Monaten fast alles, was man sich als junge Musiker erträumt. Auf das Nachfolgealbum »Neuer Mensch« folgte 2015 eine weitere ausgedehnte Festivaltour mit anschließenden Headline-Shows in Deutschland und Österreich.
Nach diesen ereignisreichen vier Jahren nahm sich die Band eine Pause und begann 2018 mit der Arbeit für ihr drittes Album. Neue Instrumente und Stilrichtungen wurden ausprobiert. Diese kreative Energie vereinigte sich Ende 2018 auf der neuen Platte »Lieder für die Autobahn«. Ein Aufbruch. Nach vorn.
Bei Exclusive sollte man auf jeden Fall einsteigen – und während der Fahrt laut aufdrehen.
Exclusive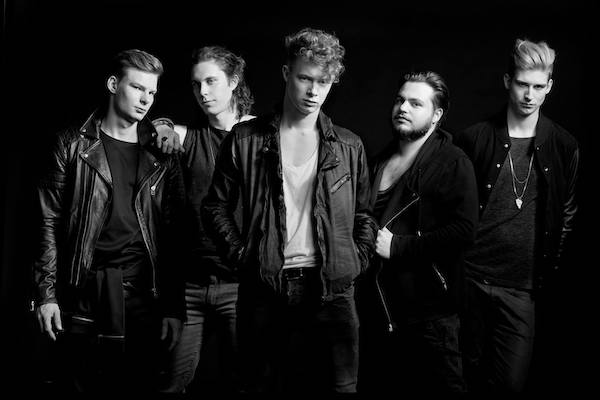 Exclusive
viel mehr Statement, viel mehr Chuzpe hält ein Bandname ja kaum aus. Dieser Name leuchtet aus dem großen Ganzen Musikdeutschlands, in dem viele Bands nett, okay, ein bisschen grau, aber irgendwie nicht so richtig geil sind, hervor wie das grell flackernde Leuchtstoffröhren-Logo über dem Club, in den nicht jeder reinkommt. Ein Name, der dir nur einmal hinter vorgehaltener Hand ins Ohr geraunt werden muss, um dich innerlich in Aufruhr zu versetzen und deine gegenwärtige Garderobe in Frage zu stellen. Denn: Für Exclusive musst du bereit sein.
Wenn die Band am 22.05. ihr Album "Neuer Mensch" veröffentlicht, dann dürfte überdeutlich werden: sie selber sind so was von bereit. "Wir gegen euch, wir gegen dich. Nichts zu verliern. Blut im Gesicht." In diesen wenigen Zeilen, in denen sich "Exclusive", die zweite Nummer des Albums erhebt, pulsiert das ganze Wesen dieser Platte. Die Selbstsicherheit, die Bereitschaft, gegen den Strom zu schwimmen und die Energie, genau das ohne auch nur einen Kompromiss, eine ganze Albumlänge durchzuhalten. "Neuer Mensch" ist einerseits das Style- und Gesinnungsangebot für all diejenigen da draußen, die nicht von gestern sind. Die neuen, die von heute. Und es ist noch viel mehr. Es ist ein Erneuerungs-Gelöbnis, die Aussicht, von diesen Songs durch eine neue Welt geleitet zu werden. Das Ende der Reise ist ungewiss, der Ausbruch aus dem Alltag aber garantiert. Der Exclusive-Sound triggert eine bebende Aufbruchstimmung in ein Morgen, das dieser Band allein gehört und denen, die ihr folgen. Es ist vor allem natürlich die unverwechselbare Stimme von Sänger Fabian Bottler, die jede Silbe, die er sich entweder nach Leibeskräften von der Brust schreit oder ganz behutsam durch den Äther schwingen lässt, in Sehnsucht einzubetten scheint. Es ist die Rhythmusabteilung der Band, deren Groove jeden Floor in Ekstase versetzt. Es ist der übergreifende Ansatz, das Feingefühl von Indie, die große Rock-Geste und den Rave-Furor zeitgeistiger elektronischer Musik miteinander zu versöhnen und zu einem eigenen Stil weiterzuentwickeln, den man so noch nicht gehört hat.
Das was gestern war, interessiert niemanden mehr. Es geht nur noch nach vorn. Der Moment für diese Band ist gekommen. Kein Zweifel.

This album contains no booklet.