---
Album info
Album including Album cover
I`m sorry!
Dear HIGHRESAUDIO Visitor,
due to territorial constraints and also different releases dates in each country you currently can`t purchase this album. We are updating our release dates twice a week. So, please feel free to check from time-to-time, if the album is available for your country.
We suggest, that you bookmark the album and use our Short List function.
Thank you for your understanding and patience.
Yours sincerely, HIGHRESAUDIO
Benjamin Britten (1913 - 1976): War Requiem, Op. 66:

1

I. Requiem aeternam - Requiem aeternam (Children's chorus)

07:07

2

II. Requiem aeternam - What Passing Bells (Tenor)

02:38

3

III. Requiem aeternam - Kyrie eleison (Chorus)

03:40

4

IV. Dies irae - Dies irae, dies illa (Chorus)

04:16

5

V. Dies irae - Bugles Sang (Baritone)

02:37

6

VI. Dies irae - Liber scriptus (Soprano, Semi-chorus)

03:41

7

VII. Dies irae - Out there, We Walked quite friendly up to Death (Tenor, Baritone)

01:51

8

VIII. Dies irae - Recordare (Women's chorus)

05:32

9

IX. Dies irae - Be Slowly Lifted Up (Baritone)

02:00

10

X. Dies irae - Dies irae (Chorus)

01:35

11

XI. Dies Irae - Lacrimosa dies illa (Chous)

02:14

12

XII. Dies irae - Move him into the Sun (Tenor, Soprano, Chorus)

06:18

13

XIII. Offertorium - Domine Jesu Christe (Children's choir)

03:58

14

Britten: War Requiem, Op. 66. XIV. Offertorium - So Abraham rose (Tenor, Baritone)

06:38

15

XV. Sanctus - Sanctus, Hosanna and Benedictus (Soprano, Chorus)

07:43

16

XVI. Sanctus - After the Blast of Lightning (Baritone)

03:40

17

XVII. Agnus Dei - One ever hangs ... Agnus Dei (Tenor, Chorus)

04:03

18

XVIII. Libera me - Libera me (Soprano, Chorus)

08:57

19

XIX. Libera me - It Seemed that out of Battle I Escaped (Tenor, Baritone)

09:59

20

XX. Libera me - Let us Sleep now... In paradisum (Tutti)

06:27

Total Runtime

01:34:54
Info for Britten: War Requiem (Remastered)

For over five decades, Lorin Maazel has been one of the world's most esteemed and sought-after conductors. A second-generation American born in Paris, Lorin Maazel began violin lessons at the age of five, and conducting lessons at seven. He studied with Vladimir Bakaleinikoff and appeared publicly for the first time aged eight. Between the ages of nine and 15, he conducted most of the major American orchestras, including the NBC Symphony at the invitation of Toscanini. At 17, he entered the University of Pittsburgh to study languages, mathematics and philosophy. In 1951 he went to Italy on a Fulbright Fellowship to further his studies, and two years later made his European conducting début, stepping in for an ailing conductor at the Massimo Bellini Theatre in Catania, Italy. He quickly established himself as a major artist, appearing at Bayreuth in 1960 (the first American to do so), with the Boston Symphony in 1961, and at the Salzburg Festival in 1963.
In spring 2011, he completed his fifth and final season as the inaugural Music Director of the spectacular, Santiago Calatrava-designed opera house in Valencia, Spain, the Palau de les Arts Reina Sofia. Music Director of the New York Philharmonic from 2002 to 2009, he assumed the same post with the Munich Philharmonic at the start of the 2012/13 season. He is also the founder and Artistic Director of a new festival based on his farm property in Virginia, the Castleton Festival, launched to exceptional acclaim in 2009 and expanding its activities nationally and internationally in 2011/12 and beyond.
Maestro Maazel's 2010/11 season was highlighted by productions of Aïda and his own opera 1984 at the Palau de les Arts; two concerts with the newly formed resident orchestra of China's National Center for the Performing Arts in Beijing; a NewYear's eve marathon concert of all nine Beethoven symphonies in Tokyo; and return appearances with the Royal Concertgebouw Orchestra and the Boston Symphony Orchestra. He completed a Mahler cycle in London with the Philharmonia (for the Mahler centennial year of 2011) in addition to touring extensively with the Orchestra in Europe. In September 2010, he marked the 100th anniversary of the première of Mahler's Eighth Symphony at the Ruhr Festival conducting the work with forces numbering in excess of 1,000 performers. In March 2011, he took two Castleton Festival Opera productions to Berkeley, California (Cal Performances) for the West Coast début of the company, with Britten's Rape of Lucretia and Albert Herring. In August 2011 he conducted an all-Beethoven Festival in Rio de Janeiro, Brazil. On 31 December 2011 he conducted the first New Year's Concert – televised live for a world-wide audience – in Beijing, China. In February 2012 Mr. Maazel embarked on a Scandinavian-American Tour with the Vienna Philharmonic celebrating their 50-year long collaboration.
Maestro Maazel is also a highly regarded composer, with a wide-ranging catalogue of works written primarily over the last dozen or so years. His first opera, 1984, based on George Orwell's literary masterpiece, received its world première at the Royal Opera House, Covent Garden, in May 2005.
A revival of 1984 took place at La Scala, Milan, in May 2008, and a Decca DVD of the original London production was released that same month.
In 72 years on the podium, Maestro Maazel has conducted nearly 200 orchestras in no fewer than 7,000 opera and concert performances. He has made over 300 recordings, including symphonic cycles/complete orchestral works of Beethoven, Brahms, Debussy, Mahler, Schubert, Tchaikovsky, Rachmaninov and Richard Strauss, winning ten Grands Prix du Disques.
During his music directorship of the New York Philharmonic Maestro Maazel conducted the orchestra on their landmark visit to Pyongyang, North Korea on 26 February 2008. Maestro Maazel has been Music Director of the Symphony Orchestra of the Bavarian Radio (1993–2002), Music Director of the Pittsburgh Symphony (1988–96); General Manager, Artistic Director and Principal Conductor of the Vienna State Opera (1982–84) – the first American to hold that position; Music Director of The Cleveland Orchestra (1972– 82); and Artistic Director and Chief Conductor of the Deutsche Oper Berlin (1965–71). His close association with the Vienna Philharmonic includes 11 internationally televised New Year's Concerts from Vienna.
Alongside his prodigious performing activity, Maestro Maazel has found time to work with and nurture young artists, based on his strong belief in the value of sharing his experience with the next generation(s) of musicians. He founded a major competition for young conductors in 2000, culminating in a final round at Carnegie Hall two years later, and has since been an active mentor to many of the finalists. In 2012 he will be President of the Malko Conductor's Competition Jury in Copenhagen. Through his Châteauville Foundation, in Castleton, Virginia, he has created a new Festival and training program for young artists, bringing together aspiring singers, instrumentalists and conductors to work in an intensive, collaborative environment, with guidance from senior artists and mentors.
Lorin Maazel died on July 13, 2014 in Castleton, Virginia.
Anna Samuil, soprano
Toby Spence, tenor
Hanno Mueller-Bachmann, baritone
Münchner Philharmoniker
Lorin Maazel, conductor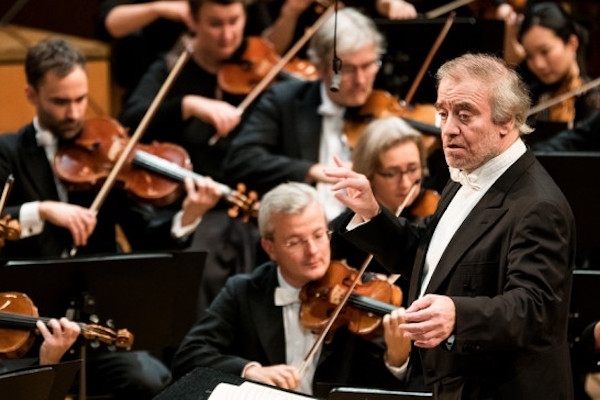 Valery Gergiev
Born in Moscow, Valery Gergiev initially studied conducting under Ilya Musin at the Leningrad Conservatory. While still a student, he won the Herbert von Karajan conducting competition in Berlin. In 1978, aged 24, Valery Gergiev became assistant conductor of Yuri Temirkanov at the Mariinsky Opera, where he made his debut conducting Sergei Prokofiev's adaptation of Tolstoy's »War and Peace«. More than two decades ago, he assumed his current position as director of the legendary Mariinsky Theatre in St. Petersburg, which has since become a cornerstone of operatic culture in Russia.
Valery Gergiev's close cooperation with the Munich Philharmonic began in the 2011-12 season. Since then, he has performed all symphonies by Dmitri Shostakovich and a cycle of works by Igor Stravinsky with both the Philharmonic and the Mariinsky Orchestra. Since the 2015-16 season, Valery Gergiev is chief conductor of the Munich Philharmonic. As »Maestro der Stadt« (The City's Maestro) he reaches out to Munich concert audiences with subscription concerts and performances for young people, public final rehearsals, an open-air concert series on Odeonsplatz, and the »MPHIL 360°«-festival, while reaching an international audience with regular live streams and television broadcasts from the Philharmonie im Gasteig.
In September 2016, the first CD recordings under the orchestra's own label »MPHIL« and which document the conductor's work with the Munich Philharmonic were released. Further recordings focussing on Anton Bruckner's symphonies, are in preparation. Travels with Valery Gergiev have taken the Munich Philharmonic to numerous European cities as well as Japan, China, Korea and Taiwan.
Münchner Philharmoniker Kammerorchester
A festive concert in 1988 on the occasion of the 75th birthday of Benjamin Britten which took place in the Great Concert Hall of the Munich University of Music is today regarded as the birth of the Munich Philharmonic Chamber Orchestra. The top-class ensemble comprises members of the Munich Philharmonic Orchestra and has subsequently been able to maintain its place not only at home but has also achieved an excellent reputation during numerous guest performances throughout Germany and other parts of Europe.
For a magnificent concert at the Baroque Evening Festival in Varazdin, one of the most significant concert events in Croatia, the orchestra was awarded the First Prize and thus laid the foundation stone for its further success.
Ever since, the Munich Philharmonic Chamber Orchestra has held regular concerts throughout Germany and abroad and made tremendously successful debut performances at renowned festivals, such as Schwetzingen, Belgrade, Brescia and Santander.
In the summer of 2004 the First Concertmaster of the Munich Philharmonic Orchestra, Lorenz Nasturica-Herschcowici, became the overall artistic director of the Munich Philharmonic Chamber Orchestra. Two eminent concerts featuring the world-famous pianist Hélène Grimaud under the direction of Lorenz Nasturica-Herschcowici as Concertmaster in March 2007 in the Munich Philharmonic Hall and in Stuttgart's Liederhalle presenting piano concerts by Robert Schumann and Ludwig van Beethoven confirmed the exceptional reputation of this orchestra.
In July of 2008 the ensemble gave two acclaimed concerts featuring Anne-Sophie Mutter and Nikolaj Znaider to an audience of several thousand listeners at the Mecklenburg-Vorpommern festivals.
Sold-out concerts in the fall of 2009 during the prestigious George Enescu Festival in Bucharest and in the Munich Philharmonic Hall together with the emerging German pianist Martin Stadtfeld brought the Munich Philharmonic Chamber Orchestra increasingly into the focus of national and international attention. In 2012 the successful cooperation with Martin Stadtfeld continued during a joint Germany tour which also produced CD recordings for Sony.
In addition to several world premieres, the Munich Philharmonic Chamber Orchestra has presented several remarkable CDs in the course of the years, which also featured works by contemporary artists.
"The enjoyment provided by this evening could not only be linked to Herschcowici but was generally attributable to the outstanding quality of the ensemble which accompanied him: The Munich Philharmonic Chamber Orchestra excelled with a soft, smooth sound as well as through the technical expertise of the individual string players and the musically elaborated interpretation of the presented works." (SZ newspaper, October 20, 2010)

This album contains no booklet.