---
Album info
Album including Album cover
1

Joy Joy! Featuring Kim Waters

04:21

2

Keystroke

04:06

3

All That Jazz Featuring Marion Meadows

04:28

4

Positivity Featuring Kim Scott

04:22

5

Come For Me

04:37

6

Steppin' To The Keys

04:22

7

Into The Nite

04:01

8

Roll Out

04:29

9

The Ride

04:08

10

Smoother

04:06

Total Runtime

43:00
Info for Joy!

Hailing from the City Of Brotherly Love, Grammy nominated keyboardist Gail Jhonson adds to Philadelphia's legacy of pioneering music luminaries. "I am proud to be a part of the Philly sound. When I was growing up, you couldn't walk too far before you heard a band or some instruments practicing," recalls Jhonson, who is affectionately dubbed the "First Lady Of Smooth Jazz." "I share the same love of orchestral instruments, horn sections, vocal groups and rhythm sections, that was made famous by TSOP, Bell, Huff, Harris, Creed, Wanzel.," shares the keyboardist. "Oh such a long list of my composition heroes!" With this rich tradition being a part of Gail Jhonson's undeniable musical DNA, it is no surprise that she was performing professionally by the age of 14. "I love it so much," she confides. "I don't know why, I just think it chose me!"
This summer Gail Jhonson will release her Shanachie debut album featuring her all-star female band, Jazz In Pink. Jhonson, who is a woman on a mission, created the ensemble as a way to address her concern that women are under represented on the jazz scene particularly as instrumentalists. "Traditionally, most vocalists played piano, but were encouraged to only present their vocal skills on stage, while their instrumental expression was suppressed," she explains, "Our ensemble is dedicated to the blending of piano-violin-flute-harp as a core presentation: orchestral instruments playing melodically over the rhythm section (bass-drums-guitar-percussion). Add in jazzy R&B vocals, and that female energy of passion, beauty and fire; creates sheer Sisterness of rhythm, composition, performance and the pink principal-all expressed on stages that inspire. We wear pink, our fans wear pink, which shows we are all in solidarity and resonate together in our brand of musical expression."
Gail Jhonson's first single of her anticipated new album is the intoxicating, uplifting and jubilant "Joy Joy," which just debuted in the Top 30 of the Billboard Contemporary Jazz Chart. The track is a spotlight for Jhonson as she welcomes two special guests, saxophonist Kim Waters and guitarist Paul Jackson, Jr. Jhonson and Waters' connection extends back many years, as the two have collaborated through the years with guitarist Norman Brown. Jhonson says, "Working with Kim in the studio gave me a deeper appreciation for his talent and his spirit as a person. He took 'Joy Joy' to another level, infusing his own joy of sax…..what a consummate musician." Jhonson wrote the song with her writing partner, Gino Valentino.
Danny Weiss, VP of Jazz and A&R for Shanachie Entertainment states, "As Norman Brown's long time music director, it's obvious that Gail Jhonson is a superb musician. But it's the warmth and inner spirit that infuses her music that make her truly special. It's a joy to be associated with her."
An alumni of Berklee College of Music, where she earned a degree in composition, Gail Jhonson is based in Los Angeles, where she is an in-demand player on the scene. She has held down the role as Music Director for Grammy winning guitarist Norman Brown for over two decades. "I resonate with Norman's music and his full expression on stage is stellar. He trusts me with the flow of his show, and knows that the best I have to offer is always there," shares Jhonson. A musician's musician, whose musical arsenal draws from the worlds of straight-ahead Jazz, R&B, Funk and Gospel, Jhonson has collaborated with a wide cross-section of artists from Bobby Womack, Janet Jackson, Pink and Morris Day (Time) to Sheila E., Ray Parker Jr., Peabo Bryson and Patti Austin.
Gail Jhonson's free musical spirit, keen musicianship and captivating energy make her a joy to be behold. With the release of "Joy Joy" and her Shanachie debut due out this Summer, the sky is the limit. "Everyone is waiting and anticipating! Folks all over the country are sending me screenshots of the radio when the song comes on! That's a beautiful thing, when music moves you to excitement and pushes you to look forward to the future," confides Jhonson. "It offers you a glimpse of freedom from worry and other issues that life causes us to tend to. I'm hoping this new album will be a momentary light and an everlasting love for music fans all around the globe."
"Jazz in Pink featuring Gail Jhonson has put together a tight package of expressive and rousing melodies on the album Joy! In the realization of its purpose, this album is undoubtedly a work of art in the sense of the above quote." (Hans-Bernd Hülsmann, smooth-jazz.de)
Gail Jhonson, piano, synthesiser, drum programming
Ellis Blacknell, synthesiser, bass, drum programming
Kim Waters, saxophone
Paul Jackson Jr., guitar
Marion Meadows, saxophone
Sekou Bunch, bass
Josh Scott, bass
Kim Scott, flute
Yakira, percussion
Nate Harasim, guitar, synthesiser, drum programming
Tay Robinson, drums
Wendell "PJ" Donald, synthesiser
Robin Bramlett, bass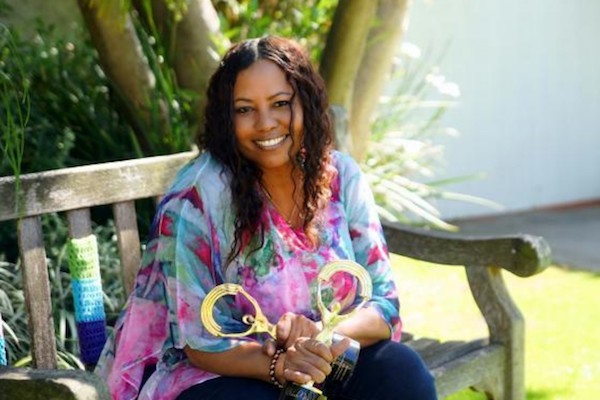 Gail Jhonson
brings all of her many talents to bear as soul-lifting spiritualist, next-gen feminist inspiration, big-picture band leader and, Philly street-corner rhythmist; building on a foundation of straight-ahead jazz, R&B, Funk and Gospel.
Let's learn a little about HerStory… born and raised in the city of Philadelphia, Gail's fascination with the endless possibilities of the piano began at the young age of 10. By 14, Gail had played her first professional gig, starting her on a journey that has seen her travel the world, touching lives through her gift of music.
From her humble beginnings on the streets of Philly to the height of her success on the stage and in the studio, Gail Jhonson has lived a life fully committed to music. The next chapter in HerStory saw Gail graduate from the Berklee College of Music, with a B.A. in Composition. Gail made the move west, to Los Angeles, where she established herself in the vibrant heart of the music industry.
Gail's impressive resume as a recording artist and touring musician includes appearances with such notables as Norman Brown, Mindi Abair, Bobby Womack, Ray Parker jr, Pink, Milli Vanilli, Morris Day (Time) & Rain Pryor. TV apearances on The Jay Leno Show, BET, several videos, Gospel Theatre, Jazz Festivals with Cindy Bradley, Peabo Bryson, Jeff Lorber, Patti Austin, Marion Meadows and so many others!
In 2010 and 2011 The American Black Music Association awarded Gail a Spotlight Award at the red carpet event in Los Angeles; for which she won "Best Jazz Musician." Her daughter Tamina performed & also won "Best Jazz Vocalist."
To give you some more background to Her Story, in 2009, Gail's CD Pearls garnered the nod in the 51st Annual Grammy Awards, a featured artist on the SummerStorm Tour, hosted by Norman Brown, for whom she has been music director for many years.
Gail leads the all female ensemble "Jazz in P!nk", featuring such artists as Karen Briggs, Althea Rene & Mariea Antoinette. She has her own band "3 Piece Suit" in Los Angeles. She is an educator and author of 3 music method books; also composer for the musical Overcome, Overjoyed-showing at The El Portal Theatre/North Hollywood.

This album contains no booklet.