---
Album info
Album including Album cover
I`m sorry!
Dear HIGHRESAUDIO Visitor,
due to territorial constraints and also different releases dates in each country you currently can`t purchase this album. We are updating our release dates twice a week. So, please feel free to check from time-to-time, if the album is available for your country.
We suggest, that you bookmark the album and use our Short List function.
Thank you for your understanding and patience.
Yours sincerely, HIGHRESAUDIO
1

Black Sunrise

03:24

2

The Devil You Know

03:29

3

Revelation

03:12

4

Make It Out Alive

05:05

5

Me Without You

03:35

6

Without A Reason

03:30

7

Over The Line

03:37

8

Stronger

03:54

9

This Revival

03:32

10

So Damn Easy

04:07

11

Gimme Some More

03:32

Total Runtime

40:57
Info for REVELATION

Finally, Stone Broken will release their dynamic new studio album, "Revelation". Born from a desire to push themselves into new realms of musical creativity, Revelation sees Stone Broken storming into rock's big leagues.
Having partnered with award-winning producer and former SikTh guitarist, Dan Weller (Enter Shikari, Holding Absence, Bury Tomorrow) back in early 2019, both artist and producer hit it off right from the get-go. Working remotely with Weller between Walsall and London, the band shared lots of new ideas, experimenting with aspects of electronic sound design and fusing different strands of their more straight-ahead hard rock with darker electro elements – something front man, Rich Moss, and drummer/ backing vocals, Robyn Haycock, had long wanted to try.Revelation, then, is an album both for Stone Broken fans and for the band themselves. And between the enforced COVID break and these exhilarating new elements they've incorporated into their music, the band and their Broken Army are ready to take on the world!Stone Broken front man, Rich Moss, adds: "We had a completely different approach on this record compared to our previous records, we wanted to try everything, we wanted to experiment, we wanted to build our sound from the ground up and totally re-imagine the 'Stone Broken Sound', BUT without losing what we already had. It wasn't easy, not in the slightest, but we managed to break down a few walls to get there, and along the way had some awesome discoveries, like Robyn now having more vocal duties across the whole record, it really works well and brings a whole new dynamic to our songs.
"I have been seduced by an album that should never have crossed my path had I let my prejudices get in the way. As it is, there are a good handful of songs that have made a huge impact here, several better-than-decent songs, and one that has made a cynical, missile-aged, grown man cry. Kudos for that feat alone. All that's left to say then, is that it doesn't matter what kind of heavy music you consider to be your 'thing', you'd be foolish not to take time out of your listening schedule to give melodic hard rock band Stone Broken a chance. I did, and I haven't regretted it for a second." (manofmuchmetal.com)
"I finished listening to "Revelation" and I swear I was shaking. This took me by surprise without a word of a lie. I always groan when I hear a band say this is our best album…you need to say that, I mean who is going to say this is a bit crappy or yip, this is our third best release….it does not happen but when it comes to Revelation I take a bow…they are 100% correct." (metalplanetmusic.com)
Rich Moss, lead vocals, rhythm guitar
Chris Davis, lead guitar
Kieron Conroy, bass
Robyn Haycock, drums, backing vocals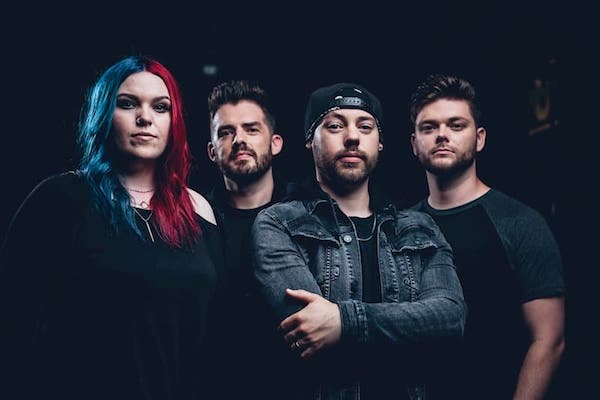 Stone Broken
There's an unwavering conviction running through Stone Broken's Spinefarm Records debut, Ain't Always Easy; the notion of taking a leap of faith in order to grab control of one's own destiny, seizing precious moments and living your very best life, with no apologies or regrets. It's a philosophy close to the heart of Stone Broken frontman Rich Moss, and a credo which fuels the band's desire to take on the world with their music.
At the beginning of the decade, Moss had abandoned his life-long dream of becoming a professional musician, following the tragic death of a former bandmate who suffered from alcohol addiction. Years spent poring over guitar magazines, practising in his bedroom and playing gigs around the Black Country and the West Midlands were filed away as memories, as Wolverhampton-born Moss built a successful career as an analyst.
Yet the idea that there must be more to life persisted. In 2013, after four years away from music, he formed Stone Broken with guitarist Chris Davis, bassist Kieron Conroy and long-time musical soulmate Robyn Haycock on drums – the four of them determined and willing to make sacrifices in pursuit of their dreams.
"The very first song I wrote for this band is called 'This Life' and it's about taking what you're good at and using it as a vehicle to move forward, because you only have one shot at life," says Moss. "We all came into this band a lot more mature and with a greater understanding of the industry, and we agreed between us there should be no half-measures."
The group's first declaration of intent came with 2014's self-financed, self-released EP, The Crow Flies, a calling card largely intended to secure local gigs. But it was the release, in January 2016, of debut album All In Time which truly amplified the word-of-mouth buzz around the band from a whisper to a scream. With Kerrang! Radio and Planet Rock picking up on storming opening track 'Not Your Enemy', the anthemic 'Let Me Go' and 'Stay All Night', plus the bruised and beautiful 'Wait For You', an ever-expanding audience was alerted to the fact that here was an emerging British outfit with the riffs, the choruses and songwriting smarts to make its mark on the global stage.
"We never conceived anything to fit into a scene," continues Rich, "we just wrote the kind of music we listen to. We saw bands such as Shinedown, Black Stone Cherry, Halestorm and Alter Bridge as our peers. People understand that we're here because we love what we do."
In early 2017, following a lengthy European tour, the musicians entered Long Wave Recording Studios in Cardiff to work once again with All In Time producer Romesh Dodangoda (Motörhead, Bring Me The Horizon,Twin Atlantic) on their second album. The result, the 11 track Ain't Always Easy, is compelling proof that the Walsall quartet are ready to stand toe-to-toe with the biggest names on the contemporary hard rock scene.
Loaded with state-of-the-art arena-friendly anthems, Ain't Always Easy is one of the most assured British rock albums of recent times. From stirring opener and first single 'Worth Fighting For' through to the blissful 'The Only Thing I Need', this is an absorbing, deeply heartfelt collection which marries important issues, both personal and pressing, to instantly accessible, granite-hard hard rock.
One might trace a path from 'Other Side Of Me' through 'Doesn't Matter' and on to 'I Believe' to see an unfolding triptych tracing Moss' journey from bedroom dreamer through to rock-star-in-waiting, the frustrations of working nine to five poured into punchy, inspirational lyrics yearning for a shot at the big stages.
"Honestly, you can be anything you wanna be," sings Moss on 'I Believe'. "I've got a feeling you're gonna have the time of your life."
"'I Believe' isn't a note to self as such," Moss reflects, "but it's related to my relationship with music over the years. As a teenager, I'd flick through guitar magazines and see these rock stars and think, 'I want to do that', and at this point in my life it's me telling myself and the band that we need that same self-belief to move to bigger stages."
Elsewhere, the album deals with the pain of addiction ('Let Me See It All', 'Just A Memory'), loss ('Anyone'), homesickness (the beautifully affecting 'Home') and, in the most striking, stark terms – with lyrics such as "I hear her screaming from the bedroom, it's the same thing I heard last night…" – domestic abuse ('Heartbeat Away'), a subject Moss admits is painfully close to home.
"It comes from experiences that I've seen personally, so it's a heartfelt song, about the impact on the person and those around them," he states. "With 'This Life', we'd get a lot of people telling us that it got them through a rough patch, and I'm hoping that 'Heartbeat Away' might offer some strength and support to anyone similarly affected."
Set for release via Spinefarm Records on March 2nd 2018, Ain't Always Easypromises to place Stone Broken at the forefront of an emboldened, increasingly fertile British rock scene… and beyond.
"Who doesn't like big, driving riffs and massive choruses?" asks Spinefarm's Head Of A&R Dante Bonutto rhetorically. "At last, a UK band with the sound and the attitude to make it possible for them to compete with rock's elite."
"The success of the first album took us by surprise, but we always wanted the follow-up to break down more barriers and get us to the next level where we can step up on a global scale," says Moss. "We've already got fans in the US, and they tell us they can easily imagine us on the radio there. Every rock band dreams of success in America, but we feel we're ready."
"Among our fans – The Broken Army – there's a massive buzz around everything we're doing at the moment," the vocalist/guitarist adds. "This is a really good time to be in this band, and now we just want everyone to hear exactly why."
"Anticipation for the new album is high," acknowledges Robyn Haycock, "especially given how high we set the bar with All In Time. But, as a band, I think we've pushed ourselves even harder this time. We're so proud of this record, and so excited for what lies ahead."
One life. One band. One vision. For Stone Broken, the time is now.

This album contains no booklet.