---
Album info
Album including Album cover
César Cui (1835 - 1918): 20 poèmes de Jean Richepin, Op. 44, La chanson des gueux:

1

I. Berceuse

03:16

2

II. Le Vieux

02:10

3

III. Les Petiots

01:40

4

IV. Pâle et blonde

03:34

20 poèmes de Jean Richepin, Op. 44, Les caresses:

5

I. Le ciel est transi

02:09

6

II. Où vivre ?

01:11

7

III. Te souviens-tu d'une étoile ?

01:01

8

IV. Te souviens-tu du baiser ?

01:00

9

V. Que ta maîtresse soit

01:24

10

VI. Air retrouvé

01:47

11

VII. Le jour où je vous vis

01:29

20 poèmes de Jean Richepin, Op. 44, Les Blasphèmes:

12

I. Le Hun

01:29

13

II. Le Spadassin

02:15

14

III. Le Turc

03:44

15

IV. Si mon rival

01:16

20 poèmes de Jean Richepin, Op. 44, La Mer:

16

I. Larmes

03:17

17

II. La Falaise

03:04

18

III. Oceano nox

02:41

19

IV. Les Songeants

02:46

20

V. Adieu-vat !

02:10

6 mélodies, Op. 23:

21

I. Dans la plaine blonde

02:04

22

II. L'écho

02:07

23

III. Vieille chanson

03:31

24

IV. Solitude

01:32

25

V. La pauvre fleur disait

02:18

26

VI. Enfant, si j'étais roi

02:15

Total Runtime

57:10
Info for Mélodies

This program marks the story of a rare artistic encounter: that of a Russian officer, also an admired composer of Franz Liszt, and a member of the Group of Five, and a French writer, academician, as prolific as sulfurous. It is the crossroads in the middle of the nineteenth century of César Cui's music and Jean Richepin's verses, it is the birth of an improbable body of melodies (opus 44), a hybrid and unpublished form between songs, romances and plays. lyrical. It is a vocal and literary work that is forgotten today and deserves a fair return to the repertoire of melody. This opus is compared to an earlier cycle (op. 23), also devoted to Cui's relationship with the great poets of his time. Countess Mercy-Argenteau, who promoted the dissemination of the work of the Group of Five in Europe, is the dedicatee of these two cycles. Very close to César Cui for many years, she will end her days at home in Russia.
Céline Laly, soprano
Emmanuel Christien, piano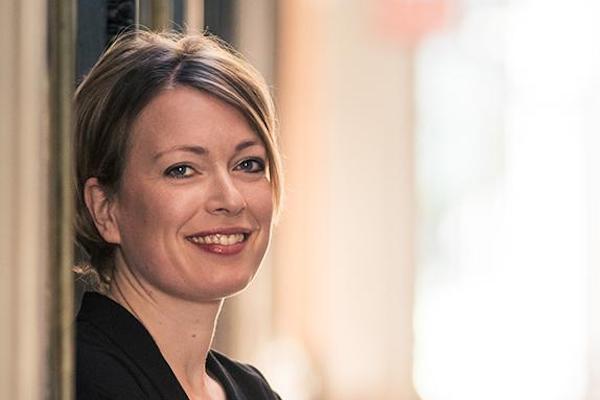 Céline Laly
After studying in Italy (Opera Studio - Accademia Santa Cecilia) and Vienna (Universität für Musik und Darstellende Kunst), Céline Laly is conferred the Prix of Singing and Chamber Music from the Conservatoire National Supérieur de Musique de Paris, and a Master in musicology from the Sorbonne – Paris IV. She also received artistic advise from Thomas Quasthoff, Renata Scotto, Ann Murray, and is awarded in the 2011 Concurso Internacional de Canto Montserrat Caballé.
As an eclectic artist, Celine Laly particularly likes a theatral and dramatic approach of Singing, which leads her to the recital and many intimist productions (Erwartung (Schoenberg), Le Martyre de Saint-Sébastien et Pelléas et Mélisande / Mélisande (Debussy), Peer Gynt / Solveig (Grieg) ou Kátia Kabanová / Varvara (Janacek). This last Janacek's performance, firstly staged in Paris at the Theatre des Bouffes du Nord by André Engel (musical direction by Irène Kudela), was awarded the Grand Prix du Syndicat de la critique 2012, for best Opera production of the year.
Carrying this quest in many repertoires, she performs as a soloist with the Ensemble baroque de Limoges (C. Coin), the ensemble Pulcinella (O. Gaillard), La Risonanza (F. Bonizzoni), La Clique des Lunaisiens (A. Marzorati), Les Frivolités Parisiennes... She also works together with famous dancer Mallika Sarabhai for special projects mixing indian and european musicians and dancers (Darpana Academy of Performing Arts – India).
On stage she sang Mélisande (Pelléas et Mélisande - C. Debussy), Varvara (Kàtia Kabanovà - L. Janacek), Solveig (Peer Gynt – E. Grieg), Alcina (Alcina - G.F. Haendel), Rosina (Il Barbiere di Siviglia - G. Rossini), Zerlina (Don Giovanni - W.A. Mozart), Micaela (Carmen - G. Bizet), Colette (Le Devin du Village – J-J Rousseau), Marguerite (Le Petit Faust - Hervé), Stella (Le Dernier Sorcier - P. Viardot) in the production by J-L. Pichon, O. Achard, R. Préchac, M. Reichler, P. Thirion- Vallet, E. Cordoliani (Opéra de Marseille, Opéra d'Avignon, Cité de la Musique, Théâtre Dejazet...).
She also sang in the creation of two contemporary operas, Pierre-la-Tignasse of B. Bianchi and Les Aventures de Tyo of F. Bou, and also explores the very particular fields of « théâtre musical » and melodrama (K. Maratka, G. Asperghis, JP. Drouet, T. Johnson, JR. Guédon...).
Her recording of the Opera Der Kaiser von Atlantis of Victor Ullmann (Bubikopf) was released on 2015, and a DVD of Kátia Kabanová (recording in Théâtre des Bouffes du Nord) will be published in the near future.
Emmanuel Christien
At just twenty six years of age, Emmanuel Christien is one of France s most diverse young pianists. Born in 1982, he began playing the piano when he was five years old. Following early musical studies in the National Conservatory of Region of Nancy (CNR), he then studied with Olivier Gardon at the CNR Paris, and during this time was a prize winner in numerous different competitions (Sucy in Brie, Arcachon, Steinway.) Admitted by unanimous jury vote to the prestigious National Conservatory Superior of Music and of Dance, Paris (CNSMDP) as a student of Jacques Rouvier, he obtained the " Diploma de Formation Supérieure" with a unanimous jury distinction, also receiving the "Feydau de Brou Saint-Paul" award, bestowed each year to the most promising instrumentalist as chosen by the jury. He has performed and participated in masterclasses with celebrated musicians and personalities including Jean-Philippe Collard, Paul Badura-Skoda, Ann Quéffelec, Jean-Claude Pennetier and Aldo Ciccolini.
Emmanuel Christien has won numerous prizes and awards as a pianist, accompanist and chamber musician. In 2004, he was a prizewinner at the International Piano Competition Casagrande (Italy), for his performance of the piano music of Johannes Brahms. As a chamber musician, he has performed under the instruction of Pierre-Laurent Aimard, Daria Hovora, Christian Ivaldi, Michaël Hentz, Claire Désert and Ami Flammer, and being highly commended for his ensemble playing in performance with cellist Aurélienne Brauner. A passionate advocate of vocal music, and a prize winner for the same, he has been coached in this capacity by Jeff Cohen and Ann Grappotte. He has also worked with Ruben Lifschitz during the vocal accompaniment coaching sessions (Lieder and Art Song)at the "Fondation de l'Abbaye de Royaumont". In 2005, Emmanuel Christien was accepted into the prestigious "cycle de perfectionnement" – the advanced development cycle, at the National Conservatory Superior of Music and of Dance, Paris and for this achievement, he was bestowed a Blüthner piano by Foundation of Alfred Reinhold. He is also a bursary laureate of the Mécénat Musical Société Générale for 2007-2008, and of the Perlemuter Competition.
As a pianist, Emmanuel Christien has made numerous appearances on France-Music and Radio Classic. He has performed in his native France, and elsewhere in Europe as a soloist and chamber musician. Recent performances include those at the Festival Ars Terra in Villers on Authie, Summer Music in Epernay, National Archives, Paris Senate, the Theatre and Auditorium of the City of Music, Chopin Festival in Bagatelle, Roque d' Anthéron, Folle Journée in Nantes, in Pérouse (Italy) and in Mitchell Hall in Aberdeen (Great Britain) and most recently in Japan, invited to participate in the prestigious Kyoto Student Festival. As a concerto soloist, he has performed with the Orchestra of Caen, the soloists of the National Orchestra of France and the orchestra of the National Conservatory Superior of Music and of Dance, Paris.

This album contains no booklet.