---
Album info
Album including Album cover Booklet (PDF)
I`m sorry!
Dear HIGHRESAUDIO Visitor,
due to territorial constraints and also different releases dates in each country you currently can`t purchase this album. We are updating our release dates twice a week. So, please feel free to check from time-to-time, if the album is available for your country.
We suggest, that you bookmark the album and use our Short List function.
Thank you for your understanding and patience.
Yours sincerely, HIGHRESAUDIO
Toshio Masuda (b. 1959): Naruto:

1

Masuda: Naruto: Alone Theme

01:38

Dmitri Shostakovich (1906 - 1975): The Gadfly, Op. 97:

2

Shostakovich: The Gadfly, Op. 97: III. Youth (Romance)

02:22

Michael Nyman (b. 1944): If (From "The Diary of Anne Frank"):

3

Nyman: If (From "The Diary of Anne Frank")

04:13

Anne Dudley (b. 1956): Chasing Rainbows:

4

Dudley: Chasing Rainbows

02:31

Go Shiina (b. 1974): Demon Slayer:

5

Shiina: Demon Slayer: Kamado Tanjiro no Uta

03:25

Sonya Belousova (b. 1990), Giona Ostinelli (b. 1986): The Witcher:

6

Belousova, Ostinelli: The Witcher: Toss A Coin To Your Witcher

02:49

Bruno Coulais (b. 1954): Vois sur ton chemin (From "Les Choristes"):

7

Coulais: Vois sur ton chemin (From "Les Choristes")

02:12

James Newton Howard (b. 1951): The Hanging Tree (From "The Hunger Games: Mockingjay Pt. 1"):

8

Howard: The Hanging Tree (From "The Hunger Games: Mockingjay Pt. 1")

03:13

Astor Piazzolla (1921 - 1992): Libertango:

9

Piazzolla: Libertango

03:08

Shigeru Umebayashi (b. 1951): Yumeji's Theme (From "In the Mood for Love"):

10

Umebayashi: Yumeji's Theme (From "In the Mood for Love")

02:27

Rachel Portman (b. 1960): The Little Prince Orchestral Suite:

11

Portman: The Little Prince Orchestral Suite

04:35

Khaled Mouzanar (b. 1974): Zeyn (From "Capharnaüm"):

12

Mouzanar: Zeyn (From "Capharnaüm")

04:03

Yann Tiersen (b. 1970): Comptine d'un autre été, l'après-midi (From "Le fabuleux destin d'Amélie Poulain"):

13

Tiersen: Comptine d'un autre été, l'après-midi (From "Le fabuleux destin d'Amélie Poulain")

02:12

Nicola Piovani (b. 1946): Buongiorno Principessa (From "La vita è bella"):

14

Piovani: Buongiorno Principessa (From "La vita è bella")

03:04

Pyotr Ilyich Tchaikovsky (1840 - 1893): Valse sentimentale, Op. 51, No. 6:

15

Tchaikovsky: Valse sentimentale, Op. 51, No. 6

04:08

Total Runtime

46:00
Info for Cinéma

On her new album "Cinéma", which will be released on 22 September and is already available for pre-order, violinist and social media star Esther Abrami lets soundtrack hits of her generation shine in new orchestral versions. This includes arrangements of blockbuster hits from anime, series and feature films such as "Demon Slayer", "The Witcher" or "Hunger Games", as well as music from French films such as "The Fabulous World of Amelie" and "The Children of Monsieur Mathieu". There are also classical pieces from films with music by Tchaikovsky, Shostakovich, as well as Astor Piazzolla, and two world premieres by Oscar-winning composers Anne Dudley and Rachel Portman, with whom Esther Abrami is personally acquainted. The recordings were made with the City of Prague Philharmonic Orchestra under the direction of conductor and arranger Ben Palmer at the legendary Smecky Studios in Prague, one of the busiest soundtrack recording studios in the world. The first digital single has already been released: "Alone Theme" from the anime series "Naruto".
Esther Abrami, violin
The City Of Prague Philharmonic Orchestra
Ben Palmer, conductor, guitar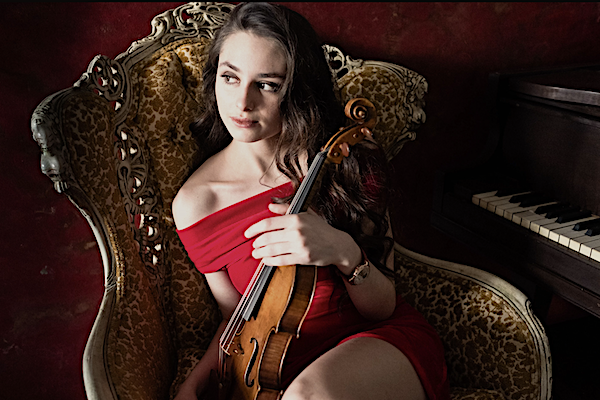 Esther Abrami
Abrami's story is that of a young, modern day women of the internet age who has succeeded on international stages and secured a coveted recording contract with a major label due to her courage, determination and willingness to share the ups and downs of her own remarkable life as a musician with a wide online audience.
Born in 1996 and raised in Aix-en-Provence, Esther Abrami knows how it feels to grow up in a culture far from towering classical institutions. "I had a countryside childhood" she says. "I went to a small, country school and I was always outside as I loved nature. We had a wild garden at home; my dad built me a little bench up on the hill where I could go to read and play my violin".
Aged just three, Esther was given her first tiny violin by her grandmother, who herself had been a gifted violinist but, as was the custom at the time, gave up her own music-making when she got married. "I remember her trying to teach me how to hold the little violin" Abrami recalls. Although enchanted by this small, beautiful object, it would not be until the age of ten before Esther started to learn how to play in earnest, taking to the violin immediately. "I loved the feeling of the violin tucked in so close to me, like a living creature. I loved the sensation of the warm sound traveling through my body. After just half an hour with the bow in my hand, I knew that this was what I wanted to do for the rest of my life", she recollects fondly.
Always serious about her art, even as a child, Esther would watch concerts on television and try to recreate the sounds she heard. Being extremely motivated and having studied incredibly hard, at the age of 14 she eventually became a boarding student at Chetham's School of Music in Manchester, often getting up very early at 5am to spend extra time in the rehearsal rooms.
Her hard work paid off and in 2017 Esther was accepted as a student at the world-leading Royal College of Music in London. Alongside her lessons, Esther also began to build her online career, playing popular classical music on her social media channels. She was more surprised and gratified by the positive response, however, when she started uploading practice videos, sight-reading videos and tips and helpful techniques for aspiring young musicians.
Esther has approached social media with the same open mindedness with which she performs her music. She has a sense of fun and fashion and delights in her collaborations with leading fashion houses like Givenchy. She has also entertained people online by demonstrating the difference between the sound of a priceless Stradivarius and a copy and is not averse to including the rescue cats she fosters in her posts. A recent YouTube video of her practising with a kitten snuggled in a pouch around her waist has received over 10 Million views.
Of her upcoming debut single on Sony Classical showcasing Clara Schumann, Esther Abrami notes: "I'm passionate about highlighting the work of women composers overall. It is such a pleasure to discover and perform their works, some of whom are only just beginning to be celebrated. For International Women's Day, I'm especially delighted to be recording a piece by the wonderful Clara Schumann".
Esther believes people have connected with her because she has opened up and told her own real story - not just one of the glamour of international travel and performing on stage but also the truth about the hours of practice and toil that otherwise goes unseen and unnoticed. Esther confirms: "It actually makes me feel vulnerable to put practise videos out there as it's rather intimate, but I do want other people to see what happens behind the scenes, because I think that is much more inspiring. When I first came to England, I often felt that I was behind many of my peers in terms of technique and at times that was discouraging, but I've come so far. I've learned that it's never too late and that you can always improve – that's the positive message I wish to convey. I am always humbled and heartened by the messages I receive from people all over the world, telling me that somehow I have encouraged them to start to learn to play an instrument. That never fails to inspire me".
In 2019, Esther Abrami became the first classical musician to be nominated in the Social Media Superstar category at the Global Awards. She has been awarded a full scholarship for a master's degree at the Royal Birmingham Conservatoire under the guidance of Professor Wen Zhou Li.
Esther Abrami plays a fine Jean-Baptiste Vuillaume violin, kindly loaned to her through the Beare's International Violin Society.

Booklet for Cinéma