---
Béla Fleck & Abigail Washburn
---
Biography Béla Fleck & Abigail Washburn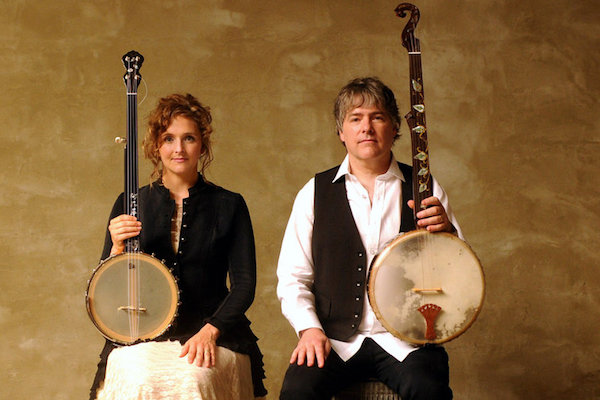 Bela Fleck
winner of 15 Grammy Awards and nominated in more categories than any other artist in Grammy history – is one of the world's most consummate and innovative exponents of his instrument. As the New York Times observes: "Mr. Fleck can lay claim to the title of the most popular living banjoist, having done much to push the instrument beyond bluegrass terra firma into jazz, classical, and beyond."
Born in 1958 in New York City, Fleck seemed destined to be a world-class musician from the start, having been named for three great composers: Béla (for Bartók), Anton (for Webern), and Leos (for Janácek). Already a powerfully creative force in bluegrass, jazz, pop, rock and world beat, Fleck made the classical connection with Perpetual Motion, his 2001 Sony Classical recording that went on to win a pair of Grammy Awards, including Best Classical Crossover Album. Collaborating with the banjoist on Perpetual Motion was his longtime friend, double bass virtuoso and composer Edgar Meyer. Fleck and Meyer went on to co-write and perform a double concerto for banjo, bass and orchestra, which they debuted with the Nashville Symphony in 2003. They also co-wrote a triple concerto for banjo, bass and tabla – titled The Melody of Rhythm – with world-renowned tabla player Zakir Hussain.
In August 2013, Fleck makes his Deutsche Grammophon/Mercury Classics debut as a composer-performer with The Impostor, an album showcasing his title concerto for banjo and symphony orchestra coupled with his Night Flight Over Water, for banjo and string quartet. For The Impostor concerto, the banjoist teamed with conductor Giancarlo Guerrero and the Nashville Symphony (which commissioned the work); for Night Flight Over Water (commissioned by Butler University), Fleck partnered with the adventurous string quartet Brooklyn Rider.
Both works feature prominently in Fleck's 2013-14 season. August sees him undertake The Impostor with the Philadelphia Orchestra, before revisiting it with the South Carolina Philharmonic and the symphony orchestras of North Carolina, Indiana University, Huntsville, Canton, and Peoria. Starting with nine dates in November, Fleck and Brooklyn Rider look forward to touring Night Flight Over Water extensively across the U.S. and Canada. Season highlights also include collaborations with jazz keyboardist Chick Corea, singer-songwriter Alison Krauss, and Fleck's wife and fellow banjoist, Abigail Washburn.
Other recent artistic partnerships have featured African artists Oumou Sangaré and Toumani Diabaté, jazz with the Marcus Roberts Trio, and bluegrass with old friends. Béla Fleck and the Flecktones still perform together, 25 years after the band's inception.
Abigail Washburn
If American old-time music is about taking earlier, simpler ways of life and music-making as one's model, Abigail Washburn has proven herself to be a bracing revelation to that tradition. She — a singing, songwriting, Illinois-born, Nashville-based clawhammer banjo player — is every bit as interested in the present and the future as she is in the past, and every bit as attuned to the global as she is to the local. Abigail pairs venerable folk elements with far-flung sounds, and the results feel both strangely familiar and unlike anything anybody's ever heard before.
One fateful day 11 years ago, Washburn was miraculously offered a record deal in the halls of a bluegrass convention in Kentucky which changed her trajectory from becoming a lawyer in China to a traveling folk musician. Since then, Abigail has been recording and touring a continuous stream of music. Her music ranges from the "all-g'earl" string band sound of Uncle Earl to her bi-lingual solo release Song of the Traveling Daughter (2005), to the mind-bending "chamber roots" sound of the Sparrow Quartet, to the rhythms, sounds and stories of Afterquake, her fundraiser CD for the Sichuan earthquake victims. The New York Times praised her 2011 release, City of Refuge, written with collaborator Kai Welch, saying the the songs "mingle Appalachia and folk-pop, with tinges of Asia and Bruce Springsteen." Her most recent release, Béla Fleck & Abigail Washburn (2014) was recorded with her husband, 15-time Grammy award winning banjo virtuoso, Béla Fleck. Currently Abigail and Béla are touring the world as a "trio" with their growing little boy Juno.
Having toured the world, Washburn is also armed with Chinese language ability and profound connections to culture and people on the other side of the Pacific. Washburn is one of the few foreign artists currently touring China independently and regularly. She completed a month-long tour (Nov-Dec 2011) of China's Silk Road supported by grants from the US Embassy, Beijing. Abigail, along with 24 other innovative and creative thinkers worldwide, was named a TED fellow and gave a talk at the 2012 TED Convention in Long Beach about building US-China relations through music. In March of 2013, she was commissioned by New York Voices and the NY Public Theater to write and debut a theatrical work titled, Post-American Girl, which draws from her 17-year relationship with China and addresses themes of expanding identity, cultural relativism, pilgrimage, the universal appeal of music and opening the heart big enough to fold it all in. Abigail was recently named the first US-China Fellow at Vanderbilt University. Her efforts to share US music in China and Chinese music in the US exist within a hope that cultural understanding and the communal experience of beauty and sound rooted in tradition will lead the way to a richer existence.