---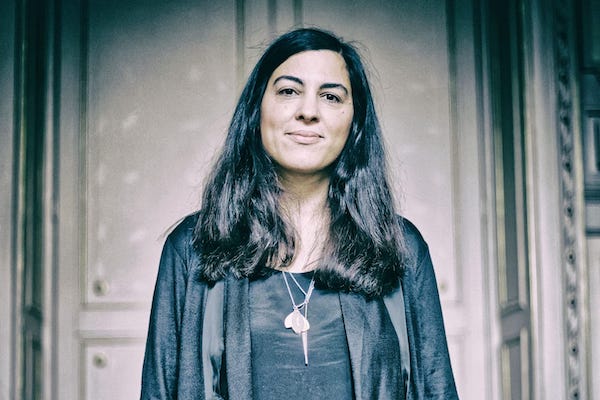 Nadine Khouri
is a musician and songwriter currently based in London. Influenced by alt-folk, film soundtracks and spoken-word, her sound has been described as a "music born of perennial outsider-status."
Recorded live with legendary producer John Parish (PJ Harvey, This is the Kit) in his hometown Bristol, her debut album 'The Salted Air' is a haunting and atmospheric collection of poetic meditations on loss and transformation. Khouri's singular voice soars above droning organ, pulsating shakers, and an occasional choir of male voices, creating a self-contained world, reminiscent of Stina Nordenstam and Mazzy Star in their heyday. Pumping harmoniums meld into reverb-drenched electric guitar, while Khouri's languid voice offers a dream-like incantation set against a beating Moroccan tar on 'Broken Star'.
The album also features guest contributions Irish singer-songwriter Adrian Crowley, violinist Emma Smith (James Yorkston, Hot Chip) and others.
Released in February 2017, the album cemented Khouri's one-to-watch status. It and was hailed by MOJO as "A thing of dark possessed beauty" in their four-star album review, celebrated by Q (Feb 2017 Critics Choice) and selected as one of Rough Trade's Albums of the Month.
Acclaimed music photographer Steve Gullick (Nirvana, Bonnie 'Prince' Billy) shot Khouri's press photos and cover art. He also directed the video for 'You Got A Fire'.
In the past year, Khouri has performed in some of London most prestigious venues with her band, including The Union Chapel, Royal Festival Hall, Cecil Sharp House, Royal Academy of Arts, and has shared the stage with the likes of Howe Gelb, John Parish, Piers Faccini, Adrian Crowley, Gemma Ray, Seamus Fogarty, and many more.
In December 2017, 'The Salted Air' was listed among Rough Trade's Albums of the Year.