---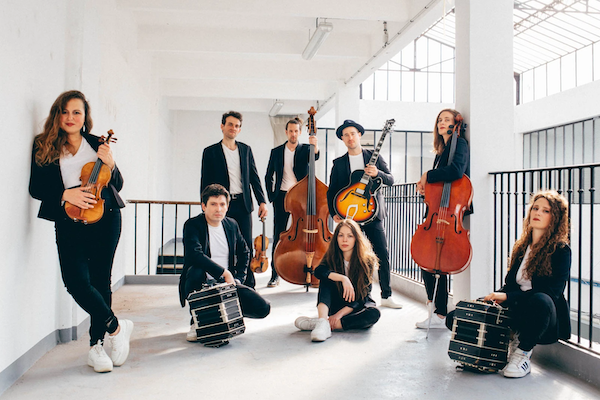 Octetology
Since its creation in 2020, Octetology has won the first prize in the international competition of Castelfidardo in Italy, in the "Piazzolla Awards" category; and has received some great programming (Théâtre du Châtelet, FIP concert live Studio at 104 de Radio France, Nuits de Nacres, Nuits musicales d'Uzès, Festival Tango de Gennevilliers, Générations France musique Live...). Dedicated to Astor Piazzolla's flamboyant and emblematic Octeto Buenos Aires, these eight musicians retrace the origins of Tango Nuevo to deliver a resolutely modern interpretation.
When he left Paris to return to Buenos Aires in 1955, Astor Piazzolla was determined to "get tango out of the monotony in which it had become mired", by overturning its codes and traditions through the creation of new music. He surrounded himself with some of the most emblematic musicians of the genre (A. Stampone, L. Federico, E. Francini...) to create the "Octeto Buenos Aires", a short-lived formation (1955-1958) that would profoundly influence the music of Buenos Aires and that would remain one of the composer's most avant-garde attempts. Despite the originality of the proposal, the virtuosity of the performers and the flamboyant writing, the project did not receive the hoped-for response from the public and connoisseurs, which led Piazzolla to abandon it and destroy all the parts of this immense repertoire.
Through extensive research and rewriting, Octetology has succeeded in reconstituting this lost repertoire, never recreated since its disappearance over 60 years ago.