---
Mihály Borbély & László Süle
---
Biography Mihály Borbély & László Süle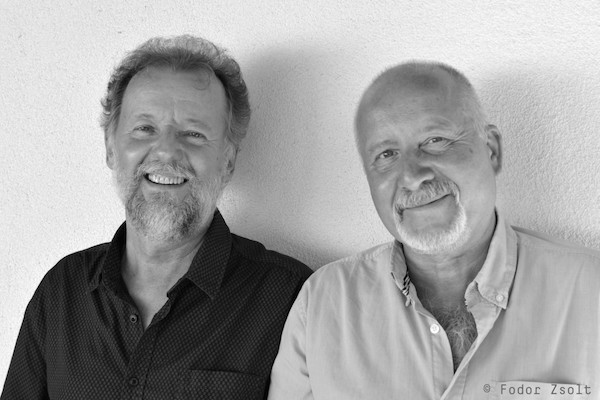 Mihály Borbély
Multireedist Mihály Borbély got his degrees in classical clarinet and jazz saxophone from the Béla Bartók Conservatory and Ferenc Liszt Academy of Music in Hungary and became a real versatile musician working in different musical styles from folk and world music to jazz and contemporary music. In addition to his original instruments he also plays folk instruments like the tárogató, folk flutes, kaval, dvojnice, fujara, ocarina, bombarde and zurna.
He is a member of the famous folk group the Vujicsics (founded in 1974!) and, in addition to this he has participated in severeral recording sessions and concerts of leading Hungarian and international artists and groups, among others: Paul Bley, Steve Coleman, Trilok Gurtu, Charles Lloyd, Herbie Mann, Michel Montanaro's Vents d'Est, Zbignew Namislowsky, Theodosii Spassov, Jiri Stivin, Saxophone Summit (Michael Brecker – David Liebman – Joe Lovano). He also performed with composer-conductor Peter Eötvös and the National Philharmonic Orchestra. In the nineties he formed his own jazz groups, the Quartet B, the Mihály Borbély Quartet ('Borbély Műhely') and a duo project with pianist Károly Binder. He has played on major folk, world music and jazz festivals all over Europe as well as in the US and Australia.
Teaching is a very important element of his musical philosophy and he is an associate professor at the Jazz Department of Ferenc Liszt Academy of music in Budapest where he was the chairman between 1997 and 2000. Among these he gave lectures, workshops and master classes in his country and abroad, e.g. Birmingham Conservatory, Royal Academy of Music in London, DISTIL Scotland/England, Conservatoire de Lyon, Dresden University of Music C.M. von Weber and several colleges in the USA and Mexico.
"Borbély and his crew have produced an excellent, satisfying album that contains some beautiful stuff and several breathtaking moments." (London Jazz News) "With the band sounding like a swinging jazz combo at times – albeit one where Borbély's strident extensions are sometimes also expressed on tárogato – and a sympathetic chamber ensemble elsewhere, this homage to Kodály impresses with originality as well as empathy." (Jazzword) "This is an intriguing set of modern music that grows in interest with each listen." (All Music Guide)
"If Bartók played not-so-straight-ahead jazz, it might sound like the Borbély Quartet, combining Serbian, Slovak, Gypsy, Jewish and German folk influences with classical music, shot through with that thing that swings. Roland Kirk would understand." (RootsWorld)
"His arsenal of Hungarian reeds – tilinko, supelka and the more well-known tarogato – brings a range of changing timbres to the table that are as haunting as they are ecstatic. A notable release from a group that deserves an international spotlight for its obvious talent." (Jazzwise)
László Süle
The Hungarian composer and pianist, living in Finland, László Süle and one of the most outstanding woodwind artist, Mihály Borbély, have been playing together on several occasions. They have recently recorded their first joint album, Heartquake, released on Hunnia Records. We are honoured that they have chosen Opus for the live debut of the album.
László Süle (Budapest, 1955) started to learn the piano at the age of seven. Although later graduating from the University of Agriculture in Hungary, his musical studies have been continuous. In addition to piano he has studied composition, harmonization, counterpoint and instrumentation. Between 1981 and 1984 Süle studied at the Jazz department of the Béla Bartók Conservatory in Budapest. After graduation he became a teacher at the Conservatory. He taught music theory, history, harmony and instrumentation.
Following his 1988 tour in Finland with his trio he was invited to teach at the Helsinki Pop & Jazz Conservatory. He moved to Finland and started to teach in January 1989. He taught piano, run a workshop called Almost Big Band, which played Süle's compositions and led the choir of the Conservatory. In August 2000 he was appointed Lecturer at the Pop/Jazz Music Department of Helsinki Polytechnic, STADIA (from August 2008. METROPOLIA, University of Applied Sciences). Currently he is teaching jazz and classical piano, pedagogy, composition and history of Western music. He participated in teacher changing projects in Norway, Sweden, Iceland and Portugal.
Süle released 12 CD's between 1989 and 2011. Absence, released in 2004 with Pentti Lahti and the Scarbantia String Quartet, received very good reviews and was nominated for the Finnish Music Award "Emma". It was also chosen among the five best jazz records of the year in Finland. His last three CD's (Duets For The Restless Souls 2008, Trio Music 2009 and Silver Solitude 2011) were made in unique collaboration with top Finnish classical and jazz musicians, like Marko Ylönen, Eeva Rysä, Max Savikangas, Zoltán Takács, saxophonist Pentti Lahti and bass player Hannu Rantanen.
Besides his pieces for for jazz combo, Süle composes also vocal, solo piano and chamber music as well as music for big band and symphony orchestra. He is involved in various projects, including a duo with Pentti Lahti, solo piano and chamber music concerts, performances of his new jazz and contemporary music compositions. In March 2014 he was appointed "Knight of Cross from the Order of Merit of Hungary" for his artistical and pedagogical achievements in Finland.