---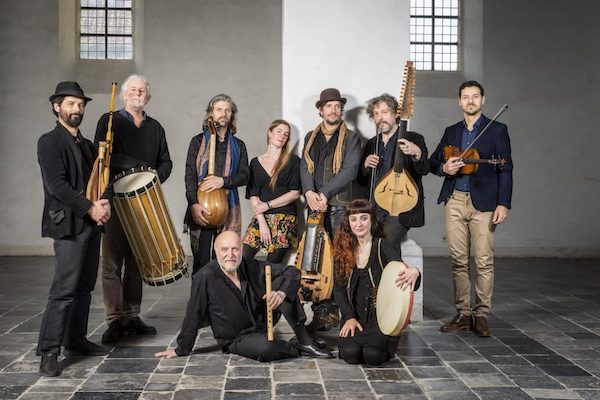 Toasaves
is a Belgian music collective with a fascination for medieval Flemish song and its relationship to both Early Music – Trecento, Ars Nova and Flemish Polyphony – and modal music from the East. Toasaves is phonetic and means "home land" in the Antwerp accent. The ensemble was founded by oud player and musicologist Tristan Driessens and brings together a dozen artists from different countries and traditions, each with a broad artistic background and expertise. In April 2021, Toasaves recorded their debut album "Zwerver", which will be released on the Muziekpublique record label on November 26th, 2022.
"Zwerver" starts from the Groot Liedboek of Wannes van de Velde (1937-2008), the singer-artist who breathed new life into the oldest surviving Flemish ballads. Together with multi-instrumentalist Raphaël De Cock, composer Dick van der Harst and modern troubadour Michaël Grébil, Tristan Driessens wrote new arrangements of anonymous medieval songs as well as original work by Van de Velde. It goes without saying that the dialogue with Eastern music culture, which runs like a thread through Driessens' career, was not avoided. In keeping with the adventurous spirit of Wannes van de Velde, Toasaves sees in the exploration of cultural heterogeneity a wealth of possibilities that can reveal and reinforce the primal power of Early Music repertoires from a new perspective.
The rich instruments in combination with the unorthodox singing styles of Toasaves fulfill a connecting function in this. Thanks to virtuoso performances on Early Music instruments from both East and West – Medieval flutes, drums, cisters and fiddles, Oriental violins, lutes and frame drums, hurdy-gurdy and bagpipes, Indian dilruba and bansuri, etc …, new light is shed on musical traditions that, in time and space separated from each other, translate the same poetic and musical secrets. Starting from the folk repertoire of Wannes van de Velde's Groot Liedboek, Toasaves joins in with the first masters of Early Music – Landini, Thomas Fabri, Guillaume de Machaut, … and the classical and popular music genres from the Greek islands, the Sephardic Diaspora, the Black Sea and the Ottoman Court.