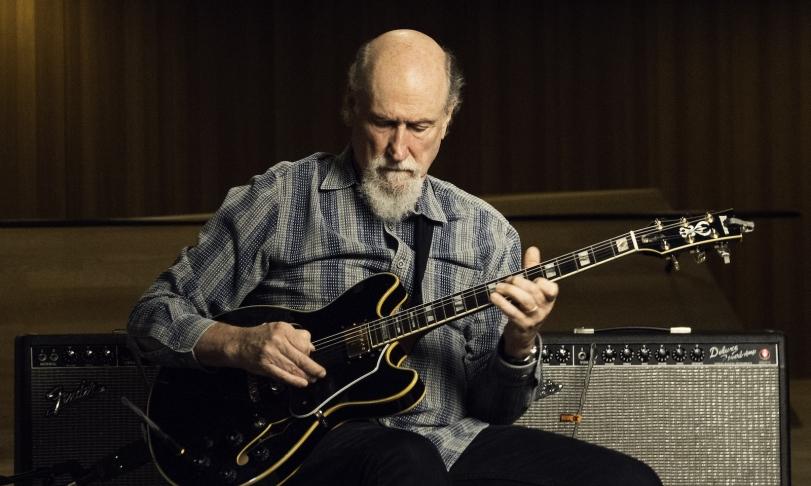 At 71 years old, John Scofield is considered one of the most important and influential jazz guitarists since Wes Montgomery. He is generally known in jazz circles for his slightly distorted guitar sound and his laid-back and inside-outside playing, in which off-key and near-key material is deliberately juxtaposed. This special way of handling the guitar is the reason why John Scofield, whether he plays mainstream jazz, fusion, country, rock, or experimental music, is instantly recognizable as John Scofield after just a few bars. Since 1977, he has released an album almost every year, sometimes even two albums. This enormous productivity is astonishing. It is also amazing that his new album, named after himself, is the guitarist's first solo album after such a long recording career.
In order to build up tension in his solo playing and to expand its versatility, John Scofield used a trick for the recording of the new album, which others have also used when presenting a solo album, by using overdubs. To do this, he played with a "looper," although he doesn't solo over short phrases that are only seconds long, but rather the length of entire choruses. There are other places where he solos over looped fragments for structure. For the most part, however, you hear Scofield duetting, which he commented, "When I play solo, I make these little guitar loops on the fly, I don't do prerecorded loops. So, I am having to respond to some music and it's almost like I'm playing with another person. I do say almost." Of course, Covid did not leave this guitarist unscathed too. However, he was able to take some positives from the enforced house arrest: "I think there's a delicateness that I have acquired from playing at home alone. I am so used to playing with a slamming band, which is what I love to do, and there's a certain muscularity in that. That went away and was replaced, I think, by, hopefully, this more delicate approach of pinpointing the beauty of the strings."
Of course, Covid did not leave this guitarist unscathed. However, he was able to take some positives from the forced house arrest: "I think there's a certain tenderness that I've acquired when I'm playing alone at home. I'm so used to playing with a hard-hitting band, which I love to do, and that brings a certain muscularity. That's dropped now, and instead I've hopefully found a more delicate approach that brings out the grace of the strings."
Of the thirteen pieces gathered on the new album, Scofield has previously recorded quite a few with different forces. Five new pieces are juxtaposed with eighteen covers of familiar tunes. The opening piece, "Coral," with its relaxed rhythm, was written by Keith Jarrett and features an early overdub solo in relaxed 4/4 time. This is followed by "Honest I Do," an original from his album Grace Under Pressure. Other pieces penned by Scofield include the jazzy and bluesy "Elder Dance," the gently paced "Mrs. Scofield's Waltz," which Scofield originally recorded with Brad Mehldau, and the fusion-based "Trance De Jour." Traditional in the best sense are "Danny Boy," the bluesy "Junco Partner," the rousing "It Could Happen to You" and "There Will Never Be Another You," from John Scofield's very first album, join in. "Not Fade Away" rocks no less fiercely than Buddy Holly's original. The album, fantastically played throughout, closes with Hank Williams' "You Win Again" with its relaxed country-influenced pace. Here Scofield manages to convincingly imitate the sound of a steel slide guitar with his acoustic guitar, which is so essential to country.
John Scofield plays John Scofield is a must for every fan of masterful guitar playing, especially since ECM presents this excellent playing in the very best sound in the familiar manner of this label.
John Scofield, electric guitar