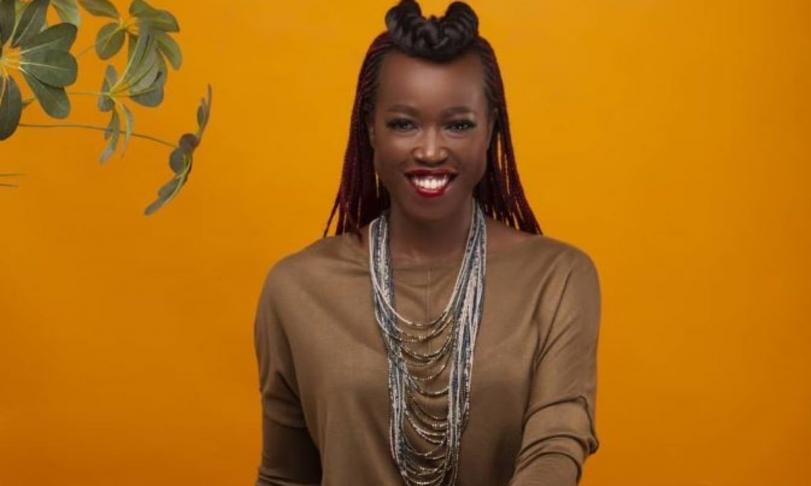 How do you conjure up a relaxed summery atmosphere in our society, which has been hampered by Corona? Nina Ogot has a convincing answer to this question: Take a skilled golden throat from Kenya, bring it together with a high-spirited thirteen-piece (!) band of German Afropop musicians and make this mixture boil with songs in the stimulating rhythms of Afrobeat, Reggae, Pop, Soul and Jazz. As you can listen to the album Dala and also enjoy dancing along, this works out very well. Preconceptions that this might be a bland world music spectacle are dispelled on the spot as soon as the first song sounds from the loudspeakers or headphones. You immediately forget the prevailing rules of distance and relaxedly stretch the mask in front of your mouth and nose.
The secret of the summery mood maker Dala is the relaxed pace of the album, instigated by the four-member drummer group around Kay Vester, Billy Ray, Marcus Rieck and Izo Anyanga, who as flutist reinforces the saxophone and brass group responsible for the album's radiant flair. Nina Ogot is supported by the excellent background vocals of Birgit Speitmann and Nora van Rijn, while Nina Ogot is joined by Fabio Nettekoven on electric guitars for a rousing guitar sound. Arne Dreske is responsible for the fine spice of the sound mixture with various keyboards. Nina Ogot, who usually performs with a small formation, has long dreamed of a large backing band. That this dream has come true, she owes to a live event in Cologne in 2018, for which a small accompanying band was originally planned, which then miraculously mutated into the full-grown big band that can be heard on the album Dala, and which Nina Ogot was able to present to her Kenyan compatriots in 2019 on a successful tour of the African country.
The fact that Nina Ogot has both feet in the music business and is also actively involved with street children in her home country Kenya ensures the credibility of her performance on the stages of the world. The fact that the singer, who enjoys an assertive, bright voice, also sings on her new album in her mother tongue Dholuo and in Swahili, the most common lingua franca in East Africa, and more occasionally in English, also contributes to this. Nina Ogot has been active as a singer for over ten years now. Her debut album Ninairobi was released in 2008, but she foremostly became known as a TV and radio presenter for Radio France International and the Kenyan TV station Citizen TV. Dala is her third album and it has the potential to be a real long runner.
It is true that Dala is unable to banish the virus from which the whole world suffers. However, by spreading the very best summery atmosphere, it is very well suited to alleviate corona effects caused by the prevailing spacing rules, mouth/nose protection and visiting restrictions that severely affect our usual social life.
Nina Ogot, lead vocals, acoustic guitar
Fabio Nettekoven, lead guitar
Arne Dreske, keyboards
Lennart Busse, bass
Marcus Rieck, drums
Izo Anyanga, percussion
Kay Vester, percussion
Christian Spors, horn
Phillip Burgstedt, horn
Robin Richard, horn
Jan Urnau, horns
Birgit Speitmann, background vocals
Diana Omondi, background vocals
Nora van Rijn, background vocals
Regina Mlecha, background vocals