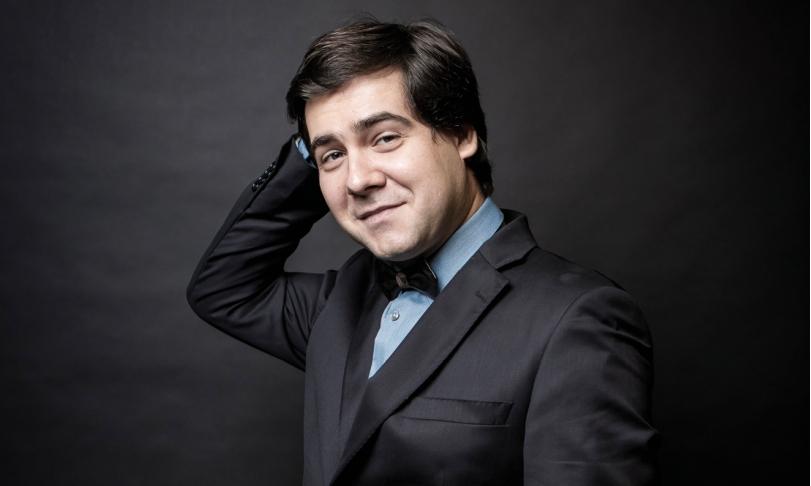 The most famous work of the Russian composer Sergei Prokofiev is still his musical fairy tale Peter and the Wolf from 1936, which is told by a narrator with the educational aim of familiarizing children with the instruments of a symphony orchestra. His short and vibrant classical symphony, which Joseph Haydn parodically beams into the 20th century, is nearly as popular with concert audiences as Peter and the Wolf with children. Apart from that, Prokofiev's musical works, which cover the entire spectrum of classical music, including film music (Eisenstein's Ivan the Terrible), have not yet completely reached concert audiences throughout the world. His partly wild, dissonant music (piano concertos) was still perceived as sheer provocation in the sixties, together with Stravinsky's Sacre du Printemps. Although this phenomenon more or less has become devoid in the meantime, there is still a residual incompatibility of some pieces with concert audiences.
This includes Sonata No. 6, which received its first performance in 1940, but not the second piece on this album, the Visions fugitives, which were written between 1915 and 1917. Although this cycle by the young composer already contains dissonant harmonies, it mainly draws on the traditional concepts of tonality and rhythm. This cycle also reveals Prokofiev's later, always lustfully cultivated sense of scurrility and brilliant timbres, as in the ballet Romeo and Juliet, but with the difference that the Vision fugitives are located in the world of Impressionism, which was widespread at the time. The resulting softness of sound and blurred timbres require a pianistic approach that is closer to Debussy than to the in future rather garishly intoned Prokofiev. Vadym Kholodenko, the Ukrainian pianist of this album, born in 1986, fulfils this demand ideally with his sparkling articulation, his tasteful use of rubato and an ever-singing tone that softens in the quiet without losing structure. In addition, the Fazioli grand piano used for this recording congenially supports this way of playing.
This does not mean, however, that the Fazioli grand piano could not perfectly master the wildly jagged sound panorama of Sonata No. 6. On the contrary, not to mention the pianist. The sharp dissonances in the first movement, embedded in key-free modulations, are chiseled out by Vadym Kholodenko with enormous energy. The same applies to the staccato chords that one also encounters in Prokofiev's first piano concerto, and which are framed by almost cheerfully faltering passages in the sonata's second, march-like movement. Vadym Kholodenko's mood-wise full-bodied slow waltz of the third movement is followed by the last, the fourth movement, which is set as a rondo in the dissonant, key-free world of the first movement. The steely relentlessness of the 6th Prokofiev Sonata with its few tender interjections is delivered by the Ukrainian pianist in a breathtaking manner. Both the Sonata and the Visions fugitives make it understandable that Sergei Prokofiev is the favorite composer of this sound magician on the piano.
Vadym Kholodenko, piano