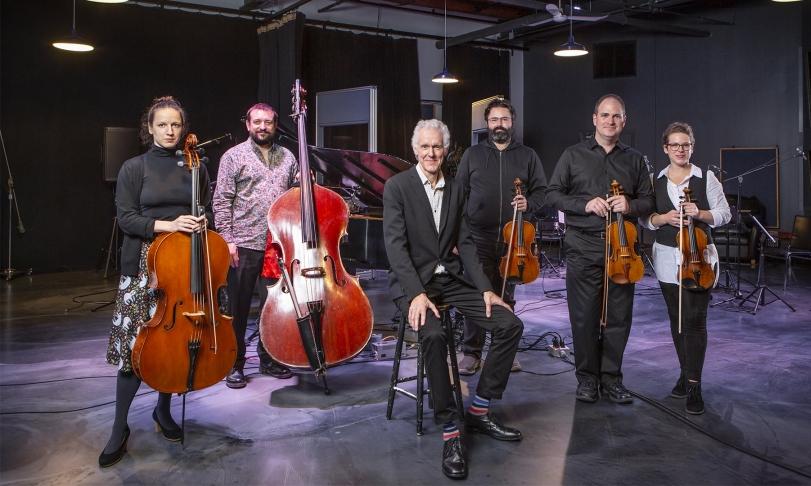 Musicians who practice jazz as well as classical music are rather rare. Not to mention those who master both musical genres equally well and even understand how to merge them. The pianist and composer Yves Léveillé, who lives in Canada and is mainly active there, belongs to this latter rare species. As a performing musician, the Canadian is not only active as a soloist, but also together with and in various ensembles, which he usually puts together himself. Since the 1990s, he has produced nine albums to date, which have been positively received by critics and music lovers alike, and to which the tenth album L'échelle du temps has now been added. All albums reflect the high competence of Yves Lévillé in jazz and classical music. A successful synthesis of classical and jazz is offered by his last album Phare, which brings together excellent post-bop jazz with a conventional classical quintet. If jazz predominated on Phare, the classical spirit takes precedence on L'échelle du temps, with a string quartet and double bass complementing Léveillé piano in the album's lyrical compositions.
As to what exactly is behind L'échelle du temps, and why Yves Léveillé recorded this album, he recently explained, "I've wanted to make an album for piano and strings in the spirit of chamber music for some time. When I studied music in Quebec City and specialized in composition, I wrote works for various instrumentations, including the string quartet. Then I turned to creative jazz, leaving that approach aside to write for jazz ensembles and perform my music. Four years ago, I was commissioned to arrange French singer Marie-Therese Fortin's Barbara' Songs for string orchestra. I also wrote a work for oboe, piano and strings for this ensemble. That gave me the desire to do something more personal, reflecting where I am as a pianist and composer, and evolving in contemporary jazz. I wanted this album to be uncompromising and reflect my diverse tastes, ranging from modern jazz and classical music to chanson and world music. L'échelle du temps represents the importance of the present moment, as the hourglass inexorably ticks down."
Indeed, on L'échelle du temps, these goals are brilliantly put into practice with original compositions, taking shape piece by piece. Sometimes, as the pieces evolve, a player creates his or her own line, in the spirit of jazz, which blends harmoniously with the original. Each piece contains variations, feels like an exploration, and takes a slightly different path. This approach requires a strong sense of togetherness among the musicians, of thinking and feeling together. The selection and composition of the musicians is of strong importance for this kind of music. For L'échelle du temps, Yves Léveillé has succeeded in hiring virtuoso musicians on their respective instruments, each of whom has exceptional expressiveness and sensitivity: Lizann Gervaison on first violin, Olivier Thouin on second violin, François Vallières on viola, Émilie Girard-Charest on cello, and Étienne Lafrance on double bass.
L'échelle du temps contains some of the most beautiful fusions of classical and jazz traditions and arrangements. The music on this album is personal and full of character, and enjoys an unforced and literally wonderful execution.
Yves Léveillé, piano
Lizann Gervais, 1st violin
Olivier Thouin, 2nd violin
François Vallières, viola
Émilie Girard-Charest, cello
Etienne Lafrance, double bass