---
Album Info
Album Veröffentlichung:
2021
HRA-Veröffentlichung:
14.05.2021
Das Album enthält Albumcover
1

Lay It All on Me

02:58

2

If You Can't Say Anything Nice…

02:39

3

Head & Heart

03:01

4

Speed of Light

03:52

5

People's Parties

02:42

Total Runtime

15:12
Info zu In the Meantime
As some of you know, I released my most recent album, 'If You Can't Say Anything Nice…' back in April, right in the middle of a pandemic. I thought about delaying it—a lot of artists were doing that—but after discussing with my label, I decided to go ahead and release the record anyway. I figured we had nothing to lose and since people were home, maybe they would actually have time to listen. It's amazing how everything just stopped as the quarantine began. I almost liked it for a minute. The slow down of the everyday grind. I found some peace in all of it. But now what? There were no shows to play and it wasn't looking like there would be any in the foreseeable future. So like everyone else, I was relegated to playing music through livestreams from my bedroom. The kicker was that this was a rock record. How was I going to present the album on my own without a band? I had rethink everything. Figure out a way to perform these songs solo. Hopefully make them sound halfway decent. After a few of these "virtual livestream shows," I decided that something new and interesting was happening. Not only did I love being able to connect with people who'd been quarantined for weeks, but I was enjoying the vibe that was happening as I played the songs alone in my room. I felt inspired and decided to record a few of the ones that really worked in a solo acoustic setting. Years from now with distance from it all, I'd love to think this EP will be a moving little reminder of these times we lived through in 2020.
Leslie Mendelson, vocals, guitar
Steve McEwan, guitar on "Speed of Light," Harmonica on "If You Can't Say Anything Nice..."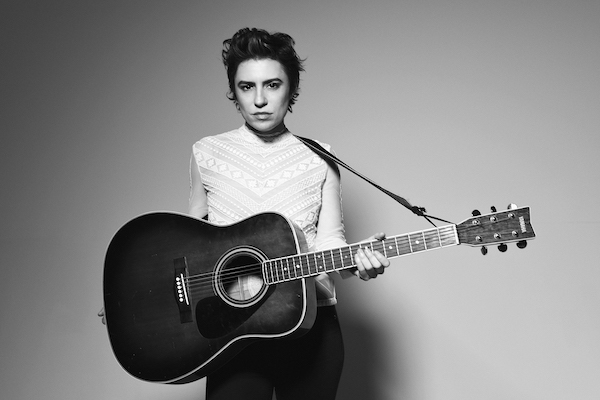 Leslie Mendelson
Brooklyn-based singer/songwriter Leslie Mendelson is supporting her most recent studio album 'If You Can't Say Anything Nice…,' as well as a solo acoustic EP 'In The Meantime,' that was recorded during the 2020 lockdown. Described by Relix Magazine as an artist with "a loyal, cross-generational audience that hugs the hippie, hipster, coffee shop and society crowds," Leslie's timeless musicality and evocative songwriting indeed cuts a wide swath. All Music writes that Leslie evokes "1970s songwriter influences in the vein of Carole King and Carly Simon," while The Aquarian calls her "the closest thing one can get to a truly honest musical experience."
Leslie Mendelson's previous work, including 2009 Grammy-nominated debut album 'Swan Feathers' and 2017 album, 'Love & Murder' dealt with matters of the heart. When it came time to compose the songs that comprise 'If You Can't Say Anything Nice…,' however, she and her longtime writing partner Steve McEwan set out to examine the anxiety stemming from the current socio-political climate with songs like "Medication," "I Need Something To Care About" and "Would You Give Up Your Gun." It's fitting extension of a more socially conscious outlook offered on "A Human Touch"—Leslie's duet with Jackson Browne for the documentary film, '5B,' released in 2019.
If Leslie Mendelson's only collaboration with a legendary musician was Jackson Browne, it would be a worthy point to celebrate. What's truly telling is that Leslie has also drawn the attention of The Grateful Dead's Bob Weir who recorded a duet with her on Roy Orbison's standard, "Blue Bayou," while no less than classic rock royalty The Who invited her to open two shows at Madison Square Garden last year. She was set to open three more dates for the band in 2020 that were unfortunately postponed due to the pandemic. With some of rock music's most legitimate voices seeking Leslie out, it leaves no doubt the rarefied air she inhabits as an artist.


Dieses Album enthält kein Booklet