---
Album Info
Album Veröffentlichung:
2017
HRA-Veröffentlichung:
10.11.2017
Das Album enthält Albumcover Booklet (PDF)
Camille Saint-Saëns (1835 - 1921): Samson et Dalila, Op. 47, Act II:

1

Mon cœur s'ouvre à ta voix (Arr for Trumpet & Organ)

05:22

Georg Friedrich Händel (1685 - 1759): Giulio Cesare, HWV 17, Act III, Scene 7:

2

Da tempeste il legno infranto (Arr for Trumpet and Organ)

05:55

César Franck (1822 - 1890): Messe, Op. 12:

3

Panis angelicus (Arr for Trumpet and Organ)

03:36

Thierry Escaich (1965):

4

Commentaire improvisé sur Purcell

01:25

Henry Purcell (1659 - 1695): Dido and Aenas, Z. 626:

5

XXXIV. Dido's lament (Arr for Trumpet and Organ)

03:34

Thierry Escaich (1965):

6

Commentaire improvisé sur Glière

01:25

Reinhold Gliere (1875 - 1956): Concerto pour soprano colorature, Op. 82:

7

I. Andante (Arr for Trumpet and Organ)

06:18

Giacomo Puccini (1858 - 1924): Turandot, Act III:

8

Nessun Dorma (Arr for Trumpet and Organ)

02:57

Sergei Rachmaninoff (1873 - 1943): Romances, Op. 34:

9

XIV. Vocalise (Arr for Trumpet and Organ)

05:28

Thierry Escaich (1965):

10

Commentaire improvisé sur Satie

01:05

Erik Satie (1866 - 1925):

11

Je te veux (Arr for Trumpet and Organ)

03:13

Leonard Bernstein (1918 - 1990): West Side Story:

12

Somewhere (Arr for Trumpet and Organ)

02:16

Thierry Escaich (1965):

13

Commentaire improvisé sur Laura

01:26

David Raksin (1912 - 2004):

14

Laura (Arr for Trumpet and Organ)

03:50

Thierry Escaich (1965):

15

Commentaire improvisé sur La Foule

01:09

Ángel Cabral (1911 - 1997):

16

La Foule (Arr for Trumpet and Organ)

03:06

Rod Temperton (1949):

17

Thriller (Arr for Trumpet and Organ)

05:08

Total Runtime

57:13
Info zu Vocalises
The trumpeter Romain Leleu and the organist Thierry Escaich don't care about stylistic labels. In their latest album, they spice up the "trompet & organ" genre thanks to their overflowing energy and sparkling twinckle. From Rachmaninov to Mickael Jackson, from Samson and Dalila to West Side Story, the two partners play a selection of arrangements – most of them original – with a contagious enthusiasm.
In Édith Piaf's hypnotizing refrain, "Nessun Dorma"'s lyrical bravery and the delicacy of Handel and Purcell's arias, Romain Leleu and Thierry Escaich know how to transpose all the nuances of the repertoire.
Called "Vocalises" because of the proximity between the trumpet and the human voice, this disc favours renowned classical arias as well as 20th hits. In the intervals, Thierry Escaich runs wild in the art where he excells, the improvisation.
Romain Leleu, trumpet
Thierry Escaich, organ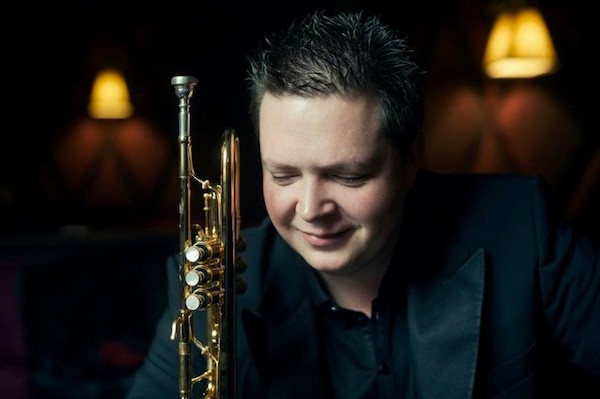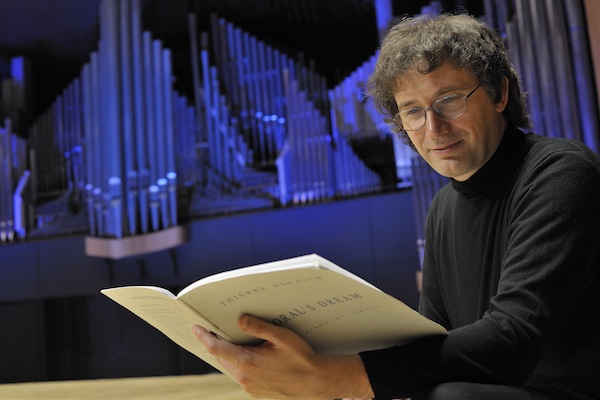 Romain Leleu
Virtuoso and elegant, Romain Leleu is widely regarded as one of the leading trumpeter of his generation. « Instrumental soloist revelation » by the French Grammy Awards Victoires de la Musique, he has built an international career on the five continents, in recital as well as with world class orchestras.
He studied at the Conservatoire National Supérieur de Musique (Paris, France) and at the Karlsruhe Musikochschule in Germany, and was awarded several prizes (Classic revelation Adami, the Banque Populaire Foundation, the SAFRAN Foundation for Music, and the Prize for the Del Duca Foundation of the Fine Arts Academy).
Romain Leleu is a regular guest at prestigious festivals – la Roque d'Anthéron, Colmar, Prades, Menton, Radio France-Montpellier, Flâneries Musicales de Reims, Auvers- sur-Oise, Nantes and Japan Folle Journée, Brussels Musiq3, Radio Classique (Olympia, Paris), Seoul Spring Festival; and at international venues – Bucarest Athéneum, Seoul Arts Center, Sejong Concert Hall, Ongakudo Hall Kanazawa, Hermitage St Petersburg Theatre, Cincinnati Museum Center, Salle Pleyel and Théâtre des Champs Elysées (Paris).
With a wide repertoire ranging from Baroque to 21 century music, and a predilection for the Haydn Concerto, Romain Leleu has commissioned and premiered numerous new works by contemporary composers including Martin Mataton (Trame XII for Trumpet and Orchestra), Philippe Hersant (Folk Tunes for Solo Trumpet), Karol Beffa (Concerto for Trumpet and Orchestra, Subway for Trumpet and Piano), Jean-Baptiste Robin (Récits Héroïques for Trumpet and Organ), Vincent Peirani (Random Obsession).
Since giving his first concert with the Orchestre des Concerts Colonne at the age of 14, Romain Leleu has established a soloist international career. He regularly appears with major French orchestras, Ile- de-France National Orchestra (Salle Pleyel), French National Orchestra (Radio France), Lille National Orchestra, Toulouse Capitole National Orchestra, Lorraine National Orchestra, Auvergne Chamber Orchestra, Marseille Opera Philharmonic Orchestra, Paris Chamber Orchestra, the Republican Guard Band and Orchestra, and from abroad, Brandenburgisches Staatsorchester Frankfurt, Dresdner Kappellsolisten, Württembergisches Kammerorchester Heilbronn, Baltic Chamber Orchestra, Orchestra Ensemble Kanazawa, Slovak Sinfonietta, St-Petersburg Hermitage State Orchestra, Orquesta Sinfonica de Mineria Mexico, Lebanese Philharmonic Orchestra, with famous conductors as Jean-Claude Casadesus, Tugan Sokhiev, Roberto Fores Veses, François Xavier Roth, Arie van Beek, Dmitri Liss, David Reiland.
As a chamber musician he also often loves to pair with Thierry Escaich, Adam Laloum, François Dumont, Ibrahim Maalouf, Frank Braley to name but a few. His keen interest in transcribing music led him to create the Ensemble Convergences, a string quintet, in 2010. While revisiting the Classics with his chamber ensemble, Romain Leleu wanted to give a new breathe to the trumpet repertoire.
All Romain Leleu's discography on the Sony and Aparté/Harmonia Mundi labels has been critically acclaimed and awarded (RTL Gold Classic, Diapason 5, Pizzicato, Resmusica), widely radio broadcasted (Radio Classique, FIP, France Musique, Classic FM, Musiq3).
Romain Leleu gives international masterclasses in regional and superior conservatories in France, and abroad (Seoul National University, Tokyo College of Music, Cincinnati Conservatory of Music, Merida International Brass Academy in Mexico, Cagliari International Summer Academy). He manages a Trumpet Collection for the Billaudot Publishing House (Paris).
Highlights for the 2017-2018 season will be the Shostakovitch Concerto with the Brandenburgischen Staatsorchesters Frankfurt; world premiere of the Beintus Concerto with Frank Braley and the Royal Chamber Orchestra of Wallonie; a recital in Royal Albert Hall-Elgar Room in London ; a new "Inspirations" tour with Ensemble Convergences; tours with Thierry Escaich in South America and USA.
Thierry Escaich
Composer, organist and improviser Thierry Escaich is a unique figure in contemporary music and one of the most important French composers of his generation. The three elements of Escaich's artistry are inseparable, allowing him to express himself as a performer, creator and collaborator in a wide range of settings.
Escaich composes in many genres and forms, always exploring new sound horizons. His catalogue numbers over 100 works which, with their lyrical, rich harmonies and rhythmic energy, have attracted a wide audience. Drawing from the French line of composition of Ravel, Messiaen and Dutilleux, and imbued with references from contemporary, folk and spiritual music, the distinctive sound-world of Escaich's music is anchored by an obsessive rhythmic drive and an overarching sense of architecture.
This very personal style encompasses both intimate works and large-scale pieces, such as Chaconne for orchestra; oratorio Le Dernier Évangile and a double concerto for violin and cello, Miroir d'Ombres. His first opera Claude, on a libretto by Robert Badinter after Victor Hugo's Claude Gueux, was premiered at the Opéra de Lyon in March 2013 to great acclaim. His most recent new works include a Viola Concerto for Antoine Tamestit commissioned by Netherlands Radio Philharmonic, and Organ Concerto No.3 which receives its European premiere by Escaich and Orchestre National de Lyon in November 2017.
Escaich has composed many works for the organ including solo works, three concerti and the symphonic poem La Barque Solaire for organ and orchestra. Escaich's Organ Concerto No.1 has been performed by orchestras such as the Philadelphia Orchestra and the Orchestre National de Lyon, and was selected as a highlight of the organ concerto repertoire in Gramophone: "His concerto exploits the full sonic and colour ranges of orchestra and organ in this thrilling three-movement work, the second movement rising to an awe-inspiring climax only topped by the shattering coda of the finale."
His works are performed by leading orchestras in Europe and North America and by musicians such as Lisa Batiashvili and François Leleux, Valery Gergiev, Lothar Zagrosek, Renaud and Gautier Capuçon, Emmanuelle Bertrand, Paul Meyer, John Mark Ainsley and the Quatuor Voce. Escaich has been Composer-in-Residence with the Orchestre National de Lyon, Orchestre National de Lille and the Paris Chamber Orchestra and his music has been honoured by four 'Victoires de la Musique' awards (2003, 2006, 2011 and 2017). Escaich continues to teach composition and improvisation at the Paris Conservatoire, where he himself studied and obtained eight 'premiers prix'. In 2013 he received the honour of being appointed to the Académie des Beaux-Arts in Paris.
Thierry Escaich's career as a composer is closely linked to his career as an organist, which has led him to be one of the ambassadors of the great French school of improvisation, in the wake of Maurice Duruflé, whom he succeeded as organist of Saint Étienne du Mont in Paris. He appears in recitals internationally, combining repertoire pieces with his own compositions and improvisations. His passion for cinema has led him to perform 'cine-concerts', improvised accompaniments on both the organ and piano for silent films such as Phantom of the Opera and Metropolis.
Highlights of the 2017/18 season include several performances of Escaich's music at the Radio France Presences Festival, the world premiere of his Viola Concerto for Antoine Tamestit with Netherlands Radio Philharmonic and Stéphane Denève and the European Premiere of Organ Concerto No.3 with Escaich as soloist alongside the Orchestre National de Lyon and Leonard Slatkin in Lyon and at the Paris Philharmonie. He returns to the Paris Philharmonie for a cine-concert improvisation, which he will also perform at the Berliner Philharmonie and Rotterdam's de Doelen. Elsewhere this season Escaich performs Saint-Saens Symphony No. 3 with Orchestre National de France/Emmanuel Krivine and has engagements with La Monnaie Symphony Orchestra, the Orchestra of the Mariinsky and Orchestre Philharmonique de Marseille; he performs in recital at Mariinsky Concert Hall and Stockholm Concert Hall among others.
Many of Escaich's works have been recorded by Accord/Universal. Most recently the disc Baroque Song was released on Sony Classical to critical acclaim. His 2011 release Les Nuits hallucinées crowned his residence with the Orchestre National de Lyon, and received numerous distinctions, including a 'Choc de l'année' from Classica magazine as an outstanding release of the year.


Booklet für Vocalises