---
Album Info
Album Veröffentlichung:
2022
HRA-Veröffentlichung:
27.10.2022
Das Album enthält Albumcover
1

I Still Want You

06:32

2

A Wonder of Nature

05:50

3

Feel Bad Boogie

03:54

4

Rays Of The Sun

03:46

5

Time to Make Some Changes

04:14

6

Something's Gotta Give

05:07

7

Show Me Your Love is Real

03:57

8

Leave Me Alone

03:30

9

Got to Take a Stand

04:27

10

Hurts to See Her Go

04:03

11

Know Where I Belong

04:53

Total Runtime

50:13
Info zu Game Changer
The new album "Game Changer" is a diverse and impressive release that does a fine job of showing just how many things Jansson excels at. Game Changer is a solo album in the truest sense of the term; Jansson wrote, produced, engineered, and played all the instruments on it with no outside help. He also frequently shifts genre and influence, drawing on his background in rock, metal, punk, pop, americana, reggae, blues, jazz, and fusion to keep the album inspiring and interesting.
Fans of everything from Jimi Hendrix and Black Sabbath to Mahavishnu Orchestra and Weather Report will find tracks on Game Changer to make their headphones happy. Guest appearances by German Blues Award winner Tommy Schneller on saxophone and harmonica ace Jesper Larsson only add to Patrik's flavor. The album was mixed and mastered by Martin Karlegård and Jansson at SubMob Studios in Stockholm.
Patrik Jansson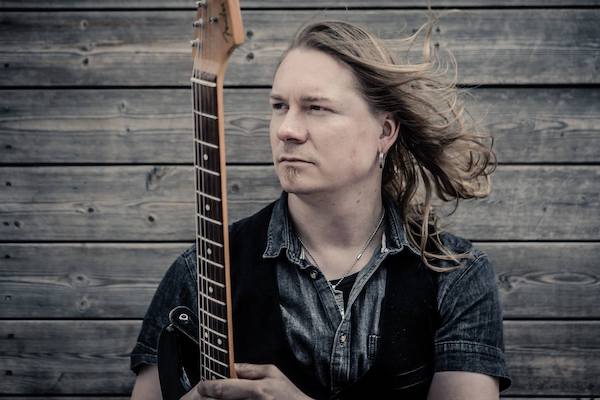 Patrik Jansson
The drummer makes the band they say… What do you do when your own solo project starts feeling too limiting and confined? The answer of course, is you start another solo project. And that is exactly what drummer, guitar player, singer, bass player, percussionist, composer, producer, video director, art director etc. Patrik Jansson did.
Being a child of the 70´s Patrik Jansson grew up listening to the music of Led Zeppelin, Black Sabbath, Deep Purple, Thin Lizzy and Jimi Hendrix and as he started playing himself, first the drums at the age of four and then later on the guitar, he developed an interest in all kinds of music not just blues and roots based.
Fast forward to 2020 when the pandemic struck, and Patrik Jansson got some time off to start recording songs that had been piling up over a couple of years.
Being a creative person and always looking for new challenges can be both a blessing and a curse and this was det the ultimate challenge.
Working alone in his own studio, playing all the instruments himself, he ended up with 16 recorded songs, more than enough for a complete album. That sparked a vision of getting to play these songs live in a band context and just like that a new project was born.
"I believe there is only two kinds of music, good and bad. Listening to and playing so many different kinds of music, from Bob Marley, Johnny Cash, John Coltrane, Chic Corea and Weather Report to Stevie Ray Vaughan, Buddy Guy, Deep Purple, Led Zeppelin, Black Sabbath to name a few, there has never been a shortage of influences. If it sounds good, it is good! It was quite liberating to create music without putting up any limitations or boundaries and the mix of different genres and styles is bound to be nothing less than interesting.
This is the first time I have played all the instrument myself. It was a great experience, and it was great to have the time to really find the right feel and sound for each song. This album is 100% me. It's a mix of everything that I have played and listened to throughout my career. It's dark, beautiful, heavy, rootsy, groovy, and interesting all the way through. Its music played with passion and I'm very proud of it." - Patrik Jansson, May 2022.
Patrik Jansson is a founding member of the glam/punk band Maryslim, the inventors of "Northern Rock" Hellsingland Underground, and glam/metal act Chris Laney´s Legion.


Dieses Album enthält kein Booklet