---
Album Info
Album Veröffentlichung:
2020
HRA-Veröffentlichung:
21.02.2020
Das Album enthält Albumcover Booklet (PDF)
1

Stand Up!

02:59

2

Someone You Never Got To Know

04:22

3

Equal Ground

03:22

4

P.S. It's Not About You

02:31

5

I Thought We Were Through

04:02

6

Far Apart (Still Close)

03:56

7

You Won't Put Out This Flame

02:37

8

Tell The Truth

03:23

9

Boy Sit Down

04:41

10

I Never Meant To Love Him

03:45

11

Getting In My Way

03:38

12

Change With The Times

04:00

Total Runtime

43:16
Info zu Stand Up! 
Stand Up! – das ist nicht nur ein Albumtitel. Es ist eine Aufforderung, die jeden, der Whitney Shays temperamentvolle Mischung aus Rhythm & Blues hört, auf die Tanzfläche führen wird. Dieses Energiebündel aus San Diego mit ihren feuerroten Haaren und ihrem glitzernden Kleid hat uns ein Album mitgebracht, das zum Tanzen, Trinken und Träumen einlädt: 12 Songs, die der Soundtrack für die Höhepunkte und Niederlagen des Lebens sind. "Ich mache energiegeladenen, souligen Rhythm & Blues, der die Leute zum Tanzen bringt und der sie etwas tief in ihrem Inneren spüren lässt", erklärt Whitney Shay.
Das von Ruf Records im Jahr 2020 veröffentlichte Album Stand Up! wird ganz sicher zu einer globalen Explosion werden und weltweite Bekanntheit erlangen. Dabei begann die Singer-Songwriterin ihren Weg auf eine ganz althergebrachte Weise, angefangen mit Mundpropaganda-Shows hat sie inzwischen weltweite Beachtung erlangt. In ihrer ersten Dekade hat sie vier Mal den San Diego Blues Music Award gewonnen, wurde letztes Jahr beim prestigeträchtigen Blues Music Award nominiert und bekam sogar vom Blues Matters Magazin die Auszeichnung "future blues icon" verliehen. Egal, ob man ihr Debut Album Soul Tonic (2012) heraus pickt, oder sich von ihrem vielumjubelten A Woman Rules The World (2018) faszinieren lässt, oder ob man ihre Songs als Hintergrundmusik auf Film- und Serienproduktionen von HBO oder NBC im Fernsehen hört; man ist wahrscheinlich bereits ein längst Fan (ob man es realisiert oder nicht).
Aber seit sie letztes Jahr bei Ruf Records unterschrieben hat, malt sie die Welt 2020 rot. Auf ihrem neuen Album – aufgenommen im Austin Wire Record Studio mit Produzent Kaz Kazanoff – lässt sie die Good Vibes fließen. Ihre Songs sind gekennzeichnet durch die freche Kombination aus funkigem Soul, rollendem Groove und verrauchtem, schnellfeuerartigem Gesang, wie man es besonders beim Titelsong Stand Up! oder P.S. It's Not About You hören kann. Ihre All-Star-Band wird den Ansprüchen natürlich mehr als gerecht.
"Eine meiner Lieblingserinnerungen ist, als ich mit Guy Forsyth das Duett Far Apart (Still Close) aufnahm. Innerhalb einer Stunde waren wir dabei, uns beim Singen kaputt zu lachen und uns gegenseitig aufzuziehen. Die brillianten Gitarrensolos – im Wechselspiel von Laura Chavez und Derek O'Brien beim Song Equal Ground – bezeichneten wir scherzhaft als "Godzilla vs. Mothra", weil sie beide solch gute Monster-Gitarristen sind! Dann ist da noch Red Young, ein sagenhafter Künstler an der Orgel, der es jedes Mal schafft, den einzelnen Songs die perfekte Menge Soul beizumischen – so wie beispielsweise am Ende des Songs Stand Up!", erinnert sich die Sängerin.
Das neue Material auf Stand Up! – geschrieben zusammen mit Partner Adam J. Eros – wird die Tanzflächen füllen, aber es wird uns auch gleichzeitig tief in Shays Kopf hineinführen, mit Themen, die vom Persönlichen bis zum Sozio-Politischen reichen. "Ich bin eine starke, unabhängige Frau. Von meiner Mutter und Großmutter aufgezogen, handeln viele meiner Songs auf dem Album von den Themen Gleichberechtigung und female Empowerment." sagt sie. "Someone You Never Got To Know handelt davon, nicht zu wissen, wie man über den Verlust einer Person trauert, mit der man aber nie eine Beziehung hatte. Als ich den Song aufnahm, hatte ich Tränen in den Augen und am Ende entschieden wir uns dann für genau diese Aufnahme – wegen der Emotionen darin."
Ob rau oder vom Schmerz erfüllt, jede Note auf Stand Up! ist echt. Egal, ob man das Album in voller Lautstärke spielt oder ihre Musik live erlebt. Wenn Shay und ihre Band für den Blues Caravan 2020 diese Songs mit "On The Road" nehmen, wird sie damit jeden Hörer von den Sitzen reißen. "Wenn ich auftrete, will ich, dass die Leute tanzen und mitgehen. Für mich bedeutete Musik immer schon Katharsis, das Austreiben trauriger Erlebnisse. Wenn das Publikum mit einem Lächeln nach Hause geht und dem Gefühl, ihre Alltagssorgen vergessen zu haben, dann habe ich meinen Job getan".
Whitney Shay, vocals
Red Young, keyboards
Laura Chavez, guitar
Chris Maresh, bass
Brannen Temple, drums and percussion (Tracks 1, 2, 3, 4, 5, 6, 9, 11)
Tommy Taylor, drums (Tracks 7, 8, 10, 12)
Marcia Ball, piano (Track 9)
Guy Forsyth, duet vocal (Track 6), resonator guitar (Track 9)
Derek O'Brien, slide guitar (Track 3)
The Texas Horns:
'Kaz' Kazanoff, tenor saxophone, backing vocals
John Mills, baritone saxophone & flute
Al Gomez, trumpet
Alice Sadler, backing vocals
Guy's Guys, backing vocals(Track 9):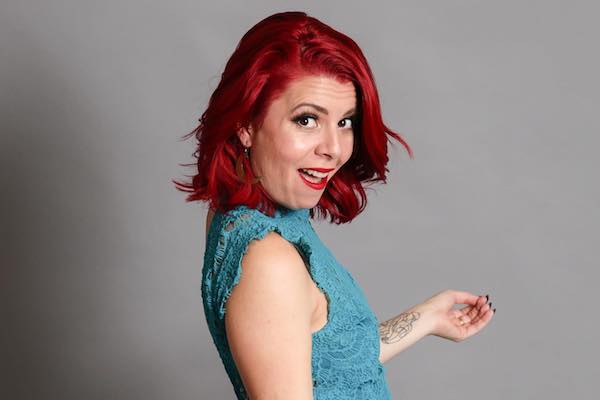 Whitney Shay
With sparkly dresses, fiery tresses, and a talent rivaled only by her unstoppable hustle, Whitney Shay is one #busylittlesinger. The four-time San Diego Music Award winner (including 2019 Artist of the Year) and 2019 Blues Music Award nominee is scorching stages at home and internationally throughout Europe and South America. Shay's latest release, A Woman Rules the World, is receiving high praise from music critics who are calling the singer "a future blues icon" (Blues Matters!), "one of the next best things in soul music" (Blues and Rhythm Magazine), and "the epitome of a rising star" (Elmore Magazine).
The album landed on several notable music media lists, including: Top Albums of the Year in Blues Music Magazine, France's Soul Bag Mag, and top ratings in Norway's Bluesnews Magazine and Germany's Magazin bluesnews. Shay's tracks have also been placed in TV/film, including shows on NBC, HBO, Bravo, BET, and Tyler Perry's A Madea Family Funeral. Shay recently signed to the prestigious Ruf Records label, and will extensively tour in Europe in 2020 with Ruf's Blues Caravan. Whether in studio, on screen, or stage, Whitney Shay's electric energy, soulful style, and powerhouse pipes keep listeners connected and coming back for more.


Booklet für Stand Up!