---
Album Info
Album Veröffentlichung:
2016
HRA-Veröffentlichung:
18.12.2019
Das Album enthält Albumcover
1

Yesteryear

07:43

2

Here After

06:28

3

Relinquish

06:48

4

The Keepsake

05:39

5

Falling Cedars

04:33

6

The True Pierce

06:10

7

A Faint Whisper

04:10

Total Runtime

41:31
Info zu Laurestine Orchestral
So Hideous have carved a name for themselves in the post-metal scene with their focused and well-written first album "Last Poem/First Light", just last year. They're returning with Laurestine, out October 16th on Prothetic Records. Let's talk more about the band and the album, now.
They seem to take the compositional process in the opposite way of most bands nowadays. Each composition starts on piano. Then comes the orchestral arrangements, and only then are added the guitars, bass, drums, and vocals. That makes for very emotional music that doesn't rely on riffs or pretty much any other metal trope to function. What's even more surprising is that for the record, a thirty-piece orchestra has been enlisted. No wonder why the music felt so living, breathing, and natural. The orchestra doesn't feel to act only as support for the band. It's rather the opposite, actually. Or perhaps you could say it's like an orchestra with an added "metal quatuor". It's homogeneous and beautiful throughout the whole album.
Laurestine is a continuous piece of music in seven parts, each one flowing seamlessly into the next. Seven is also an important number in the album's concept. Since, admittedly, the brain remains active for 7 minutes after death, which occurs at the very beginning of "YesterYear", the opening track and perhaps the most beautiful one too. Thus, the album is made of seven songs with 7/4 and 7/8 patterns parsimoniously spread and serving as motives. However, the vast majority of the album is in straight 4/4. Fortunately, that's not to the detriment of the music, which is mostly about conveying emotions, a state of mind, and the atmospheric beauty of Laurestine.
Finally, it's a stunning record for fans of post-black metal and symphonic or orchestral metal in general. It's sublime.
So Hideous:
Brandon Cruz, guitars, keyboards
Christopher Cruz, bass, vocals
Danny Moncada, drums
Etienne Vazquez, guitars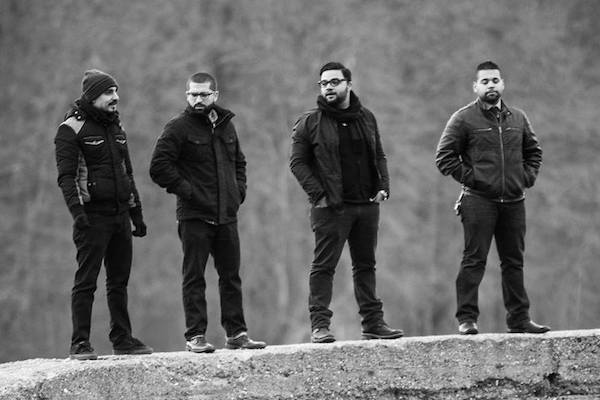 So Hideous
Having formed in 2008 and with two EPs and a full-length under their belts, Brooklyn's orchestral post-metal outfit, So Hideous, are set to release their most ambitious offering to date with their seven song conceptual opus, Laurestine.
Founded by Brandon Cruz (guitar), his intent was to score soundtracks to films that have yet to be made and sites Arvo Part, Ennio Morricone and Beethoven as his main influences. After many lineup changes, Brandon eventually enlisted his brother Chris (bass/vocals) and childhood friends Etienne Vazquez (guitar) and Danny Moncada (drums) to round out the group.
It's safe to say that So Hideous write music a little differently than most bands of their genre. Each song starts off being written on piano with the orchestration built in next. The guitars, bass and drums fall into place only after the orchestral foundation is complete.


Dieses Album enthält kein Booklet