---
Album Info
Album Veröffentlichung:
2021
HRA-Veröffentlichung:
06.08.2021
Das Album enthält Albumcover Booklet (PDF)
Astor Piazzolla (1921 - 1991): 4 Estaciones Porteñas (Arr. L. Desyatnikov for Violin & Orchestra):

1

Piazzolla: 4 Estaciones Porteñas (Arr. L. Desyatnikov for Violin & Orchestra): No. 4, Verano Porteño

06:50

2

Piazzolla: 4 Estaciones Porteñas (Arr. L. Desyatnikov for Violin & Orchestra): No. 1, Otoño Porteño

08:10

3

Piazzolla: 4 Estaciones Porteñas (Arr. L. Desyatnikov for Violin & Orchestra): No. 2, Invierno Porteño

07:17

4

Piazzolla: 4 Estaciones Porteñas (Arr. L. Desyatnikov for Violin & Orchestra): No. 3, Primavera Porteña

06:22

6 Tango Etudes (Version for Solo Violin) [Excerpts]:

5

Piazzolla: 6 Tango Etudes (Version for Solo Violin) [Excerpts]: No. 3, Molto marcato e energico

03:54

6

Piazzolla: 6 Tango Etudes (Version for Solo Violin) [Excerpts]: No. 4, Lento meditativo

04:12

7

Piazzolla: 6 Tango Etudes (Version for Solo Violin) [Excerpts]: No. 5, Quarter Note = 120

02:17

Histoire du Tango (Version for Violin & Guitar):

8

Piazzolla: Histoire du Tango (Version for Violin & Guitar): I. Bordel 1900

04:10

9

Piazzolla: Histoire du Tango (Version for Violin & Guitar): II. Café 1930

07:49

10

Piazzolla: Histoire du Tango (Version for Violin & Guitar): III. Nightclub 1960

06:06

11

Piazzolla: Histoire du Tango (Version for Violin & Guitar): IV. Concert d'aujourd'hui

04:56

Total Runtime

01:02:03
Info zu A Piazzolla Trilogy
From the moment Karen Gomyo first heard Astor Piazzolla on disc, at the age of fourteen, she was spellbound: 'I had never heard such a combination of sensuality, fierceness, playfulness, sadness and nostalgia.' As a violinist she found the role of the violin in Piazzolla's music especially inspiring, and soon started playing it herself – first in various group combinations, and eventually together with Piazzolla's longtime pianist Pablo Ziegler and his Tango Quartet. For the present disc she has chosen to record strings-only versions of three works originally for tango quintet (Seasons), guitar and flute (Histoire), and solo flute (Études).
Piazzolla's Cuatro Estaciones were initially conceived neither as a suite nor as a tribute to Vivaldi's Four Seasons. Verano porteño (Summer) was composed first, as part of the incidental music for a play, with the other three following several years later. If the Seasons provide a soundtrack to the year as it unfolds in Buenos Aires, Histoire du Tango describes the development of the tango itself in four chapters – from the brothels around year 1900 to the concert halls where Piazzolla himself performed his tango nuevo. These two works frame three of Piazzolla's Tango Études, which Karen Gomyo performs solo, while otherwise being partnered by the strings of the Orchestre National des Pays de la Loire (Seasons) and the guitarist Stephanie Jones (Histoire).
Karen Gomyo, violin, direction
Stephanie Jones, guitar
Orchestre National des Pays de la Loire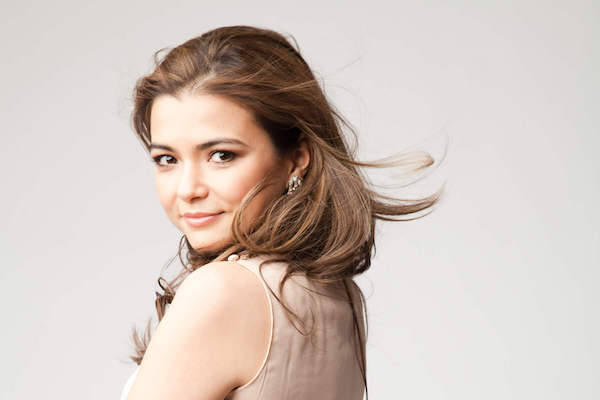 Karen Gomyo
Die in Tokio geborene Geigerin Karen Gomyo begann ihre musikalische Karriere in Montréal und New York. Sie ist Trägerin des angesehenen Avery Fisher Career Grant und erregte erstmals im Alter von 15 Jahren Aufmerksamkeit, als sie 1997 bei den Young Concert Artists International Auditions gewann.
Seither reist Karen Gomyo als Solistin und Kammermusikerin durch Nord- und Südamerika, Europa und Asien. Ihre Konzerttätigkeit führte sie zu den führenden Orchestern der Vereinigten Staaten, darunter das New York und Los Angeles Philharmonic, das Cleveland und Philadelphia Orchestra sowie San Francisco Symphony. In Europa trat sie u. a. mit dem City of Birmingham Symphony Orchestra, dem Orchestre Philharmonique de Radio France, dem Residentie Orkest, dem Royal Scottish National Orchestra sowie den Bamberger Symphonikern und den Orchestern des WDR und des SWR auf. In der vergangenen Spielzeit gastierte sie erstmals beim Philharmonia Orchestra, der Royal Northern Sinfonia sowie dem BBC Symphony und kehrte u. a. zurück zu den Symphonieorchestern von Minnesota, Houston, Vancouver und Dallas.
Karen Gomyo engagiert sich stark für zeitgenössisches Repertoire und zeichnet für die nordamerikanischen Erstaufführungen von Matthias Pintschers Konzert ›Mar'eh‹ mit dem National Symphony Orchestra Washington sowie Pēteris Vasks' ›Vox Amoris‹ mit dem Lappland Chamber Orchestra verantwortlich. Im Mai 2018 brachte sie Samuel Adams' für sie komponiertes ›Chamber Concerto‹ mit dem Chicago Symphony Orchestra und Esa-Pekka Salonen zur Uraufführung.
Dirigenten, mit denen Karen Gomyo darüber hinaus zusammenarbeitet, sind u. a. Jakub Hrůša, Karina Canellakis, Sir Andrew Davis, Neeme Järvi, David Zinman, Yannick Nézet-Séguin, Thomas Dausgaard, James Gaffigan, Hannu Lintu, Cristian Măcelaru, Thomas Søndergård und Vasily Petrenko.
In Recitals und als begeisterte Kammermusikerin ist Karen Gomyo regelmäßig bei Festivals zu Gast, darunter in letzter Zeit beim Seattle Chamber Festival, dem Australian Festival of Chamber Music sowie den Musiktagen Mondsee in Österreich. Zu ihren Kammermusikpartnern zählen u. a. Leif Ove Andsnes, James Ehnes, Antoine Tamestit und Christian Poltéra.


Booklet für A Piazzolla Trilogy