---
Album Info
Album Veröffentlichung:
2021
HRA-Veröffentlichung:
21.07.2021
Das Album enthält Albumcover
1

Wonders Of Life

04:15

2

Himalayas

03:31

3

Our Home

03:31

4

Art Of Devotion

03:31

5

Pastoral India

04:09

6

I Am Change (2021 Remastered)

03:01

7

A Prayer

03:19

8

Gandhi

04:39

9

Mother Earth

03:05

Total Runtime

33:01
Info zu Divine Tides
'DIVINE TIDES' by Stewart Copeland and Ricky Kej features artists from all over the world - Soundscapes and melodies meet pulsating rhythms amidst lush ambient textures, which elevate the senses into a realm of spiritual solitude, where the soul is free - one with itself, one with time, one with our planet. All individuals are interconnected and the decisions one makes affects all life around us. Each individual life plays a crucial role in maintaining the balance that serves all equally. 'DIVINE TIDES' illustrates these thoughts through its diverse musical canvas that showcases a world where we can adapt to change, just like the moving tides - a world in which all life can live sustainably and in harmony.
"One day during the Apocalypse I got a call from Ricky Kej about making an album. He had assembled an amazing collection of exotic musicians, or perhaps I should say deeply traditional musicians, in the exotic context of his inspired production style. The flow of ideas soon became a torrent of recording and music. The spiritual ambience (not something that I'm generally known for) infused my aggressions upon inanimate objects with loving passion.
The timpani were ringing! The crotales were singing! Making this record has been a unique adventure in both music and divine awareness." (Stewart Copeland)
"I had been working on a followup to the Grammy winning album "Winds of Samsara" and had cataloged some of my favorite melodies. Recordings were delayed because of a relentless touring schedule, but then the 2020 pandemic hit. Strict lockdowns presented an opportunity to spend more time in the studio.
In 2016 I was privileged and honored to collaborate on a song with Stewart Copeland. With the support of industry veterans Ralph Simon and Tarquin Gotch I mustered up the courage to ask him to collaborate with me yet again, this time on a complete album.
What followed was one of the best and most fulfilling personal and musical experiences I could have ever asked for. Working with Stewart was like attending one of the best masterclasses imaginable.
Stewart is not only a living legend, but an extremely humble human being, filled with positive energy, that pushed us to deliver our very best for "Divine Tides" (Ricky Kej)
Stewart Copeland, drums, percussion
Ricky Kej, keyboards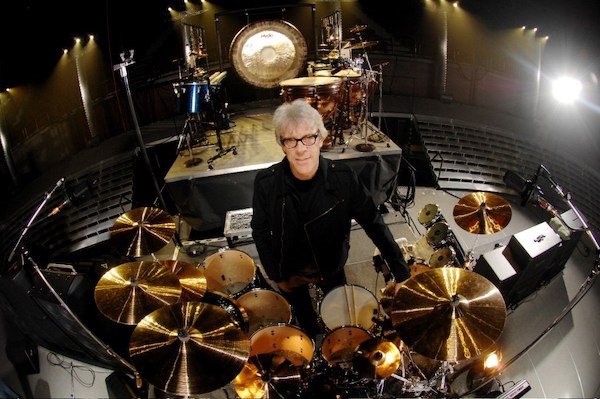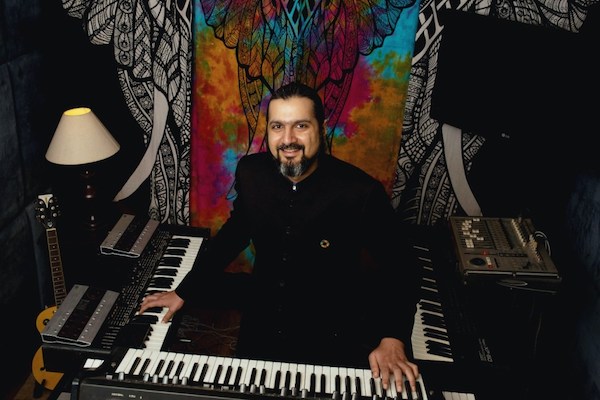 Stewart Copeland
was born in Alexandria, Virginia, but soon relocated with his family to Beirut, Lebanon, where his father served as the Middle Eastern city's CIA Station Chief. It was here that Stewart discovered his talent on — and love for — the drums. His older brother Ian played drums in a local band and, following in his brother's footsteps, Stewart picked up a pair of sticks and began to play. His knack for the instrument distinguished him from his sibling almost immediately. While Ian quickly gave up the drums, Stewart found his aim and purpose in them.
Encouraged and assisted by his father, who in addition to his intelligence career was once a trumpeter in The Glenn Miller Band, Stewart's first teacher was an old jazz drummer. Copeland was a quick study with a good ear and scored his first real gig playing drums while still barely in his teens.
A sudden family move to England opened new opportunities for Stewart pursue rock and roll, first as a journalist for a drummer magazine, then as a roadie, for, among others British prog-rock group Curved Air. In 1974/1975, when the band found itself in need of a new drummer, Curved Air hired Stewart, who made his recording debut on the successful Midnight Wire andAirborne. In addition, Curved Air introduced him to vocalist Sonja Kristina, who would later become his wife and the mother of three of his sons. ....
Ricky Kej
composed and produced his album 'SHANTI SAMSARA', which was launched by Indian Prime Minister Narendra Modi and French President Francois Hollande at the United Nations COP21 Climate Change Conference in Paris. For Shanti Samsara, Ricky collaborated with over 500 musicians from over 40 countries. His past repertoire of work includes 16 studio albums released internationally, over 3500 commercials, and 4 feature films, including the natural history documentary 'Wild Karnataka' narrated by Sir David Attenborough. He scored music for the opening ceremony of the Cricket World Cup 2011, held in Dhaka-Bangladesh.
In addition to winning more than a 100 music awards in over 20 countries, Ricky has been awarded "United Nations Global Humanitarian Artist" and "Youth Icon of India". "Real Leaders", has named Ricky Kej as one of the 100 Real Leaders who 'Inspire the Future'. The House of Commons, Parliament of Canada awarded Ricky for his "Outstanding Musical and Humanitarian Achievement". A chapter on Ricky's life and musical journey is taught in the 7th grade English textbooks in India (ICSE). Ricky Kej is a professor at the prestigious National Institute of Advanced Studies (at the Indian Institute of Science) and an Ambassador to Earth Day Network.


Dieses Album enthält kein Booklet