---
Album Info
Album Veröffentlichung:
2015
HRA-Veröffentlichung:
24.02.2020
Das Album enthält Albumcover
Fritz Hauser (b. 1953):

1

Second Thought

07:38

2

As We Are Speaking, Pt. 1

00:34

3

As We Are Speaking, Pt. 2

01:44

4

As We Are Speaking, Pt. 3

00:48

5

As We Are Speaking, Pt. 4

00:37

6

As We Are Speaking, Pt. 5

01:58

7

As We Are Speaking, Pt. 6

00:46

8

Double Exposition

27:25

9

Schraffur

29:26

10

Rundum

27:07

Total Runtime

01:38:03
Info zu Hauser: Different Beat
When you look at the huge arsenal of instruments that percussionists have to drag onto the podium, it's natural to think that they must surely be moonlighting as furniture removers in their spare time. So it's all the more unusual to see a percussionist walk onto the concert stage carrying a single instrument with him: just one little drum. And especially when he takes out two drumsticks, starts hitting it, and draws forth from it the most incredible musical nuances! The initial astonishment at this act of "downsizing" soon dissipates, and instead you begin to listen attentively as rhythms unfold – whole soundscapes, colours, even melodies. All this emerges out of an improvisation by Fritz Hauser, a man who can almost make us forget the actual, concrete reality of his instrument.
It's abstraction that he seeks, says Fritz Hauser in conversation: "I don't find it exciting if drums sound like drums, but when they sound like music. And you know that you've achieved this when people no longer wonder: How does he do that?" Hauser can even manage this with an instrument that he does not particularly like, such as the marimba. He leaves behind all effect-laden clichés of its instrumental technique, and instead leads the music into abstraction. And so we hear the musical process, an emission of energy – and not the musician behind it all. Time becomes more important than the instrument itself – time as both stasis and as expansion. The gestation of the music is composed into the music itself, and this helps to lead our ears away from the concrete act of playing the instrument and its sound, to an abstract, musical procedure. The soundfield involved is clearly defined here. He uses straightforward ingredients – just like a cooking recipe – with nothing exotic, but the most precise sound colours and the most precise overtone structures possible (inasmuch as the different instruments involved will allow it). Selecting the instruments and beaters is crucial, as is the attitude to the playing of them: there is an intensity here, a humility towards the music, but the tension is inner, not outer, and there is precision here, too, and suppleness…
Hauser achieves this in compositional terms by notating precisely what he wants. Just as in the three works on this double CD. Almost all of them use sequential forms, though they ingeniously circumvent mere processes of variation by instead orbiting the musical material, as it were, observing it from the outside. And then there are the two conceptual pieces here that unfold out of an idea. They seem to observe the sound from the inside out and lead us deep inside it. If you play a cymbal, nothing much happens, says Fritz Hauser. But if you set two cymbals oscillating at the same time, then the result is a "sheet" of sound far removed from any sense of the percussive act of "striking" an instrument. And "if that happens with seventy cymbals, then they become an ocean, an abstract field". ...
"Fritz Hauser is simply one of the best drummers alive" (THE NEW YORK TIMES)
"Hauser is the contrary of a loudspeaker, he is a softsounder, one who starts by structuring the silence, spreading out the sounds in layers, then progressing to the third dimension, developing himself into the room and finally opening up the fourth: time." (FRANKFURTER RUNDSCHAU)
We Spoke
Fritz Hauser, drums, percussion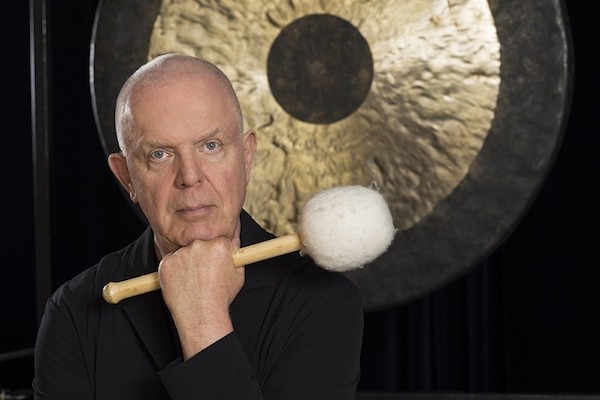 Fritz Hauser
Born 1953 in Basel/Switzerland, Fritz Hauser develops soloprograms for drums and percussion which he performs worldwide. Cross-media works with architect Boa Baumann as well as with director Barbara Frey, the light designer Brigitte Dubach, and the choreographers Joachim Schloemer, Heddy Maalem, and Anna Huber. Compositions for percussion ensembles and soloists, sound installations (a.o. Therme Vals, Museum of Architecture Basel, Kunsthaus Zug), radio plays, music for films and readings.
In the field of improvised music he has worked together with numerous musicians: Urs Leimgruber, Joëlle Léandre, Marilyn Crispell, Christy Doran, Pauline Oliveros, Lauren Newton, Patrick Demenga, Fred Frith a.o. Since the Stockholm International Percussion Event 1998 he has been collaborating with different percussion groups and soloists around the world: Kroumata, Synergy Percussion, Nexus, Speak Percussion, Keiko Abe, Steven Schick, Bob Becker, Michael Askill, ensemble XII, Srosh Percussion, a.o.
We Spoke
is a new-music company based in Switzerland, created by Serge Vuille and directed today by the pianist Gwen Rouger and the percussionist Julien Annoni. The name "We Spoke" merges "we speak" – our desire to communicate both the complexity and beauty of new music – with "bespoke", reflecting our wish to put it in context within the wider performing arts landscape.
Inspired by the thoughtful, rigorous tradition of classical chamber music, we perform adventurous interpretations of new works, collaborative creations and repertoire from the new-music canon. Since 2009 we have developed a varied body of productions, as well as partnerships with composers, performers, artists, dancers, stage directors, scientists and designers including Hana Hartman, Simon Steen-Andersen, Fritz Hauser, Jessie Marino, Jacques Demierre, Christian Kesten, Simon Løffler, Pascal Auberson, Matthew Shlomowitz, Juliet Fraser, Mark Knoop, Ezko Kikouchi, Øyvind Torvund, Kevin Juillerat, Anne-Sylvie Henchoz, Tancredo Tavares (École Rudra-Béjart), Nefeli Skarmea, Martin Creed, Jean-Pierre Luminet or the biohacking Laboratory Hackuarium.
We Spoke has performed extensively in Switzerland, the UK and South America, at festivals and venues including Lucerne Festival; Festival de la Cité and Le Bourg, Lausanne; Cabaret Voltaire, Zürich; Gare du Nord, Basel; Dampfzentrale Bern; Espace Forde, Geneva; Cité Universitaire, Paris; Unerhörte Musik, Berlin; Firenze Suona Contemporanea, Florence; the Lima Contemporary Music Festival; SESC São Paulo; Oi Futuro, Rio de Janeiro; Turner Sims, Southampton; and Cafe OTO, Kings Place, the London Ear Festival and the Royal College of Music in London.


Dieses Album enthält kein Booklet