---
Album Info
Album Veröffentlichung:
2018
HRA-Veröffentlichung:
05.07.2018
Das Album enthält Albumcover Booklet (PDF)
1

Telesm

08:14

2

Idiolect

08:15

3

Ejdeha

05:54

4

Bordeaux Bender

04:19

5

Wayward

05:54

6

Full Circle

06:43

7

Boubacar

07:06

Total Runtime

46:25
Info zu Ejdeha
Gordon Grdina began studying the oud well over 15 years ago, and these days is playing as much oud as guitar. This Vancouver/New York project extends Grdina's previous fusions involving (avant) jazz improvisation and middle eastern music, from his 2006 debut Think Like the Waves with Gary Peacock and Paul Motian to East Van Strings (The Breathing of Statues, 2009) and his Arabic popular music10-piece, Haram (Her Eyes Illuminate, 2012). It also draws to some extent on his more guitar-based New York projects No Difference (2013), featuring oud duets with Helias, and his current quartet Inroads (2017; all on Songlines). As Grdina recently told critic Stuart Derdeyn, "In the last few years it's starting to feel like the oud playing and the guitar playing are turning into the same thing…It feels like [jazz is] looking outwards…Indian music, Iraqi music, Arabic stuff, Persian music: they're all giving jazz another viewpoint on improvising." Certainly jazzing the oud has been going on for decades (Rabih Abou-Khalil, Anouar Brahem, not to mention Admed Abdul-Malik), but Grdina's avant-jazz background makes for a very different result.
The Marrow began as a trio with Helias and Roberts that was put together to perform at an oud summit in New York, but soon morphed into a quartet with the addition of Vancouver-based Persian percussionist Hamin Honari, who Grdina has performed with for close to 15 years in local world music projects such as Sangha and Qalandar. The music, all original compositions by Grdina but mostly based on classical Arabic and Persian modes (many with quarter-tones, superbly executed by Helias and Roberts), provides a context for creative group interplay and solos that often involve extended tonality. The music is intricate, sometimes delicate, other times high-risk exciting. There are dark, brooding excursions propelled by middle eastern vamps as well as more contrapuntally through-composed works ("Wayward") that relate to the music on Inroads.
About the two slow, song-like explorations for strings without percussion Grdina says, "For 'Bordeaux Bender' I was looking to develop a 3-part invention with each new part revealing more information and re-contextualizing the original melody. I wanted the piece to welcome more exploratory improvisation that was harmonically ambiguous…and lead to some untypical spaces for the oud. 'Full Circle' to me seems like a standard and territory that we were all familiar with. That piece was written quickly and I wasn't sure it would work in this context but I was pleasantly surprised and find myself singing that tune in my head often."
The final piece is a vibrant, toe-tapping tribute to Malian guitarist Boubacar Traore which Grdina composed 14 years ago. The title track (Ejdeha is the Farsi and Kurdish word for dragon) shows how Grdina adapts middle-eastern modes to his own purposes, as it references Nava, Saba and Nahawand before resolving on Rast. But, says Grdina, "I wasn't thinking about the piece in any particular maqam but started with the vamp, and the melody developed from there based on what I was hearing should come next. In this way the improvisation was also developed. The vamp is played behind Hank which opens up his development through the maqams of the piece and his own interpretation of the vamp. He stays pretty close near the beginning and then stretches and expands the tonality ending with some sonic textural space which I think creates a lot of interesting tension."
Regarding his own personal musical practice on the oud Grdina feels that "this has developed more from taking off the reins and letting go, to not try and constrict the improvisation, more than in a conscious effort to add new ideas into traditional language. This has led to sometimes staying completely within tonal, modal or rhythmic constraints and other times stretching them. I have been and still am working at hearing and internalizing maqam and dastgah in order to have aspects of them come about naturally and fluidly just as more western improvisational ideas already do. My lifelong practice is to effectively and clearly execute on the instrument what I am hearing. There are many practical applications that I work on to bring this about, and the process raises different complications to work through on the oud than on the guitar."
Gordon Grdina, oud
Mark Helias, bass
Hank Roberts, cello
Hamin Honari, tombak, daf, frame drum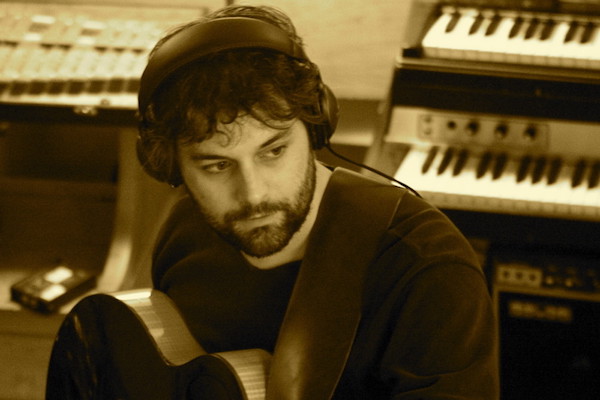 Gordon Grdina
A protégé of jazz great Gary Peacock, he is a well respected contributor to the jazz and world music scenes constantly being sought out for projects that need a fresh sound Songlines has just released "Think Like the Waves" a special SACD that is the culmination of all of Gordon 's artistic endeavors. The band is Gary Peacock - Bass, Paul Motian -Drums and Gordon Grdina -Guitar & Oud.
His main touring ensemble Box Cutter is a genre bending modern Jazz quartet featuring François Houle. They Have just signed a two CD deal with Spool and will be releasing their debut CD "Unlearn" in October 2006
East Van Strings is a guitar/oud, violin, viola and cello quartet that is inspired by Bartok, Berg and Arabic Taqasim. The other members of the ensemble are Jesse Zubot, Peggy Lee, and Eyvind Kang. They are touring and recording in December for an early 2007 CD debut.
He plays the Oud in the Arabic/Persian/Indian ensemble Sangha. They are touring in support of their debut CD "Omid" and preparing to record with Virtuoso Persian Classical and Balouchi singer Fatieth Honari.
As a freelance musician Gordon has performed or recorded with Eyvind Kang, Paul Motian, Gary Peacock, John Stowell, Francois Houle, Jesse Zubot, Chuck Isreals, Reza Honari, Amir Haghighi, Andy Milne, Mariam Matossian, Kate Hammett-Vaughan, Chris Gestrin, Karin Plato, Quinsin Nachofff, Peggy Lee, and Dylan Van der Schyff.


Booklet für Ejdeha