---
Entschuldigen Sie bitte!
Sehr geehrter HIGHRESAUDIO Besucher,
leider kann das Album zurzeit aufgrund von Länder- und Lizenzbeschränkungen nicht gekauft werden oder uns liegt der offizielle Veröffentlichungstermin für Ihr Land noch nicht vor. Wir aktualisieren unsere Veröffentlichungstermine ein- bis zweimal die Woche. Bitte schauen Sie ab und zu mal wieder rein.
Wir empfehlen Ihnen das Album auf Ihre Merkliste zu setzen.
Wir bedanken uns für Ihr Verständnis und Ihre Geduld.
Ihr, HIGHRESAUDIO
1

Let's Face The Music And Dance

04:06

2

The Sidewinder / The Beat Goes On

04:31

3

Driftin'

04:42

4

The Thrill Is Gone / Django

03:55

5

The Kicker

03:46

6

Don't Worry 'Bout Me

03:23

7

The Cat

02:51

8

Four On Six / Broken English

04:12

9

If I Knew Then

01:44

10

Make Someone Happy

04:42

11

Little Man You've Had A Busy Day

03:45

Total Runtime

41:37
Info zu I Shouldn't Be Telling You This
Jeff Goldblums Live-Auftritt beim diesjährigen Glastonbury Festival wurde von der Presse als eines der kultigsten Ereignisse des Sommers gefeiert. "Der Salonlöwe lässt seinen Charme spielen", titelte beispielsweise der Guardian. Der schlaksige Entertainer nutzte die Gelegenheit, dem Publikum zu verkünden, dass er mit seinem Mildred Snitzer Orchestra gerade an einem brandneuen Album arbeitete. Das wird den verlockenden Titel "I Shouldn't Be Telling You This" tragen und soll den Hörern noch mehr Freude bereiten als das erste. Wenn das überhaupt möglich ist. Denn mit "The Capitol Studio Sessions" legte Goldblum die Messlatte dafür durchaus hoch. Das Album brachte der Hollywood-Ikone in aller Welt glühende Rezensionen ein und landete u.a. in Deutschland, den USA, Großbritannien und Australien auf Platz 1 der Jazz-Charts. Gar nicht schlecht für ein Debüt! "Auch wenn er nicht den Anspruch erheben kann, ein zweiter Bill Evans zu sein, leistet er doch einen wichtigen Dienst", hieß es in der Londoner Times. "Denn er erinnert uns daran, dass Jazz Spaß machen sollte."
Und den garantiert er uns auch wieder mit "I Shouldn't Be Telling You This". Das neue Album erscheint weltweit zwar erst am 1. November, aber Goldblum kann sich vor lauter Begeisterung über die Aufnahmen kaum zurückhalten und "leakt" deshalb schon vorab ein paar Details an die Öffentlichkeit. Etwa, dass er sich diesmal nicht darauf beschränkt hat, sein pianistisches Talent ins Rampenlicht zu stellen, sondern in dem Stück "Little Man, You've Had A Busy Day" auch eine kleine Kostprobe seines stimmlichen Könnens geben wird. Die Nummer wurde 1934 erstmals von der britischen Swing-Sängerin Elsie Carlisle für Decca aufgenommen und später durch Bing Crosby und Perry Como popularisiert. Dieses Lied nun von Goldblum zu hören, der 2015 mit 63 Jahren zum ersten Mal Vater wurde, ist besonders ergreifend. 2017 kam dann sein zweiter Sohn zur Welt. Beiden zollt er nun mit dem Lullaby "Little Man, You've Had A Busy Day" auf charmante Weise Tribut.
Ansonsten überlässt Goldblum das Gesangsmikrophon aber einer Reihe von außergewöhnlichen Sängerinnen, von denen sich viele erstmals auf Jazzterrain vorwagen. Sharon Van Etten, ansonsten eigentlich im Indie- und Folk-Rock daheim, trat mit dem Pianisten schon in Glastonbury auf und brilliert in Irving Berlins Klassiker "Let's Face The Music And Dance", der ersten Single-Auskopplung des Albums. Weitere Spotlights sind Anna Calvi, Inara George von The Bird And The Bee, Gina Saputo und der absolut großartigen Fiona Apple vorbehalten. Die Namen der beiden Gesangsstars, die in "The Thrill Is Gone / Django" und "Make Someone Happy" gefeaturet werden, möchte Goldblum indes vorerst noch geheimhalten. Abgerundet wird das sehr bunte Programm mit coolen Instrumentalversionen von Herbie Hancocks "Driftin'" und Lalo Schifrins "The Cat", bei denen sich das Mildred Snitzer Orchestra als bestens geölte Groove-Maschine erweist.
"Jeff Goldblum ist eine Art Rattenfänger des Jazz", meint Tom Lewis, der Vize-Präsident von Decca Records. "Er hat eine unglaubliche Anzahl von Indie-, Soul- und Popkids aus den Winkeln hervorgelockt, in denen sie sonst musikalisch zu Hause sind, und sie in seine magische Welt des Jazz geführt. Das Album sprüht vor lauter Frechheit, Coolness, Swing und Elan."
Jeff Goldblum, Gesang
The Mildred Snitzer Orchestra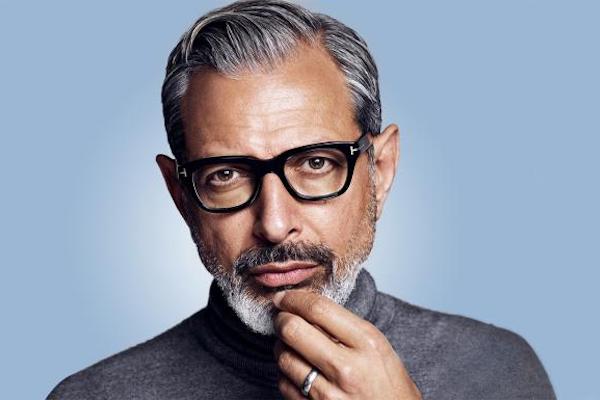 Jeff Goldblum
Born on October 22, 1952, in Pittsburgh, Pennsylvania, Jeff Goldblum studied acting with Sanford Meisner in New York before embarking on a big-screen career. He's starred in several dozen films, with prominent roles in works like The Fly, Jurassic Park, Independence Day and Morning Glory. Goldblum is also a noted actor of stage and television, having been part of the cast of Law & Order: Criminal Intent.
Jeffrey Lynn Goldblum was born on October 22, 1952, in Pittsburgh, Pennsylvania. He knew from a young age that he wanted to pursue acting, but initially kept his passion a secret from his family and friends. During his adolescence he had the chance to take up drama during summer sessions at Carnegie Mellon University, and, at age 17, made his way to New York City, subsequently studying with Sanford Meisner. The statuesque 6'4″ Goldblum performed in stage productions before making his way to film, garnering small parts in 1970s fare like Death Wish (1974), California Split (1974), Nashville (1975) and Annie Hall (1977). He continued his trade in other big-screen projects like Invasion of the Body Snatchers (1978) and Threshold (1981), and on TV vehicles like the movie The Legend of Sleepy Hollow (in which he played Ichabod Crane) and the detective TV series Tenspeed and Brown Shoe, both from 1980. He later co-starred as a seedy journalist in the acclaimed 1983 drama The Big Chill with Glenn Close, William Hurt and Meg Tilly.
Jeff Goldblum went on to star with Geena Davis in the horror comedy Transylvania 6-5000 (1985). The two embarked on a romance, eventually tying the knot in 1987. (Goldbum had been married previously.) The couple again worked together in David Cronenberg's remake of the horror classic The Fly (1986). Goldblum earned raves for his portrayal of a scientist who undergoes a terrifying bodily and psychological transformation. Davis and Goldblum next co-starred together in the brightly hued extraterrestrial comedy Earth Girls Are Easy (1989). The two divorced in 1990 and remain friends. Continuing to explore a variety of parts, Goldblum starred in two of the biggest blockbusters of the 1990s: He portrayed yet another scientist, Ian Malcolm, in Steven Spielberg's Jurassic Park (1993), and reprised the part in the 1997 sequel The Lost World. He dated Park co-star Laura Dern for a time, as well. In 1996, Goldblum was featured as a world-saving computer whiz in the sci-fi/action film Independence Day, co-starring Will Smith and grossing more than $800 million worldwide. During the mid-1990s, Goldblum earned an Academy Award nomination for his work in creating the live action film short Little Surprises.
Goldblum didn't continue down the blockbuster path, instead taking on a mix of roles that included indie fare, comedies, voiceover work and thrillers. He co-starred with Susan Sarandon in the critically acclaimed, cynical comedy Igby Goes Down (2002), and portrayed a rival, genteel oceanographer in The Life Aquatic With Steve Zissou (2004). Other films on his long roster have included Fay Grim (2007), The Switch (2010) and Morning Glory (2010).
Goldblum has also returned to TV. He was nominated for a 2005 Emmy for his guest-starring role on NBC's Will & Grace and in 2009 he joined the cast of Law & Order: Criminal Intent as Detective Zack Nichols. He is noted for his stage work as well, having performed in works like The Pillowman, Seminar and a London revival of Neil Simon's The Prisoner of Second Avenue. Goldblum teaches acting at Playhouse West in Los Angeles—which he co-established in the early 1980s—and is a noted jazz pianist, having performed as a solo artist and with the Mildred Snitzer Orchestra.


Dieses Album enthält kein Booklet