---
Album Info
Album Veröffentlichung:
2023
HRA-Veröffentlichung:
10.08.2023
Das Album enthält Albumcover
Santiago Kodela (b. 1984): Procession Through The Rain:

1

Kodela: Procession Through The Rain

02:35

The Herd's Communion:

2

Kodela: The Herd's Communion

01:30

The Cane:

3

Kodela: The Cane

03:08

Of Distant Rolling Clouds:

4

Kodela: Of Distant Rolling Clouds

03:10

The Shepherd's Smile:

5

Kodela: The Shepherd's Smile

03:41

Towards The Closing Gates:

6

Kodela: Towards The Closing Gates

03:40

Total Runtime

17:44
Info zu The Distant Shepherd
"The Distant Shepherd" from award-winning classical guitarist & composer Santiago Kodela explores the full timbral and emotive range of the instrument in a solo setting. His performance deftly employs iso-rhythms, metric modulation, and chord harmonization to breathtaking effect. Also known for his work in chamber and choral music, Kodela showcases the virtuosic prowess that won him the 1st Prize Gold Medal in the category of Senior Classical Guitar at the 125th edition of the Feis Ceoil, Ireland's largest classical music competition. Through notes and chords, Kodela's THE DISTANT SHEPHERD offers an evocative portrait of a lone shepherd tending to his flock.
Santiago Kodela, guitar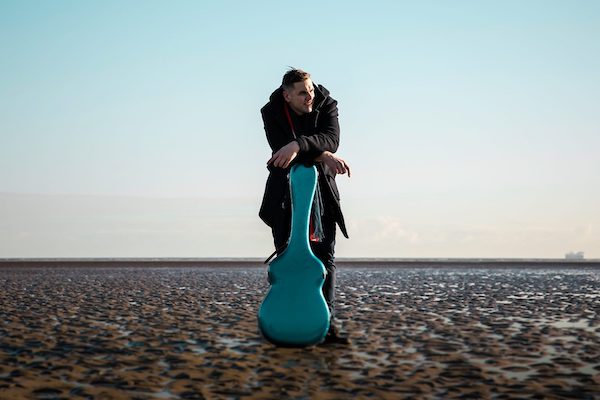 Santiago Kodela
is an award-winning Classical Guitarist & Composer working in the areas of concert, solo instrument, chamber, and choral music. His works explore various aspects of sound and harmony, adventuring intensely into the areas of iso-rhythms, metric modulation, and chord harmonization.
In 2022 the album PINNACLE VOL. 2 was awarded the 2nd Prize Silver Medal by North-American Global Music Awards in the classical category. Furthermore, his piece Delicate Soliloquies was shortlisted as a finalist in the 2nd Composition Competition by the Dutch Guitar Foundation by a jury integrated by Steve Goss, JacobTV, and Nikita Koshkin. Towards the end of this year, and as part of an Irish Composers' Collective initiative, Kodela premiered two new pieces in the ICC Salon 2022 festival. These include a piece for solo Clarinet in Bb and dance artist performed by Irish renowned clarinetist Paul Roe along Laura Sarah Dowdall; and a chamber ensemble composition for Irish Harp, Bassoon, Clarinet in A, and Oboe performed by the internationally celebrated Ficino Ensemble. As a member of GuitaRIAM (guitar ensemble of the Royal Irish Academy of Music), Kodela participated in a charity gig towards the Irish Red Cross in support of the Ukrainian crisis which raised a substantial amount of money. In the same year, Kodela started the Éire Guitar Duo along with Oscar Montague and are already in the process of writing new music and recording guitar duo pieces.
2021 saw Kodela being awarded the 1st Prize Gold Medal at the 125th edition of the Feis Ceoil, Ireland's largest classical music competition, in the category of Senior Classical Guitar. Additionally, he was further granted the Arts Council of Ireland Agility Award to further his compositions with Marco Ramelli.
In 2020 he was given not one but two awards by the Arts Council of Ireland. These were the COVID-19 Crisis Response Award and the Professional Development Award. For the former, Kodela live-streamed a guitar recital of his own compositions to audiences across South-America, Europe, and Asia. For the latter, he developed a portfolio of guitar compositions under the guidance of Ramelli (Technological University Dublin).
In 2018 Kodela completed a Master's Degree in Music and Media Technologies from Trinity College Dublin, where he specialized in Audio Production and Contemporary Music Composition, completing his portfolio thesis under the guidance of Ann Cleare. As a performer, he began his guitar studies at the Conservatorio Superior de Música "Manuel de Falla" (Argentina) under the tutelage of María Catalina Bello. After years of outstanding academic performance, he relocated to Europe to pursue a Bachelor's Degree in Music Performance at the Royal Irish Academy of Music (Ireland). Guided by Marion Hyland, he excelled in the performance of the classical guitar. A recipient of the Gaiety Bursary (2016), he performed the legendary "Concierto de Aranjuez" with the RTÉ Concert Orchestra under the baton of Gavin Maloney.
Kodela toured extensively around both Argentina and Ireland and has taken countless masterclasses with some of the world's top performers, names that include artists such as Berta Rojas, Xuefei Yang, Walter Malosetti, Odair Assad, and Craig Ogden, among others. Kodela's non-guitar compositions have been performed and recorded by artists such as Fidelio Trio (London), Ficino Ensemble (Dublin), clarinetist Paul Roe (Technological University Dublin) along dance artist Laura Sarah Dowdall, Kühn Choir (Prague), pianist Adam Marks (New York), and the Benda Quartet (Czech Republic), among others. Publications and releases are managed internationally via PARMA Recordings and Navona Records.


Dieses Album enthält kein Booklet