---
Album Info
Album Veröffentlichung:
2019
HRA-Veröffentlichung:
17.05.2019
Das Album enthält Albumcover
1

No One's Woman

04:05

2

The Alchemy of Being Human

04:23

3

Table for One

04:37

4

Untouchable Man

05:42

5

I Had a Dream

04:59

6

Awakening

04:37

7

A Real Human Being

04:16

8

Silence Is Rising

04:17

9

Sanctuary

05:05

10

My Wildest Dreams

04:55

Total Runtime

46:56
Info zu Silence Is Rising
Der erste Eindruck trügt. "Silence is Rising" mag nach Elisabeth Cutler's optimistischstem und tanzbarstem Album klingen. Doch schwingen bei diesem Tanz stets auch Tod und Schicksalsschläge mit. Die nackte Konfrontation mit der eigenen Sterblichkeit wurde für Elisabeth zum Leitmotif für das gesamte Album. Die jazzigen Grooves, warmen Akustikfarben und verspielten Experimenten bilden somit ein Gegengewicht zu den finsteren Texten: Dies ist kein Requiem, sondern eine Feier des Lebens.
Seit der turbulenten Phase rund um ihr viertes Albums "Hurricane of Change" hat Elisabeth in einem friedlichen Ort in der Nähe von Rom ein neues Zuhause gefunden. In dieser Oase atemberaubender Schönheit traf sie eine schwere medizinische Diagnose, die dem Material eine neue Richtung verlieh und sie dazu zwang, sich noch tiefer mit einer Vielzahl persönlicher und sozialer Themen auseinander zu setzen: Dem modernen Leben und dem Verlust unserer Unschuld; dem Wunsch nach Unabhängigkeit sowie dem Bedürfnis nach Liebe und Freundschaft; Technologie und ihrem Einfluss auf persönliche Beziehungen; ihrer Sicht auf ihr amerikanisches Geburtsland.
Trotz der kritischen Auseinandersetzung mit der Moderne ist "Silence is Rising" stark von aktueller Technologie geprägt. Zusammen mit ihrem Produzenten, dem Filmkomponisten und Multi-Instrumentalisten Filippo De Laura, hat Elisabeth behutsam ihre klangliche Palette erweitert, ohne dabei ihre erkennbare Handschrift auf zu geben. Subtile Elektronik-Elemente sorgen für Tiefe und Spannung, erkennbare Klangfarben werden mit Effekten umgeformt und neu definiert. Für den Titel-Track arbeitete sie sogar mit den Entwicklern der innovativen medizinischen Software "Herzklang" zusammen: Der Song beginnt mit einer einminütigen Komposition, die auf Klangbildern ihres eigenen Herzschlags basiert.
Zuallererst aber ist dies ein Album über ihre Stellung als unabhängige Frau und darüber, wie ihre Weigerung, sich gängigen Konventionen zu beugen, sie in eine unbeabsichtigte Einsamkeit geführt hat: "Es gibt heutzutage viele beeindruckende Frauen, die allein leben. Das war jedoch nie unser Plan." Sie hält kurz inne, stellt dann lachend fest: "Ich bin einfach noch immer eine unverbesserliche Romantikerin!"
Eine Romantikerin in stürmischen Gewässern, freilich. Auf "Alchemy of Being Human" spricht sie offen davon, wie ihre aktuelle Lage sie dazu zwingt, halb Mann, halb Frau zu sein. Die Musik spiegelt dieses "moderne Transgender- Ideal". Eingespielt von einer Band aus italienischen Musikern und dem in Berlin lebenden Krautrock-Gitaristen Leander Reininghaus, ist sie verträumt und geerdet, intim und funky, traditionell und neugierig zugleich. Es ist eine zeitlose, warme Produktion in einer Zeit schreiender Stimmen und greller Sound. Das nährt eine Hoffnung: Dass man nicht immer lauter als alle anderen sein muss, um gehört zu werden.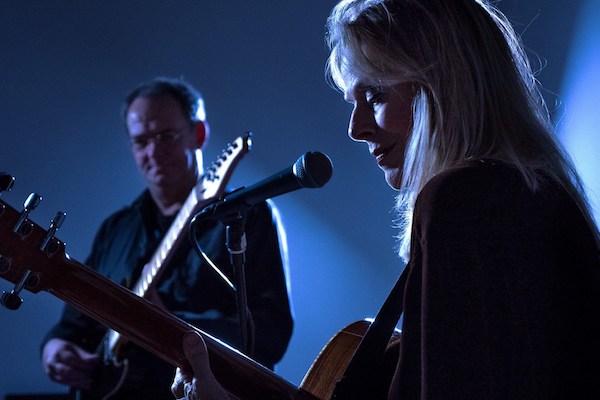 Elisabeth Cutler
In a world of flash and dash, Elisabeth Cutler stands out as the rare artist who combines intimacy, honesty and sophistication in her songwriting and performance. Living in Italy and touring Europe extensively over the past 10 years, Elisabeth was born and raised in North America, honing her craft in her hometown of Boston, and later, Nashville. Drawing inspiration from the likes of Joni Mitchell, Diana Krall, and Norah Jones, Cutler forges her own distinctive and dynamic path, blending elements of folk/jazz/blues.
Critics describe Elisabeth as a dynamic performer and band leader who commands the stage with a rare and engaging honesty. She has graced stages as diverse and prestigious as The Bitter End and CBGB's Gallery of New York, The New Orleans Jazz and Heritage Festival, and the Kerrville Folk Festival.
Polishing Stones (2015 Beste! Unterhaltung), her latest effort, written in the hills outside Rome, Italy, presents eleven new compositions. Recorded and engineered by producer Filippo De Laura (Slow Release 2009) at his home studio in Rome, as well as One E Music studio, Polishing Stones, reflects Elisabeth's sentimental life in Europe; in short, the cadences and crescendos of life and love.
Cutler's warm and engaging voice and proficient guitar work stand front and center on these new songs. Collaborating with Latin and Nordic musician friends, Elisabeth finds her pace while lacing emotion and rhythm in tandem with De Laura's sympathetic arrangements and soundscape production that both support Cutler's natural strength and vulnerability; the results are stunning. Polishing Stones is both spare and well-defined, touching on themes of patience and comfort in solitude, dispersed by sensuous and ardent declarations of romantic love; she affectionately calls her genre, 'My World Music'.
Elisabeth's spacious guitar-based American sound is well-supported by international musician friends: Mats Hedberg (guitars/Sweden), Massimo Cusato (percussion/drums – Italy), and Ernesto Cossìo (Spanish guitar – Spain).
In Elisabeth's words, "I feel that the sound and the arrangements of Polishing Stones reflect my love for the guitar and stringed-instruments, as well as my curiosity about cultures and my interest in the romance of the human spirit. We have attempted to make an interesting dialog between the instruments. This album was recorded in Rome relatively quickly and with a sense of careful spontaneity so the results are close to, and adaptable, to a live concert setting where most disks are sold theses days. I am very pleased and satisfied with the collaboration with producer Filippo De Laura and the three other musicians on Polishing Stones."


Dieses Album enthält kein Booklet