---
Album Info
Album Veröffentlichung:
1991
HRA-Veröffentlichung:
11.10.2019
Das Album enthält Albumcover
Entschuldigen Sie bitte!
Sehr geehrter HIGHRESAUDIO Besucher,
leider kann das Album zurzeit aufgrund von Länder- und Lizenzbeschränkungen nicht gekauft werden oder uns liegt der offizielle Veröffentlichungstermin für Ihr Land noch nicht vor. Wir aktualisieren unsere Veröffentlichungstermine ein- bis zweimal die Woche. Bitte schauen Sie ab und zu mal wieder rein.
Wir empfehlen Ihnen das Album auf Ihre Merkliste zu setzen.
Wir bedanken uns für Ihr Verständnis und Ihre Geduld.
Ihr, HIGHRESAUDIO
1

Barcelona (New Orchestrated Version)

05:44

2

La Japonaise (New Orchestrated Version)

04:52

3

The Fallen Priest (New Orchestrated Version)

05:47

4

Ensueño (New Orchestrated Version)

04:23

5

The Golden Boy (New Orchestrated Version)

06:04

6

Guide Me Home (New Orchestrated Version)

02:50

7

How Can I Go On (New Orchestrated Version)

03:50

8

Exercises In Free Love (New Orchestrated Version)

03:57

9

Overture Piccante (New Orchestrated Version)

06:48

Total Runtime

44:15
Info zu Barcelona (Special Edition)
25 Jahre nach der Erstveröffentlichung der Single 'Barcelona' wird Freddie Mercurys persönlichstes Album und das, mit dem er sich selbst am besten definiert hat, in einer komplett neuen Orchesterversion veröffentlicht. Das Album 'Barcelona' war zusammen mit der spanischen Sopransängerin Montserrat Caballé entstanden. Die Jubiläumsedition 'Barcelona - The Special Edition' erscheint hierzulande am 31.August 2012. Es wäre Freddies 66. Geburtstag gewesen.
Das Originalalbum wurde nach der spanischen Stadt Barcelona benannt, in der 1992 die Olympischen Spiele stattfanden. Freddie war mit dem Komponieren des offiziellen Songs zu der Veranstaltung beauftragt worden. Es sollte sein letztes Solomaterial werden.
Der Titel war außerdem eine Hommage an die Heimatstadt seiner Partnerin Montserrat Caballé, von der Freddie völlig gefesselt war. Eigentlich hatte Freddie den Song gemeinsam mit ihr zur Eröffnung der Olympischen Spiele 1992 präsentieren sollen. Leider verstarb er acht Monate davor.
Aber das Album verkaufte sich mehrere Millionen Male und als die BBC den Song 'Barcelona' als Titelsong ihrer Berichterstattung auswählte, kletterte die Single nach Freddies Tod auf Platz 1 der Charts.
Diese Kolaboration gehörte zu den gewagtesten und bahnbrechendsten der 80er Jahre. Für Freddie war es ein langgehegter Traum, Rock und Oper zu verbinden und mit dieser Sängerin zu arbeiten - einer Sängerin, von der er nach einem ihrer Auftritte im Royal Opera House in London 1981 sagte: 'Jetzt habe ich die beste Stimme der Welt gehört.'
Freddie war zum Opera House gegangen, um Luciano Pavarotti in Verdis 'Un ballo in maschera' zu sehen. Er hatte ihn schon auf Platte gehört, aber noch nie live gesehen. Pavarotti war natürlich sehr beeindruckend, aber wirklich begeistert war Freddie vom Mezzosopran. Später spielte er seinem Manager Jim Beach eine Platte von Montserrat Caballé vor und sagte dem erstaunten Mann: 'Mit ihr möchte ich etwas aufnehmen. Bitte arrangier das.'
Beach arrangierte ein erstes Treffen im Ritz Hotel in Barcelona.
Freddie kam in Begleitung des Pianisten und Arrangeurs Mike Moran und mit einem Demo, das sie für Montserrat vorbeitet hatten. Der Song hieß 'Exercises in Free Love' und Freddie hatte ihre Stimme mit seinem Falsetto imitiert. Freddies Team hatte im Garten des Ritz eine riesige PA aufbauen lassen und spielte das Demo, als Montserrat eintraf. Sie fragte ihn: 'Kann ich das nächsten Sonntag bei meinem Auftritt in Covent Garden singen?' Sie probten das Stück an Ort und Stelle und das war die Geburtsstunde des Albums 'Barcelona'.
Auf dieser neuen Edition des Albums befindet sich als Bonustrack erstmalig die Originalaufnahme von 'Exercises in Free Love', die Montserrat im Garden des Ritz gehört hat und woraus diese Partnerschaft entstand. So schließt dieser Re-Release den Kreis.
Die Special Edition von 'Barcelona' befindet sich im Auge eines neuen Begeisterungssturms für das Schaffen des im November 1991 verstorbenen Sängers, dessen Geburtstag nun jedes Jahr mit einem Spendenmarathon zugunsten der AIDS-Hilfe, 'Freddie for a Day', gefeiert wird.
Gleichzeitig erscheint eine große neue Dokumentation mit dem Titel 'The Great Pretender' und das neu verfasste und illustrierte Buch 'Freddie Mercury: The Great Pretender - A Life in Pictures'.
Dieses neue 'Barcelona'-Album wird als die Version beschrieben, die Freddie Mercury seinerzeit gerne aufgenommen hätte, wenn er sich in der Lage gefühlt hätte, mit einem kompletten Symphonieorchester zu arbeiten.
Mercury spielte das Originalalbum fast vollständig mit Keyboards ein. Auf dieser Special Edition 2012 werden die Arrangements von Mercury und seinem Co-Writer und Produzenten Mike Moran mit einem kompletten Symphonieorchestersatz ersetzt, gespielt von dem 80-köpfigen FILMharmonic Orchestra, Prag. Es ist eines der gefragtesten Studioorchester Zentraleuropas mit führenden Mitgliedern der wichtigsten Orchester Tschechiens (Czech Philharmonic, Prager Symphoniker).
Mit dem Transkribieren und Orchestrieren der Mercury und Caballé Tracks wurde der Arrangeur und musikalische Leiter Stuart Morley beauftragt, der durch seine Tätigkeit als MD für Queens Hit-Musical 'We Will Rock You' mit der Band und mit Freddie Mercury verbunden ist. Neben Queens Tontechniker Kris Frederiksson spielt Morley eine zentrale Rolle bei dieser neuen Special Edition des Albums und ist auch sein Produzent.
Morley beschreibt die Arbeit folgendermaßen: 'Ich hörte mir immer wieder kurze Passagen des Albums an und notierte mir dabei die Harmoniestrukturen, die wichtigsten Orchesterparts und die Instrument- und Gesangsstimmen. Darauf baute ich den kompletten Orchestersatz auf (auf altmodische Art und Weise: am Klavier, mit einem Lineal, einem weichen Bleistift und einem Radiergummi). Dabei glich ich das Ergebnis permanent mit den Originalaufnahmen ab, um den Wünschen Freddies und Morans möglichst treu zu bleiben.'
Weitere für Morley wichtige Bezugspunkte waren 'Rimsky Korsakovs Abhandlung über Orchestrierung und andere Orchestersätze wie z. B. Tschaikowskis 4. Symphonie, Scheherzade und Dubussys La Mer. Es war mir persönlich sehr wichtig, dass die neue Orchestrierung im klassischen Stil aufgebaut wird und gleichzeitig dem Sound des Originalalbums treu bleibt.'
Nach Monaten mit Bleistift und Radiergummi in der Hand fuhr Morley für die Aufnahmen nach Prag: 'Ich erinnere mich noch, dass ich nervös und gleichzeitig sehr aufgeregt war, als ich die kurze Strecke zwischen Hotel und Studio zu Fuß ging. Für einen Arrangeur ist der Moment, bevor der Dirigent zum ersten Mal mit dem Taktstock klopft, immer nervenaufreibend - wenn knapp über 80 Leute ihre Instrumente final stimmen und sich sammeln. Aber durch meine Kenntnis, Respekt und große Wertschätzung für das Originalalbum und die Künstler wurden diese Gefühle noch um das zehnfache verstärkt.'
'Ich werde nie die Emotionen vergessen, die mich übermannten, als man mir am selben Abend die Kopfhörer reichte. Gerade wurde eine der Tutti Passagen von 'The Fallen Priest' aufgenommen, eine der größten und am schwierigsten umzusetzenden Passagen, und ich fühlte die unglaubliche Kraft des Orchesters, das wirklich alles gab. Und über allem thronten Freddie und Montserrat. Da wusste ich, dass wir Teil von etwas ganz Besonderem waren.'
Zusätzlich zu dem vom Prager FILMharmonic Orchestra eingespielten Orchestersatz wurden noch weitere Liveinstrumente neu hinzugefügt. Naoko Kikuchi, einer der wenigen Koto-Spieler der westlichen Welt, flog extra nach London um das uralte Instrument auf 'La Japonaise' zu spielen. Roger Taylors Sohn Rufus Taylor ersetzte den Drumcomputer auf 'The Golden Boy' und 'How Can I Go On' mit Livepercussion. Und der Star-Violinist David Garrett spielt auf 'How Can I Go On' zusätzlich ein neues Violinsolo, das sich gut neben John Deacons Basslinie macht.
'Barcelona - The Special Edition' ist endlich das Album, dass es hatte sein sollen. Die Welt wird es wieder entdecken und sich noch mal ganz neu in das Album verlieben. Der einzige Wermuthstropfen ist, dass der eigentliche Visionär hinter diesem Meisterwerk nicht mehr unter uns ist, um es zu hören.
Freddie Mercury, vocals
Montserrat Caballé, vocals
Homi Kanga, violin
Laurie Lewis, violin
Deborah Ann Johnson, cello
Barry Castle, horn
Mike Moran, keyboards
John Deacon, bass
Frank Ricoffi, percussion
Madeline Bell, background vocals
Debbie Bishop, background vocals
Lance Ellington, background vocals
Miriam Stockely, background vocals
Peter Straker, background vocals
Mark Williamson, background vocals
Carol Woods, background vocals
FILMharmonic Orchestra Prague
Adam Klemens, conductor
Orchestrations by Stuart Morley. Based on the original arrangements by Mike Moran and Freddie Mercury.
Produced by Kris Fredriksson and Stuart Morley.
Original production by Freddie Mercury, Mike Moran and David Richards, except 'Exercises In Free Love' original production by Mike Moran.
Recorded at The Townhouse Studios, London, England and Mountain Studios, Montreux, Switzerland.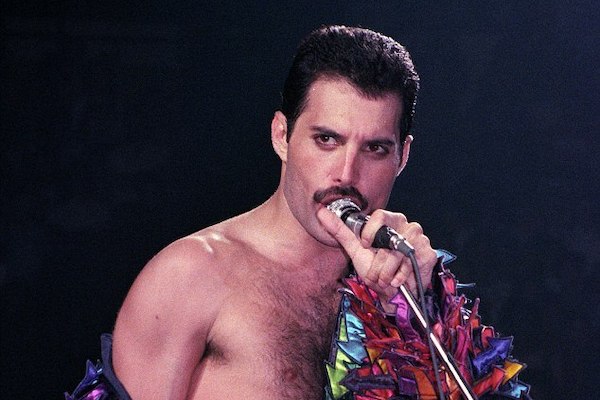 Freddie Mercury
The life of Farrokh Bulsara began on the East African island of Zanzibar on September 5, 1946. 25 years later in London under the name of Freddie Mercury he was fronting the now legendary rock group named Queen.
The son of Bomi and Jer Bulsara, Freddie spent the bulk of his childhood in India where he attended St. Peter's boarding school. He began taking piano lessons at the age of seven. No one could foresee where a love of music would take him.
The Bulsara family moved to Middlesex in 1964 and from there Freddie joined up with a blues band called Wreckage while studying graphic design courses at Ealing College of Art. While singing for Wreckage, a fellow student introduced Freddie to Roger Taylor and Brian May, founder members of a band called Smile. Smile metamorphosed into Queen when Freddie joined Roger and Brian as the lead vocalist. The final member of the band, which was to stay together for the next 20 years, was bassist John Deacon, who joined the band on 1st of March 1971.
The rest is rock history. EMI Records and Elektra Records signed the band and in 1973 their debut album 'Queen' was released and hailed as one of the most exciting developments ever in rock music.
The immortal operatically styled single 'Bohemian Rhapsody' was released in 1975 and proceeded to the top of the UK charts for 9 weeks. A song that was nearly never released due to its length and unusual style but which Freddie insisted would be played became the instantly recognisable hit. By this time Freddie's unique talents were becoming clear, a voice with a remarkable range and a stage presence that gave Queen its colourful, unpredictable and flamboyant personality
Very soon Queen's popularity extended beyond the shores of the UK as they charted and triumphed around Europe, Japan and the USA where in 1979 they topped the charts with Freddie's song 'Crazy Little thing Called Love'.
Queen was always indisputably run as a democratic organisation. All four members are each responsible for having penned number one singles for the band. This massive writing strength combined with spectacular lights, the faultless sound, a sprinkling of theatricality and Freddie's balletic movements made up Queen on stage and on film.
Through Freddie's ability to project himself and the band's music and image to the four corners of 70,000 seater venues they became known as the prime developers of stadium rock, a reputation perpetuated by their pioneering tactics in South America where in 1981 they performed to 231,000 fans in Sao Paulo, a world record at the time. They also became known as the key innovators of pop videos as their catalogue of 3-minute clips became more and more adventurous in style, size and content.
Their phenomenal success continued around the globe throughout the 80's highlighted in 1985 by their show-stealing and unforgettable performance on stage at Live Aid.
In the mid 80's, Freddie started concentrating on his solo career, which was to run in tandem with Queen ("the mothership") for several albums commencing with the 1985 release of 'Mr. Bad Guy'. Freddie's much loved sense of self-parody reached a zenith with his cover version of The Platter's song 'The Great Pretender' in 1987, the video of which recorded him descending a sweeping staircase among acres of identical cardboard cutouts of himself.
His first major collaboration outside Queen was with Dave Clark for the recording of London's West End musical Time, in 1986. This was followed in 1987 with the realisation of one of Freddie's long-term dreams; to record with the world revered opera diva Montserrat Caballé. The LP's title song, 'Barcelona' went on to become an anthem for Señora Caballé's home city and the theme for the Olympics in 1992.
While most publicly recognised as the front man to one of the most progressive rock bands of the 70's, Freddie defied the stereotype. A taste for venturing into new territories - a trait that was to have a marked influence on the direction Queen would take - took Freddie to explore his interests in a wide spectrum of the arts, particularly in the areas of ballet, opera and theatre, even taking a participating role: in October 1977 the sell-out audience of a charity gala at the London Coliseum organised by Royal Ballet Principal dance Wayne Eagling received the surprise of an unannounced appearance by a silver-sequinned leotard-clad Freddie performing an intricate routine choreographed for him by Eagling. In 1987 he made a one-night appearance in Dave Clark's Time at the Dominion Theatre, although legend has it Freddie occasionally turned up at the theatre to support friend Clark's musical, one night selling ice-creams in the stalls! Freddie would have loved the fact that The Dominion now plays host to the band's phenomenally successful musical We Will Rock You which has now held the Dominion stage eight years longer than Time's two year run.
Freddie returned to the studios to record 'Innuendo' with Queen in 1990.
In November 24th, 1991, Freddie's struggle against AIDS ended when he passed away just over 24 hours after he had publicly announced he had the disease. Musicians and fans from all over the world paid their highest respects as the passing of rock's most innovative, flamboyant ambassador signified the end of an era at the Freddie Mercury Tribute Concert at Wembley Stadium on April 20, 1992 which gave birth to the Mercury Phoenix Trust, the AIDS charity set up in Freddie's memory by the remaining members of Queen and Freddie's Executor, Jim Beach.
Freddie Mercury, who majored in stardom while giving new meaning to the word showmanship, left a legacy of songs, which will never lose their stature as classics to live on forever. Some of the most poignant of these were immortalised on the Queen album 'Made In Heaven' released in November 1995. The sleeve of the album shows a view from Freddie's Montreux home.
Despite twenty years having passed since Freddie lost his life to HIV complications, he remains in the minds of millions throughout the world as one of the greatest artists we will ever see. In September 2010 (coincidentally, around Freddie's 64th birthday) a poll carried out among rock fans saw him named the Greatest Rock Legend Of All Time, beating Elvis Presley to claim the title, and ahead of David Bowie, Jon Bon Jovi, Jimi Hendrix and Ozzy Osbourne.
A spokesman for OnePoll.com which conducted the poll said: "Freddie Mercury had it all, the voice, the image, the stage presence, everything.
He combined his ear for music with an ability to deliver to stadium audiences and as such millions were devastated when HIV killed him in 1991. His legend will live on forever". (OnePoll.Com. September 6, 2010)


Dieses Album enthält kein Booklet