---
Album Info
Album Veröffentlichung:
2019
HRA-Veröffentlichung:
01.11.2019
Das Album enthält Albumcover Booklet (PDF)
Entschuldigen Sie bitte!
Sehr geehrter HIGHRESAUDIO Besucher,
leider kann das Album zurzeit aufgrund von Länder- und Lizenzbeschränkungen nicht gekauft werden oder uns liegt der offizielle Veröffentlichungstermin für Ihr Land noch nicht vor. Wir aktualisieren unsere Veröffentlichungstermine ein- bis zweimal die Woche. Bitte schauen Sie ab und zu mal wieder rein.
Wir empfehlen Ihnen das Album auf Ihre Merkliste zu setzen.
Wir bedanken uns für Ihr Verständnis und Ihre Geduld.
Ihr, HIGHRESAUDIO
Ludwig van Beethoven (1770 - 1827): Sonata for Cello and Piano No. 1 in F Major, Op. 5 No. 1:

1

1. Adagio sostenuto - Allegro

14:48

2

2. Rondo (Allegro vivace)

06:47

Sonata for Cello and Piano No. 2 in G Minor, Op. 5 No. 2:

3

1. Adagio sostenuto ed espressivo - Allegro molto più tosto presto

12:17

4

2. Rondo (Allegro)

08:53

Sonata for Cello and Piano No. 3 in A Major, Op. 69:

5

1. Allegro ma non tanto

12:57

6

2. Scherzo (Allegro molto)

05:21

7

3. Adagio cantabile - Allegro vivace

08:37

Sonata for Cello and Piano No. 4 in C Major, Op. 102 No. 1:

8

1. Andante - Allegro vivace

08:30

9

2. Adagio - Tempo d'andante - Allegro vivace

06:59

Sonata for Cello and Piano No. 5 in D Major, Op. 102 No. 2:

10

1. Allegro con brio

06:29

11

2. Adagio con molto sentimento d'affetto

09:13

12

3. Allegro - Allegro fugato

04:26

12 Variations On "See the conquering hero comes" For Cello And Piano, WoO 45:

13

Thema. Allegretto

00:47

14

Variation I

00:45

15

Variation II

00:44

16

Variation III

00:43

17

Variation IV

00:47

18

Variation V

00:51

19

Variation VI

00:44

20

Variation VII

00:34

21

Variation VIII

00:46

22

Variation IX

00:43

23

Variation X. Allegro

00:41

24

Variation XI. Adagio

03:21

25

Variation XII. Allegro

01:03

7 Variations On "Bei Männern, welche Liebe fühlen", For Cello And Piano, WoO 46:

26

Theme. Andante

00:58

27

Variation I

00:45

28

Variation II

00:46

29

Variation III

00:58

30

Variation IV

01:13

31

Variation V. Si prenda il tempo un poco più vivace

00:36

32

Variation VI. Adagio

02:10

33

Variation VII. Allegro, ma non troppo

01:51

12 Variations On "Ein Mädchen oder Weibchen" For Cello And Piano, Op. 66

34

Thema. Allegretto

00:36

35

Variation I

00:39

36

Variation II

00:36

37

Variation III

00:33

38

Variation IV

00:40

39

Variation V

00:35

40

Variation VI

00:31

41

Variation VII

00:47

42

Variation VIII

00:33

43

Variation IX

00:39

44

Variation X. Adagio

01:33

45

Variation XI. Poco Adagio, quasi Andante

01:23

46

Variation XII. Allegro

01:51

Total Runtime

02:17:59
Info zu Beethoven: Complete Works for Cello and Piano (Remastered)
Newly remastered at half-speed from original sources by Emil Berliner Studios. Pierre Fournier's and Friedrich Gulda's legendary 1959 recordings of Beethoven's complete works for cello and piano.
In celebration of the 250th anniversary of Beethoven's birth, Deutsche Grammophon reissues one of the major milestones in its catalogue in a special vinyl edition, the legendary recording of the master's complete works for cello and piano duo by Pierre Fournier and Friedrich Gulda. Set down in June 1959 in the Brahms-Saal of Vienna's Musikverein, these recordings are held in the highest esteem to this day by connoisseurs and experts alike.
"No living cellist has eclipsed Pierre Fournier's Beethoven cycle with Friedrich Gulda" (Fanfare)
Pierre Fournier, cello
Friedrich Gulda, piano
Digitally remastered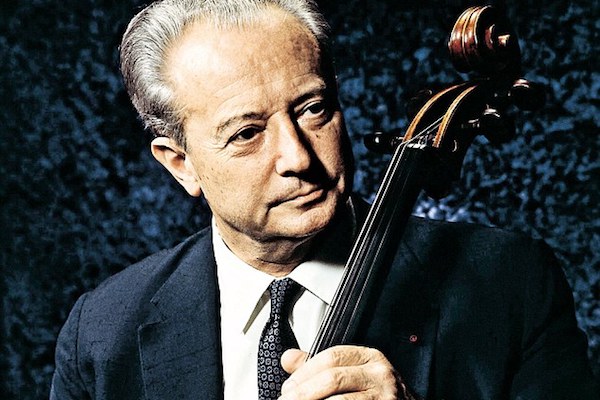 Pierre Fournier
Often dubbed 'the aristocrat of cellists' because of his smooth, refined sound, Pierre Fournier was a musician very much of the Franco-Belgian tradition, studying with Paul Bazelaire and André Hekking at the Paris Conservatoire (where, like many successful alumni, he later became a professor himself ) and associating with such players as Jacques Thibaud and Alfred Cortot as well as contemporary Paris-based composers. He and fellow French cellist Paul Tortelier were great friends. On one occasion backstage after a recital by Tortelier they exchanged compliments with great humour: 'Paul, I wish I had your left hand'; 'Pierre, I wish I had your right arm!' A keen advocate of new music, Fournier was the dedicatee of sonatas by Martinů and Poulenc, and gave premières of concertos by Roussel, Martin and Martinů. He was highly regarded both as a soloist and a chamber musician (see Maurice Vieux's entry in this book). Touring Europe and the USA with Szigeti, Primrose and Schnabel in 1947–1948 broadened his horizons significantly, both in terms of becoming well known across the Atlantic and also in playing chamber music with musicians from different traditions.
Fournier's playing is characterised by a tight, almost sparse sound, exquisite accuracy of intonation and left-hand passagework, and a generally articulate but relatively sustained approach to phrasing. Although by no means averse to portamenti (especially in some of his earlier performances), his use of such expressive devices is discreet and moderate; this can make his playing sound a little remote, and on some of these recordings can even suggest a slight weakness of tonal projection; but at its best this approach helps to convey the music with simplicity. The recordings selected here demonstrate this well. His 1960 Bach Suite BWV 1007 is a considered performance at moderate tempi with a relatively legato approach, but nonetheless much subtle phrase shaping. A fine performance of Beethoven's Cello Sonata, Op. 5 No. 2 with Schnabel (1947) is particularly atmospheric and intense at the outset, but opens out into some very energetic playing especially in the Rondo; Fournier later recorded complete cycles of Beethoven's cello and piano works for Deutsche Grammophon with Friedrich Gulda (1959) and Wilhelm Kempff (1965). Amongst large-scale Romantic works Fournier's Dvořák Concerto recording under Colin Davis from relatively late in his career (1973) seems a little thin and under-projected and perhaps shows slight waning of powers in older age; the much earlier (1941) performance of Tchaikovsky's Variations on a Rococo Theme, however, has exceptional tonal vivacity and depth where required. The Brahms Double Concerto recording, live at the 1955 Edinburgh Festival with Francescatti, is an acquired taste, particularly owing to Francescatti's fast vibrato and bright but rather thin tone, which can seem a little odd to modern ears. The clarity of sound and sense of reserved musicianship from both soloists, however, elevates this unhurried interpretation above many other performances taken at such steady speeds. (See Francescatti's entry in this book for a 1959 studio recording of the same work.)
In twentieth-century repertoire Fournier's performances of the Walton Concerto under the composer's baton (1959), the Martin Concerto (1967, live première) and the Sonata which Poulenc wrote for Fournier and frequently performed with him (1971) are all engaging and intense, testifying to Fournier's prowess and versatility and, as is often the case, demonstrating a more relaxed musicianship in newer, less well-known works.
Friedrich Gulda
irst tuition was at the Grossman Conservatory where between the ages of eight and twelve his teacher was Felix Pazofsky. At twelve he entered the Vienna Academy of Music where he studied piano with Bruno Seidlhofer and theory with Joseph Marx. After making his debut at the age of fourteen, Gulda went on to win the Geneva Piano Competition in 1946, subsequently touring Switzerland, Italy, Hungary and Czechoslovakia. Gulda rapidly gained an international reputation and gave his Carnegie Hall debut in 1950. His repertoire at this time concentrated on Bach, Mozart, Beethoven and Schubert; he gave complete cycles of the Beethoven sonatas, and played chamber music. During the 1950s he made a series of recordings for Decca, but in 1962 his career took a very different turn.
Disillusioned with the life of a virtuoso, Gulda turned his attention to jazz. He had already appeared with the Austrian All Stars on radio in 1956, and in the same year at New York's famous Birdland, as well as at the Newport Jazz Festival. However, by the early 1960s Gulda had formed a small jazz group and a big band called the Eurojazz Orchestra. He played the wooden flute and baritone saxophone and composed his own works for jazz combinations. Gulda gave up the leadership of the Eurojazz Orchestra in 1966, founding a jazz competition in Vienna and opening a school of improvisation in Ossiach.
During the next three decades Gulda performed jazz and classical music, often together, juxtaposing both forms to stimulate his audiences. In 1990 he formed his Paradise Band with whom he gave performances combining Mozart, jazz improvisation and nightclub dance acts. Gulda worked with pianist Chick Corea, and, in the 1980s, with soprano Jessye Norman.
In the recording of Debussy's préludes for Decca made in 1955 Gulda's improvisatory qualities can be heard in Feuilles mortes, where his placing of chords is somewhat reminiscent of jazz pianist Bill Evans, and the whole piece has an air of being created on the spot (although perhaps without knowing of Gulda's jazz career one would not think this). Of his Decca LP of the Chopin ballades, The Gramophone magazine stated, '…one will listen in vain for many traces of poetry or understanding. Gulda seems, at the start of each Ballade, to be waiting impatiently for the moment when he can bang off into specious virtuosity.'
In the late 1960s and early 1970s Gulda recorded Bach's Das wohltemperierte Klavier complete and all of Beethoven's piano sonatas. The sonatas, all of which he had previously recorded for Decca between 1950 and 1958, were recorded again for Amadeo in 1967 and were described in 1970 as playing that is '…architecturally clear, rather objective, and often quite astonishing in its uncomplicated directness. Those who favour tremendous colouristic variety and metaphysical philosophising had better look elsewhere…' The reviewer goes on to describe the playing as being at times 'downright brutal and aggressive'. Some of the Amadeo sonata recordings were issued on compact disc by Philips, and in 2005 Decca issued the earlier sonata cycle on eleven compact discs in their Original Masters Series. Gulda's 1968 recording of Beethoven's 'Diabelli' Variations Op. 120 has been described as 'modernist' and he plays with no repeats. Chamber music includes Beethoven cello sonatas with Pierre Fournier recorded in 1959, and Strauss lieder with Hilde Gueden.
In the mid 1970s Gulda recorded some Mozart piano concertos for Deutsche Grammophon with the Vienna Philharmonic Orchestra and Claudio Abbado. These are fine performances with the added interest in K. 467 and K. 503 of cadenzas by Gulda himself. In an interesting disc from the mid-1980s of the Concerto for Two Pianos K. 365, Gulda is partnered by jazz pianist Chick Corea. Also on the disc are Corea's Fantasy for Two Pianos and Gulda's jazz-inspired Ping Pong for two pianos.
Gulda was obviously a man who did not like any form of restriction. After his series of Decca recordings in the 1950s, he changed label and producer many times. His unorthodox attitudes led him to want to shock his audiences for classical music, and give performances that were both challenging and uncompromising.


Booklet für Beethoven: Complete Works for Cello and Piano (Remastered)