---
Album Info
Album Veröffentlichung:
2013
HRA-Veröffentlichung:
13.12.2018
Das Album enthält Albumcover Booklet (PDF)
Sergei Prokofiev (1891 - 1935): Violin Concerto No. 1 in D Major, Op. 19:

1

Violin Concerto No. 1 in D Major, Op. 19: I. Andantino - Poco piu mosso - Meno mosso - Andante assai (Assai piu lento che la prima volta)

09:46

2

Violin Concerto No. 1 in D Major, Op. 19: II. Scherzo. Vivacissimo

03:55

3

Violin Concerto No. 1 in D Major, Op. 19: III. Moderato - Allegro moderato - Moderato - Piu tranquillo

08:58

Sonata for 2 Violins in C Major, Op. 56:

4

Sonata for 2 Violins in C Major, Op. 56: I. Andante cantabile

02:56

5

Sonata for 2 Violins in C Major, Op. 56: II. Allegro - Tempo I - Poco piu mosso - Piu mosso - Meno mosso (come prima) - Piu mosso

02:59

6

Sonata for 2 Violins in C Major, Op. 56: III. Commodo (quasi allegretto) - Pochissimo meno - Poco meno mosso

03:22

7

Sonata for 2 Violins in C Major, Op. 56: IV. Allegro con brio - Poco piu presto - Tempo I - Piu presto

05:05

Violin Sonata in D Major, Op. 115:

8

Violin Sonata in D Major, Op. 115: I. Moderato

04:52

9

Violin Sonata in D Major, Op. 115: II. Theme and Variations

04:52

10

Violin Sonata in D Major, Op. 115: III. Con brio - Allegro precipitato - Tempo I - Allegro precipitato

03:41

Violin Concerto No. 2 in G Minor, Op. 63:

11

Violin Concerto No. 2 in G Minor, Op. 63: I. Allegro moderato

10:35

12

Violin Concerto No. 2 in G Minor, Op. 63: II. Andante assai

09:37

13

Violin Concerto No. 2 in G Minor, Op. 63: III. Allegro, ben marcato

06:10

Violin Sonata No. 1 in F Minor, Op. 80:

14

Violin Sonata No. 1 in F Minor, Op. 80: I. Andante assai - Poco piu animato - Tempo I

06:33

15

Violin Sonata No. 1 in F Minor, Op. 80: II. Allegro brusco - Poco piu tranquillo - Piu mosso - Poco piu tranquillo - Tempo I

06:28

16

Violin Sonata No. 1 in F Minor, Op. 80: III. Andante - Poco meno mosso

06:56

17

Violin Sonata No. 1 in F Minor, Op. 80: IV. Allegrissimo - Poco piu tranquillo - Allegrissimo I - Poco meno - Andante assai, come primo

07:01

Violin Sonata No. 1 in F Minor, Op. 80:

18

5 Melodies, Op. 35bis: 1. Andante

02:23

19

5 Melodies, Op. 35bis: 2. Lento, ma non troppo - Poco piu mosso - Tempo I

02:53

20

5 Melodies, Op. 35bis: 3. Animato, ma non allegro - Poco piu tranquillo - Meno mosso - Tempo I - Poco meno mosso

03:28

21

5 Melodies, Op. 35bis: 4. Allegretto leggero e scherzando

01:24

22

5 Melodies, Op. 35bis: 5. Andante non troppo - Pochissimo piu animato - Meno mosso

03:19

Violin Sonata No. 2 in D Major, Op. 94bis:

23

Violin Sonata No. 2 in D Major, Op. 94bis: I. Moderato

08:15

24

Violin Sonata No. 2 in D Major, Op. 94bis: II. Scherzo. Presto - Poco piu mosso - Tempo I

04:52

25

Violin Sonata No. 2 in D Major, Op. 94bis: III. Andante

03:48

26

Violin Sonata No. 2 in D Major, Op. 94bis: IV. Allegro con brio - Poco meno mosso - Tempo I - Poco meno mosso - Tempo I - Poco meno mosso - Allegro con brio

07:24

Total Runtime

02:21:32
Info zu James Ehnes plays Prokofiev
This double album set offers all the works that Prokofiev wrote for the violin as solo instrument. One of the most sought-after and acclaimed violinists today, James Ehnes is accompanied by the BBC Philharmonic and Gianandrea Noseda in the two concertos, and, in several chamber works, by the pianist Andrew Armstrong with whom he has previously made a number of highly acclaimed Chandos recordings. The distinguished Amy Schwartz Moretti joins James Ehnes in the Sonata for Two Violins. The First Violin Concerto, completed in 1917, is a work with much charm and gentle tunefulness. It was written during a comparatively lyrical period in Prokofiev's compositional life, though it is not without passages of bravura, especially in the brilliant central scherzo. The Second Concerto was premiered in 1935 and in feeling and atmosphere inhabits the world of Romeo and Juliet. All Prokofiev's chamber works featuring solo violin are also present on this release. Both the violin sonatas were written in close association with the violinist David Oistrakh but they are highly contrasted, the clean and simple beauty of the Second standing in stark opposition to the emotional depth of the First. Also included are the Sonata for Solo Violin and the Five Melodies.
"...Ehnes is joined by Amy Schwartz Moretti for an electrifying performance of the duo sonata In their mix of lyricism and sharpe-edged rhythmic and harmonic piquancy. Ehnes and Moretti are absolutely spot on in defining the music's character. This is playing that truly grabs you by the scruff of the neck and commands attention For the two concertos Ehnes teams up again with an orchestra and conductor he knows well - the BBC Philharmonic and Gianandrea Noseda - who yield apt, complimentary shades of colouring, both brilliant and pungent, to match Ehnes's superb artistry." (Geoffrey Norris, The Daily Telegraph)
"...James Ehnes and his various partners (including Amy Schwartz Moretti in the 1932 sonata for two violins) give the impression of wanting the music to speak for itself without any imposed personal overlay. And Ehnes certainly has the musical savoir faire and virtuosity to make the approach work." (Michael Dervan, IrishTimes.com)
"...James Ehnes's particular combination of matchless virtuosity, sweet tone, flowing tempi and interpretative restraint suits all this music down to the ground the contribution of the BBC Philharmonic is distinguished throughout Strongly recommended." (David Gutman, Gramophone magazine)
James Ehnes, viloin
Amy Schwartz Moretti, violin
Andrew Armstrong, piano
BBC Philharmonic
Gianandera Noseda, conductor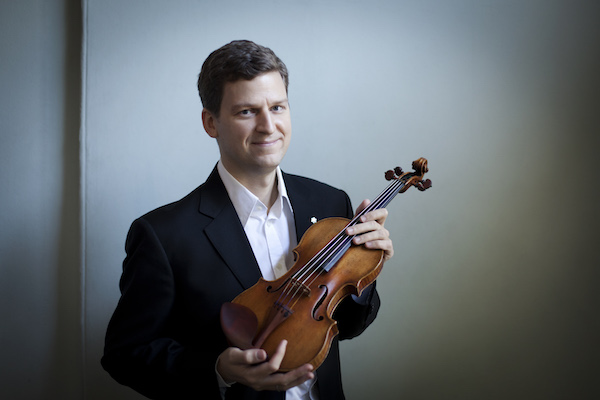 James Ehnes
Known for his virtuosity and probing musicianship, violinist James Ehnes has performed in over 30 countries on five continents, appearing regularly in the world's great concert halls and with many of the most celebrated orchestras and conductors.
In the 2013-2014 season James performs in the United States, Canada, the United Kingdom, Russia, Israel, Belgium, Norway, Germany, the Netherlands, France, and Australia. Season highlights include concerts with the Chicago Symphony, Philadelphia Orchestra, orchestre symphonique de Montréal, Toronto Symphony, and a three-week residency in Melbourne, as well as performances in London, Paris, Berlin, Leipzig, Brussels, Prague, Tel Aviv, and Moscow. An avid chamber musician, Ehnes will tour with his string quartet, the Ehnes Quartet, and lead the winter and summer festivals of the Seattle Chamber Music Society, where he is the Artistic Director.
James Ehnes has an extensive discography of over 30 recordings featuring music ranging from J.S. Bach to John Adams. Recent projects include a disc featuring concertos by Britten and Shostakovich, three CDs of the music of Béla Bartók as well as a recording of Tchaikovsky's complete oeuvre for violin. Upcoming releases include a double CD of the complete violin works by Prokofiev and a recording of Khachaturian's Violin Concerto paired with Shostakovich's String Quartets Nos. 7&8. His recordings have been honored with many international awards and prizes, including a Grammy, a Gramophone, and 7 Juno Awards.
was born in 1976 in Brandon, Manitoba, Canada. He began violin studies at the age of four, and at age nine became a protégé of the noted Canadian violinist Francis Chaplin. He studied with Sally Thomas at the Meadowmount School of Music and from 1993 to 1997 at The Juilliard School, winning the Peter Mennin Prize for Outstanding Achievement and Leadership in Music upon his graduation. Mr. Ehnes first gained national recognition in 1987 as winner of the Grand Prize in Strings at the Canadian Music Competition. The following year he won the First Prize in Strings at the Canadian Music Festival, the youngest musician ever to do so. At age 13, he made his major orchestral solo debut with the Orchestre symphonique de Montréal.
He has won numerous awards and prizes, including the first-ever Ivan Galamian Memorial Award, the Canada Council for the Arts' Virginia Parker Prize, and a 2005 Avery Fisher Career Grant. James has been honoured by Brandon University with a Doctor of Music degree (honoris causa) and in 2007 he became the youngest person ever elected as a Fellow to the Royal Society of Canada. In 2010 the Governor General of Canada appointed James a Member of the Order of Canada, and in 2013 he was named an Honorary Member of the Royal Academy of Music, limited to a select group of 300 living distinguished musicians.
James Ehnes plays the "Marsick" Stradivarius of 1715. He currently lives in Bradenton, Florida with his family.
Andrew Armstrong
Praised by critics for his passionate expression and dazzling technique, pianist Andrew Armstrong has delighted audiences around the world. He has performed solo recitals and appeared with orchestras in Asia, Europe, Latin America, and the United States, including performances at Alice Tully Hall, Carnegie Hall, the Kennedy Center, the Grand Hall of the Moscow Conservatory, and Warsaw's National Philharmonic. He has performed with such conductors as Peter Oundjian, Itzhak Perlman, Günther Herbig, Stefan Sanderling, Jean-Marie Zeitouni, and Stanislaw Skrowaczewski, and in chamber music with violinist James Ehnes, cellist Robert deMaine, the Elias, Alexander, American, and Manhattan String Quartets, as a member of the Caramoor Virtuosi at the Caramoor International Music Festival, and as a member of the Jupiter Symphony Chamber Players in New York City. Since 2010, he has been a member of the Amelia Piano Trio.
This 2014-2015 season, Mr. Armstrong performs Saint-Saëns' distinctive 5th Piano Concerto ("The Egyptian"), Mozart's 23rd in A Major, K488, Gershwin's Rhapsody in Blue, and Beethoven's 5th Piano Concerto, the Emperor.
Having performed over 50 concertos, Armstrong has impressed his international audiences with a large repertoire ranging from Bach to Babbit and beyond. Before beginning his career as a concert pianist, Armstrong received over 25 national and international First Prizes. In 1996, he was named Gilmore Young Artist. At the 1993 Van Cliburn Competition, where he was the youngest pianist entered, he received the Jury Discretionary Award. The New York Times wrote, "Armstrong may have been the most talented player in the competition....He's a real musician. We'll hear more from him." As the Fort Worth Star-Telegram reported, Van Cliburn himself, "in a rare showing of enthusiasm for an individual competitor," called Mr. Armstrong "Fabulous! Fabulous!"
Andrew Armstrong's debut CD, featuring Rachmaninov's Second Piano Sonata and Mussorgsky's Pictures at an Exhibition, was released in 2004 to critical acclaim. The critic Bradley Bolen opined: "I have heard few pianists play [Rachmaninov's Second Piano Sonata], recorded or in concert, with such dazzling clarity and confidence" (American Record Guide, Nov/Dec, 2004). His follow-up CD was issued in November 2007 on Cordelia Records and includes works by Chopin, Liszt, Debussy, and the world premiere recording of Bielawa's Wait for piano & drone. In chamber music, Mr. Armstrong has collaborated with violinist James Ehnes, having released 4 CDs to critical acclaim. Upcoming releases include works of Strauss & Franck, Leclair & Tartini-Kreisler. The Amelia Trio releases its first CD with Armstrong as pianist, this February 2015, trios of Debussy and Tchaikovsky.


Booklet für James Ehnes plays Prokofiev