---
Album Info
Album Veröffentlichung:
2022
HRA-Veröffentlichung:
09.08.2022
Das Album enthält Albumcover Booklet (PDF)
Johann Sebastian Bach (1685 - 1750): Cello Suite No. 1 in G Major, BWV 1007:

1

Bach: Cello Suite No. 1 in G Major, BWV 1007: I. Prélude

02:44

2

Bach: Cello Suite No. 1 in G Major, BWV 1007: II. Allemande

06:18

3

Bach: Cello Suite No. 1 in G Major, BWV 1007: III. Courante

02:49

4

Bach: Cello Suite No. 1 in G Major, BWV 1007: IV. Sarabande

04:02

5

Bach: Cello Suite No. 1 in G Major, BWV 1007: V. Menuetts I & II

03:42

6

Bach: Cello Suite No. 1 in G Major, BWV 1007: VI. Gigue

01:58

Cello Suite No. 2 in D Minor, BWV 1008:

7

Bach: Cello Suite No. 2 in D Minor, BWV 1008: I. Prélude

04:23

8

Bach: Cello Suite No. 2 in D Minor, BWV 1008: II. Allemande

04:29

9

Bach: Cello Suite No. 2 in D Minor, BWV 1008: III. Courante

01:59

10

Bach: Cello Suite No. 2 in D Minor, BWV 1008: IV. Sarabande

05:28

11

Bach: Cello Suite No. 2 in D Minor, BWV 1008: V. Menuetts I & II

03:20

12

Bach: Cello Suite No. 2 in D Minor, BWV 1008: VI. Gigue

02:38

Cello Suite No. 3 in C Major, BWV 1009:

13

Bach: Cello Suite No. 3 in C Major, BWV 1009: I. Prélude

04:02

14

Bach: Cello Suite No. 3 in C Major, BWV 1009: II. Allemande

04:37

15

Bach: Cello Suite No. 3 in C Major, BWV 1009: III. Courante

03:07

16

Bach: Cello Suite No. 3 in C Major, BWV 1009: IV. Sarabande

05:14

17

Bach: Cello Suite No. 3 in C Major, BWV 1009: V. Bourrées I & II

04:09

18

Bach: Cello Suite No. 3 in C Major, BWV 1009: VI. Gigue

03:01

Total Runtime

01:08:00
Info zu J.S. Bach: The Cello Suites, Vol. 1
Es gibt kein wichtigeres oder einflussreicheres Werk der Cellomusik, das vor oder nach den 6 Bachschen Cellosuiten geschrieben wurde. Heute werden sie von Cellisten fast ehrfürchtig behandelt. Zweihundert Jahre lang waren sie praktisch unbekannt, bis ein junger katalanischer Cellist, Pablo Casals, sie in einem kleinen Laden entdeckte und diesen Meisterwerken wieder Leben einhauchte. Für manche ist die Musik zutiefst spirituell, für andere sind die Stücke eng mit der Natur verbunden... oder vielleicht ist es der Einfallsreichtum ihrer Struktur und Symmetrie, der die Menschen zu den Cellosuiten inspiriert. Was auch immer die Gründe sind, die Menschen kommen immer wieder auf Bach zurück. Mit den scheinbar einfachsten Mitteln spricht Bach die Seele und den Intellekt gleichermaßen an. Wie die besten Märchen oder Mythen ist seine Musik vielschichtig und kann auf verschiedenen Ebenen und zu verschiedenen Zeiten unseres Lebens genossen und verstanden werden. Sie ist allgegenwärtig und tief in unserem Leben verwurzelt, von Aufführungen in den größten Konzertsälen bis hin zu zeitgenössischen Filmen, als Musik mit politischer Aussage, als aufregende, phantasievolle Musik, die von den größten Jazzmusikern erforscht wird, für Mütter, um ihre Babys zu beruhigen, für Menschen, um Hochzeiten zu feiern, oder als tiefer Trost bei Beerdigungen. Die tiefe Vorstellungskraft, die sich hinter der kathartischen Einfachheit von Bachs Cellosuiten verbirgt, macht seine Musik zu einem Lebensbegleiter für den Zuhörer und zu einem Geheimnis, das vom Interpreten immer wieder neu untersucht und erforscht werden muss.
Pavlos Carvalho, Cello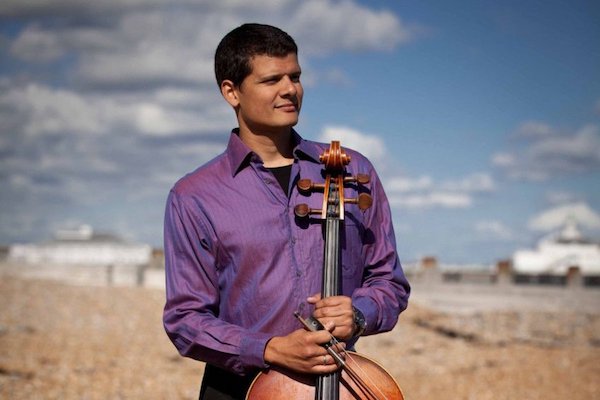 Pavlos Carvalho
started his musical studies with his father Santiago and then Stephen Popov. After gaining a BA in Ancient History he went to the Royal College of Music (RCM) to study cello with Steven Doane and later, Jerome Pernoo. There, supported by a scholarship from the RCM and the Countess of Munster Trust, he graduated with distinction in solo and chamber music performance.
As a bouzouki player Pavlos performs regularly with groups such as the London Greek Collective and Plastikes Karekles. He arranges and orchestrates Greek traditional music for both folk and classical instruments. Pavlos has performed in festivals such as Venice, Majorca, Padova, and the Cardiff Proms, in Britain and abroad. He also runs a monthly Greek music series, Rebet Asker, at the Green Note, London, which charts the history of Greek Rebetiko music from its roots in Smyrna and Constantinople to the present day.
Pavlos Mélas was born and raised in a musical family in Athens Greece. He studied classical guitar from a young age and took on popular music as a teenager. He published his first album with the band 'Atiko Minus' in Athens in 1999.
He came to London the same year to pursue an MA in Arts Management; he also completed a teaching diploma in Byzantine music. He has since led his own bands and collaborated with well known artists in the UK and Europe . Through a number of concerts and media features, Pavlos has been promoting and raising awareness of Greek traditional music in the UK and internationally.


Booklet für J.S. Bach: The Cello Suites, Vol. 1