---
Album Info
Album Veröffentlichung:
2020
HRA-Veröffentlichung:
14.02.2020
Das Album enthält Albumcover Booklet (PDF)
Gian Francesco Malipiero (1882 - 1973): Symphony No. 6 "Degli archi":

1

Symphony No. 6 "Degli archi": I. Allegro

03:37

2

Symphony No. 6 "Degli archi": II. Piuttosto lento

06:06

3

Symphony No. 6 "Degli archi": III. Allegro vivo

02:44

4

Symphony No. 6 "Degli archi": IV. Lento, ma non troppo - Allegro

09:44

Ritrovari:

5

Ritrovari: I. Allegro energico, non troppo mosso

02:24

6

Ritrovari: II. Allegro mosso

01:13

7

Ritrovari: III. Lento e triste

03:49

8

Ritrovari: IV. Andante

01:58

9

Ritrovari: V. Allegro vivace, ma non troppo mosso

01:49

Gian Francesco Malipiero:

10

Serenata mattutina

12:26

5 Studies:

11

5 Studies: No. 1, Mosso moderatamente, ma gagliardo

01:42

12

5 Studies: No. 2, Un poco allegro

01:47

13

5 Studies: No. 3, Non troppo mosso, ma fluido

02:32

14

5 Studies: No. 4, Lento

04:13

15

5 Studies: No. 5, Non troppo mosso

02:08

Total Runtime

58:12
Info zu Malipiero: Orchestral Works
The unconventional structure of Gian Francesco Malipiero's music takes us on a journey through unexpected, sometimes incredibly beautiful vistas. The Sixth Symphony is a rich and songful celebration of string sonorities and moods, while the heroic Ritrovari and evocative Serenata mattutina display Malipiero's expertise in writing for unusual chamber ensembles. The Cinque studi, heard here in their premiere recording, demonstrate an astonishing range of contrasting moods- a kaleidoscopic sonic tour with no more than a small orchestra, which juxtaposes orchestral strings with a wind group of a single flute, oboe, clarinet and bassoon and two horns, and a percussion group of cymbal, bass drum, tambourine, celesta, and piano.
Orchestra della Svizzera Italiana
Damian Iorio, conductor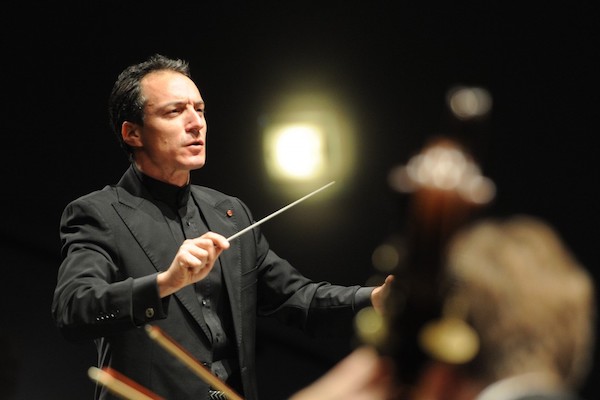 Orchestra della Svizzera Italiana
The OSI has made a name for itself as one of the leading European orchestras on the international stage. Since the 1930s it has played a central role in the region's musical development, taking on its present name in 1991. Ansermet, Stravinsky, Stokowski, Celibidache and Scherchen are among the great musical figures to have directed it, while the many composers with whom it has collaborated include Mascagni, Richard Strauss, Honegger, Milhaud, Martin and Hindemith, and in more recent times Berio, Henze and Penderecki.
Under its principal conductor Markus Poschner the orchestra has thrilled both audiences and leading critics with performances and recordings that have been hailed as groundbreaking for their originality, the boldness of their tempi and their richness of detail and nuance. In January 2018 the OSI-Poschner partnership was recognised at the international level when the boxed set Rereading Brahms (Sony Classical 2016) was one of the winners at the International Classical Music Awards (ICMA) 2018.
The Orchestra della Svizzera Italiana is one of fourteen professional orchestras currently active in Switzerland. It consists of forty-one permanent musicians and divides its time between regional concert seasons (RSI concerts, LuganoMusica, Settimane Musicali di Ascona), local outreach events (concerts for schools, family concerts, summer festivals), joint projects with the Conservatorio della Svizzera italiana, and concerts in other parts of Switzerland and abroad (tours and international co-productions). It works with the great names of orchestral conducting and with internationally acclaimed soloists, performing in the most important concert venues. Through the Martha Argerich Project in Lugano it has also had the privilege of working closely with the great Argentinian pianist for over fifteen years.
Since 2015 it has been the Resident Orchestra at LAC, Lugano Arte e Cultura.
The OSI is funded principally by the Canton of Ticino, the City of Lugano and the Associazione Amici dell'OSI. Its International Partner is the Helsinn Group. From 2018 its main sponsor will be the Banca dello Stato del Cantone Ticino, while the SSR/RSI will provide support in the role of client.
In July 2017 the OSI was awarded the prestigious Premio alla Carriera founded by the organisers of Estival Jazz with the financial support of the Corriere del Ticino.
Damian Iorio
Born in London into a distinguished family of Italian and English musicians, Damian Iorio is a dynamic and gifted conductor, and enjoys an international career. Having begun his professional life as a violinist, following studies at the Royal Northern College of Music and Indiana University, Damian went on to study conducting at St Petersburg State Conservatoire whilst serving as a member of the Danish National Radio Symphony Orchestra.
Damian has worked with some of the world's greatest orchestras and opera companies including the London Philharmonic Orchestra, Glyndebourne Festival Opera, San Francisco Symphony, Opéra National de Paris, St Petersburg Philharmonic, Netherlands Radio Philharmonic, Detroit Symphony, BBC Symphony, Philharmonic and Scottish orchestras, BBC National Orchestra of Wales, Royal Liverpool Philharmonic, Orchestre National de Belgique and Orchestre de Chambre de Lausanne. His most recent credits include engagements with the Royal Philharmonic Orchestra and the Philharmonia.
Damian's opera work saw him returning to the Opéra national de Paris for Boris Godunov in summer 2018, where he has also conducted Smetana's The Bartered Bride, and he made his debut with Welsh National Opera in 2019 conducting Mozart's Magic Flute. He has conducted Verdi's Macbeth at Glyndebourne Festival Opera, Puccini's Turandot at Bonn Opera, and many different productions at Helikon Opera in Moscow.
He has been Music Director of the Milton Keynes City Orchestra since 2014, helping the orchestra build a strong reputation as an integral part of cultural life in the city and surrounding region. The MKCO consistently showcases highly creative and engaging performances with internationally-acclaimed soloists, resulting in a rapidly growing audience. Damian was previously Artistic Director and Chief Conductor of the Philharmonic Orchestra of Murmansk where he was the catalyst of its success and growth in both opera and concert performances.
Damian is a passionate advocate for music education and the right for anyone to access music. He has been involved in education projects with Milton Keynes City Orchestra, BBC Symphony Orchestra and further international orchestras. He is also currently Music Director of the National Youth String Orchestra of Great Britain.
A champion of new music, Damian has conducted several world premieres. He has collaborated closely with composers including Tan Dun, Huw Watkins, Silvia Colasanti and Michael Nyman. He conducted the Russian premiere of Nyman's The Man Who Mistook His Wife for a Hat, which received a nomination for Best Opera Production at the Golden Mask Festival.
Damian's recording of Ghedini and Casella on the Naxos label was highly acclaimed by The Guardian ("fine live performances [are] scrupulously conducted by Damian Iorio") and was awarded the prestigious "Choc" rating by Le Monde de la Musique magazine. A recent release with the RAI National Symphony Orchestra was described as "…the best thing Naxos has put out in years" by Records International online.
Damian received the Knight of the Order of Sant'Agata from the Republic of San Marino in recognition for his services to music. He is also an avid cyclist and especially enjoys riding in the mountains.


Booklet für Malipiero: Orchestral Works