---
Entschuldigen Sie bitte!
Sehr geehrter HIGHRESAUDIO Besucher,
leider kann das Album zurzeit aufgrund von Länder- und Lizenzbeschränkungen nicht gekauft werden oder uns liegt der offizielle Veröffentlichungstermin für Ihr Land noch nicht vor. Wir aktualisieren unsere Veröffentlichungstermine ein- bis zweimal die Woche. Bitte schauen Sie ab und zu mal wieder rein.
Wir empfehlen Ihnen das Album auf Ihre Merkliste zu setzen.
Wir bedanken uns für Ihr Verständnis und Ihre Geduld.
Ihr, HIGHRESAUDIO
1

Boomerang (Album Version)

03:52

2

Spellbound (Album Version)

05:16

3

Barbados (Single Version)

03:34

4

Little Darlin' (Album Version)

03:46

5

Love Comes Love Goes (Album Version)

03:59

6

Heart Of The Night

04:54

7

Crazy Love (Single Version)

02:56

8

The Last Goodbye (Album Version)

05:43

9

Legend

04:17

Total Runtime

38:17
Info zu Legend (Remastered)
After ABC Records canceled the 1977 release of Poco's planned 13th album: the live set The Last Roundup, the three remaining members of the band: Rusty Young, Paul Cotton and George Grantham, agreed to the suspension of Poco as a recording or performing outfit. By 1978 Young - a founding member of Poco from 1968 - and Cotton - with Poco since 1970 - had decided to launch as essentially a duo act, ABC Records greenlighting the recording of the intended debut album of the Cotton-Young Band. Although Poco had self-produced the group's six studio album releases plus one live album release between 1974 and 1977, Cotton and Young elected to have the Cotton-Young Band sessions - recorded in the summer of 1978 at Crystal Sound Studio in Hollywood - overseen by Richard Sanford Orshoff, feeling an "outside" producer dealing with the recording process and with ABC Records would allow Cotton and Young to focus strictly on their songs. Young and Cotton also deferred to Orshoff in regards to which songs proffered for the album were actually recorded and included on it, Orshoff nixing some bluegrass songs composed by Rusty Young which (Rusty Young quote:)"would probably have...made the album too country...for the pop market."
"Poco's biggest-selling album of all time also presented the biggest personnel change at one time for the then-decade-old group, whose lineup had hardly been a model of stability up to that time. Co-founding drummer/singer George Grantham and longtime bassist/singer Timothy B. Schmit were both gone, the latter off to the Eagles. Listening to parts of this album, one gets the sense that, with the arrival of Charlie Harrison (bass, harmony vocals) and Steve Chapman (drums) in the group, Poco was deliberately adopting a change in sound similar to what the Eagles went through when Joe Walsh joined, into much harder rocking territory, at least part of the time. Longtime fans were probably disheartened to hear Rusty Young and Paul Cotton give up any semblance of their country roots on the opening track, "Boomerang," a bracing, heavy rock number (for this band) that didn't sound a great deal like the Poco of previous years. Most of the rest of the album, however, was closer to what one wanted and expected from this band -- "Spellbound" a beautifully lyrical ballad that benefited from Young's instrumental range and his and Cotton's harmonizing, and Cotton's "Barbados" offering similarly alluring musical textures with more of a beat. Cotton's "Heart of the Night," however, dominated everything around it, as one of the most finely crafted songs in the group's history, highlighted by a beautiful sax solo from Phil Kenzie. And then there's "Crazy Love" (composed by Rusty Young), with its soft, ethereal textures, which was a little lightweight for this band but unassuming enough to dominate the adult contemporary charts at the time. Young's "The Last Goodbye" and "Legend" closed out the album on a more thickly textured, higher-wattage note, representing the group's newer sound, the latter with a memorably driving beat that, with "Boomerang," bookended the album." (Bruce Eder, AMG)
Paul Cotton, lead guitar, vocals
Rusty Young, steel guitar, guitars, vocals
Charlie Harrison, bass, harmony vocals
Steve Chapman, drums
Additional musicians:
Tom Stephenson, keyboards (tracks 1, 3, 5)
Jai Winding, keyboards
Michael Boddicker, synthesizers
Steve Forman, percussion
Phil Kenzie, alto saxophone
David Campbell, string arrangements
Produced by Richard Sanford Orshoff
Digitally remastered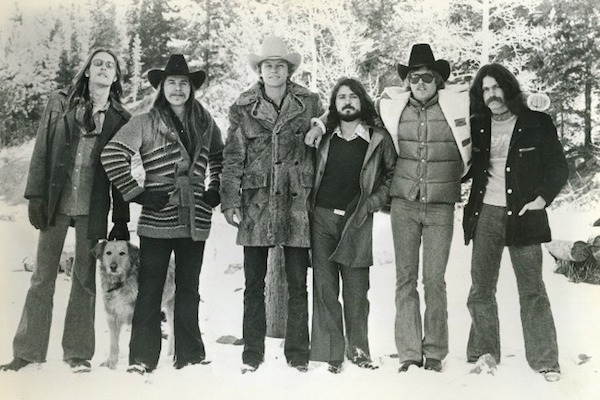 Poco
was formed in August, 1968 by guitarists Richie Furay and Jim Messina, who had just left Buffalo Springfield. The pair enlisted the help of session man Rusty Young who had played steel guitar on some tracks recorded by their former band. Young introduced them to drummer George Grantham, while bassist Randy Meisner left his former group, The Poor, to round out the quintet. Among the others that auditioned but not chosen was Gregg Allman. Calling themselves Pogo, (with a "g") the band debuted a month later at the Fillmore West, opening for The Steve Miller Band and Sly And The Family Stone. After building up an local following, they were forced to change their moniker, which they had openly pilfered from Walt Kelly's comic strip of the same name, when Kelly filed suit. They settled on Poco because it sounded like the original name that fans had come to know.
Several record companies had considered signing Poco, but Richie Furay's contract with Atlantic caused some problems. The band was eventually signed to Epic Records in 1969 after the label traded Graham Nash to Atlantic, where he would record with Crosby, Stills And Nash. The group was set to record their first album when Randy Meisner announced that he was leaving to join Rick Nelson's Stone Canyon Band. He would later become part of Linda Ronstadt's Stone Ponys and go on to help form The Eagles in 1971. Poco continued as a quartet and released their first album, "Pickin' Up the Pieces", which sold over 100,000 copies. Eventually, they hired bassist Timothy B. Schmit, who had originally auditioned for the band, but lost out to Meisner.
The five members of Poco then recorded a self titled L.P. and a live album called "Deliverin'" before Jim Messina quit, saying he was tired of the hectic touring. He would later find success when he teamed up with Kenny Loggins to form one of the most popular duos of the seventies. Messina's replacement was guitarist Paul Cotton, who stayed for three modest selling albums. Frustrated by the band's failure to find a break out hit, Richie Furay also quit after 1973's "Crazy Eyes". After a failed super-group called Souther-Hillman-Furay, he would pursue an unrewarding solo career before turning his attention to religion. Although Furay's departure was a setback, Poco's next four albums through 1977, sold better than the previous efforts. In January, 1978, drummer George Grantham also left the band.
With Rusty Young as the only original member, Poco released an album called "Legend" which climbed to the #14 spot on Billboard's Hot 200 album chart. The group now contained keyboard player Kim Bullard along with a pair of Englishmen, Steve Chapman and Charlie Harrison, who had played together for eight years with Leo Sayer and Al Stewart. This was the line-up that finally found commercial success in 1979 with "Crazy Love", which reached #17 and "Heart Of The Night", which made it to #20. Unfortunately, Poco quickly fell off the charts as fast as they had climbed it. Subsequent albums returned to the band's previous sales levels and the group began a slow decline until their break-up in 1984.
In 1989 the original line-up of Poco, Furay, Messina, Young, Grantham and Meisner, re-formed, recording a highly successful album called "Legacy" which produced two Top Forty hits, "Call It Love" (#18) and "Nothin' To Hide" (#39). The group toured throughout 1990, but old tensions flared and Furay, by now a minister in Boulder, Colorado, left again.
Fragments of Poco toured throughout the '90s with new members coming and going, but in early 2000, Paul Cotton, Rusty Young and George Grantham got back together again, along with Jack Sundrud. In the Spring of 2003, this new version of Poco released "Running Horse", their first new album in thirteen years, backed by a year's worth of tour dates. The album however failed to generate much interest and couldn't crack Billboard's Hot 200 LP chart.
In July of 2004, Grantham suffered a stroke during a live performance and was subsequently replaced by Tim Smith. It took until 2009 for Grantham to occasionally appear with the band again, but his contributions were limited to vocals only. A new album called "Bareback at Big Sky" was released in 2005 and "The Wildwood Sessions" was issued in 2006. Richie Furay and Jim Messina returned for several 2008 Poco performances as well as a tour of California in 2009, which ended at the Stagecoach Festival in Indio, California, where they were joined by Timothy B. Schmit and George Grantham. In early 2010, Cotton abruptly left Poco over a contractual dispute and Nashville session man Michael Webb took his place. In January 2011, Poco started work on a new studio album in Nashville, tentatively titled "Long in the Tooth but Short in the Hair".
In 2012, Poco still had a busy touring schedule, appearing in concerts across the United States, but at the end of 2013, a now 68-year-old Rusty Young decided to announce his retirement. Only a few shows were booked into 2014, but one of those produced a DVD documentary that captured the band's live act. Although no other tours or recording projects were planned, Rusty Young continued to make guest appearances with former members of Poco and other Country / Rock artists.
Poco was inducted into the Colorado Music Hall of Fame at the Paramount Theatre in Denver, Colorado on January 9, 2015 during a ceremony which featured a performance by band members Paul Cotton, Richie Furay, Timothy B. Schmit and Rusty Young. As of 2015, though not touring full-time, Poco continued to play isolated dates around the US. Their official website showed only a handful of shows slated for 2017.


Dieses Album enthält kein Booklet