---
Album Info
Album Veröffentlichung:
2021
HRA-Veröffentlichung:
09.06.2021
Das Album enthält Albumcover Booklet (PDF)
Franz Liszt (1811 - 1886): Fantasie und Fuge über das Thema B.A.C.H, S. 260:

1

Liszt: Fantasie und Fuge über das Thema B.A.C.H, S. 260: I. Moderato

04:36

2

Liszt: Fantasie und Fuge über das Thema B.A.C.H.: II. Andante

04:12

3

Liszt: Fantasie und Fuge über das Thema B.A.C.H.: III. Fugue

02:32

4

Liszt: Fantasie und Fuge über das Thema B.A.C.H.: IV. Maestoso

02:38

Franz Liszt:

5

Liszt: Liebestraum No. 3, S. 541

05:32

Variationen über Weinen, Klagen, Sorgen, Zagen, S. 179:

6

Liszt: Variationen über Weinen, Klagen, Sorgen, Zagen, S. 179: I. Andante

03:36

7

Liszt: Variationen über "Weinen, Klagen, Sorgen, Zagen": II. Allegro con moto

02:04

8

Liszt: Variationen über "Weinen, Klagen, Sorgen, Zagen": III. Animati

02:30

9

Liszt: Variationen über "Weinen, Klagen, Sorgen, Zagen": IV. Recitativo

04:59

10

Liszt: Variationen über "Weinen, Klagen, Sorgen, Zagen": V. Choral

03:05

Saint François d'Assise, La prédication aux oiseaux, S. 175:

11

Liszt: Saint François d'Assise, La prédication aux oiseaux, S. 175: I. Allegretto

05:16

12

Liszt: Saint François d'Assise: La prédication aux oiseaux: II. Solenne

06:20

Fantasie und Fuge über den Choral Ad nos, ad salutarem undam, S. 259

13

Liszt: Fantasie und Fuge über den Choral Ad nos, ad salutarem undam, S. 259: I. Moderato

03:36

14

Liszt: Fantasie und Fuge über den Choral "Ad nos, ad salutarem undam": II. A capriccio

06:32

15

Liszt: Fantasie und Fuge über den Choral "Ad nos, ad salutarem undam": III. Adagio

06:02

16

Liszt: Fantasie und Fuge über den Choral "Ad nos, ad salutarem undam": IV. Un poco più di moto

03:43

17

Liszt: Fantasie und Fuge über den Choral "Ad nos, ad salutarem undam": V. Allegro deciso

01:04

18

Liszt: Fantasie und Fuge über den Choral "Ad nos, ad salutarem undam": VI. Fuga

03:15

19

Liszt: Fantasie und Fuge über den Choral "Ad nos, ad salutarem undam": VII. Vivace molto

02:17

20

Liszt: Fantasie und Fuge über den Choral "Ad nos, ad salutarem undam": VIII. Più mosso

03:29

Franz Liszt:

21

Liszt: Consolation, S. 172 (Bonus Track)

04:16

Total Runtime

01:21:34
Info zu Franz Liszt: Inspirations (Bonus Track Version)
As well as being the promoter of the piano recital and creator of the symphonic poem, Franz Liszt was also a prodigious innovator in the organ repertory. Olivier Latry - resident organist on the great organ of Notre-Dame-de-Paris for more than thirty-five years - has recorded five of his pieces on the Rieger organ of the Philharmonie de Paris, including the three major published works for the instrument, fleshed out with transcriptions and arrangements.
These works reflect the genius of their composer, who chose sources as different as a Bach cantata, a theme from a then-fashionable opera or the four letters of a name to create music of overflowing imagination. His approach to the organ, opening up previously unexplored horizons, was of course inspired by the piano, his instrument of choice.
Liszt, without whom the musical and organ worlds would not be what they are today, was a visionary and generous artist, an idealist of music, an extraordinary personality who was adulated on the concert platform, yet chose to end his life wearing the soutane of an abbé. He constantly astonishes and moves us, even today.
This recording, aided by the outstanding musical quality of the Philharmonie organ, is an ideal introduction to the multiple facets of his genius.
Olivier Latry, organ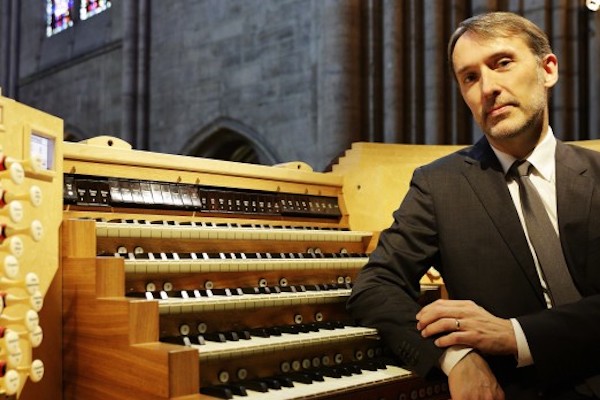 Olivier Latry
Established as the leading worldwide ambassador for his instrument, French organist Olivier Latry has performed the world's most prestigious venues, been the guest of leading orchestras under renowned conductors, recorded for major labels and premiered an impressive number of works. Named titular organist at Notre-Dame in Paris at the age of 23 and organist Emeritus at the Orchestre National de Montréal since 2012, Olivier Latry is first and foremost an accomplished, thoughtful and adventurous musician exploring all possible fields of the organ music, with an exceptional talent as an improviser.
Olivier Latry regularly appears in venues like the Philharmonie de Paris, Disney Hall, San Francisco's Davies Hall, Concertgebouw, Philadelphia's Verizon Hall, Gewandhaus, Vienna's Musikverein and Konzerthaus, Budapest's Palace of Arts, Royal Festival Hall, KKL Lucerne, Royal Albert Hall, Suntory Hall, Mariinsky, Rotterdam's de Doelen and as a soloist with leading orchestras such as the Philadelphia Orchestra, Los Angeles Philharmonic, Boston Symphony, Philharmonia Orchestra, Rotterdam Philharmonic, Sydney Symphony, RSO Wien, Hong-Kong Philharmonic, Toronto Symphony, Orchestre Symphonique de Montréal, Orchestre National de France, under conductors like Myung-Whun Chung, Andris Nelsons, Esa-Pekka Salonen, Stéphane Denève, Fabien Gabel, Christoph Eschenbach, Kent Nagano, Edo de Waart, Jukka-Pekka Saraste.
Recent highlights include the premiere of Kaija Saariaho's Maan Varjot for organ and orchestra with the Orchestre Symphonique de Montréal, Orchestre National de Lyon and Philharmonia Orchestra in 2014, the premiere of Michael Gandolfi's concerto with the Boston Symphony Orchestra in 2015. He will premiere Benoît Mernier's organ concerto for the inauguration of Brussels' Palais des Beaux-Arts's new organ in 2017. In 2016 he will record a recital program for Warner Music at the Philharmonie de Paris's magnificent Rieger organ which he inaugurated earlier in the year. He took a major part in the inauguration of the Radio France Auditorium's Grenzing organ in May 2016 too. In the 2017/2018 season he will be artist in residence with the Dresdner Philharmonie.
His strong attachment to the French organ repertoire led him to record Olivier Messiaen's complete works for organ for Deutsche Grammophon which he also performed in recitals in Paris, London and New York. In 2005, he recorded a César Franck album also for Deutsche Grammophon. Among several other recordings, Olivier also recorded Saint-Saëns organ concerto with Christoph Eschenbach and the Philadelphia Orchestra for Ondine. His most recent recording on the Naïve label is entitled "Trois Siècles d'Orgue Notre-Dame de Paris" which features music composed by past and current organists of Notre-Dame Cathedral.
A former student of Gaston Litaize, Olivier Latry now teaches at the Conservatoire National Supérieur de Paris and is a recipient of numerous international distinctions and awards worldwide including the Prix de la Fondation Cino et Simone Del Duca (Institut de France–Académie des Beaux-Arts) in 2000, and "Honoris Causa" Fellowships from the North and Midlands School of Music (UK) in 2006, and from the Royal College of Organists (UK) in 2007. He was also named International Performer of the Year by the American Guild of Organists in April 2009, and received an honorary Doctor of Music degree from McGill University in Montreal Canada in 2010.


Booklet für Franz Liszt: Inspirations (Bonus Track Version)