---
Album Info
Album Veröffentlichung:
2020
HRA-Veröffentlichung:
29.10.2020
Das Album enthält Albumcover
1

Azeitona

05:06

2

Desfigurado

03:25

3

Desilusão

04:10

4

Ninho de Vespa

03:50

5

Bolero de Satã

05:16

6

Resistência

03:06

7

Raul

04:58

8

Cumplicidade

04:53

9

Jangada

04:22

10

Mr. Herbie

05:40

11

Tipo Dani

02:34

12

A Vida Tem Dessas Coisas

04:53

Total Runtime

52:13
Info zu Cumplicidade
Pipoquinha will play traditional rhythms from northeast Brazil, where he was born, while Pedro will offer a modern jazz take inspired by his childhood heroes from the state of Minas Gerais.
Both young men draw on the full spectrum of Brazilian rhythms, giving grace to their musical traditions with a delivery that draws their own musical heroes to lean in (and often even sit in!).
Michael Pipoquinha, bass
Pedro Martins, guitar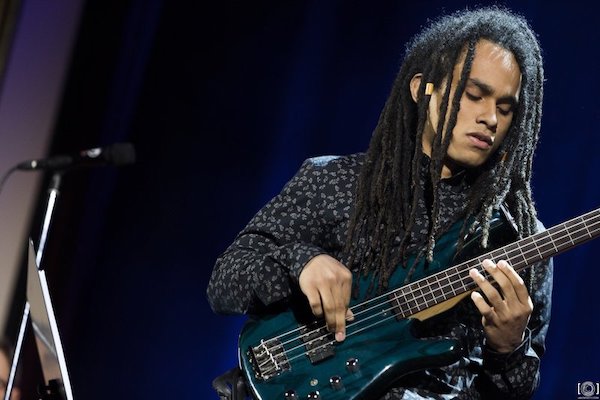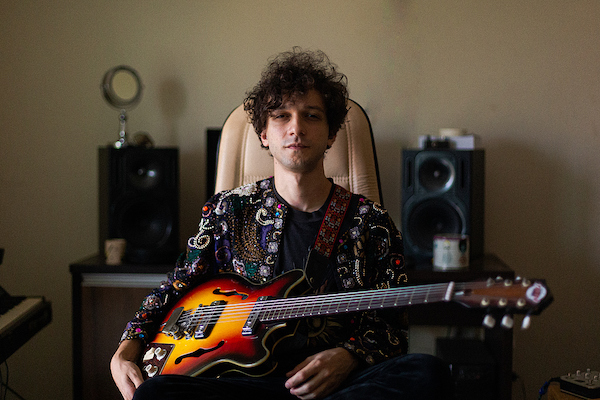 Michael Pipoquinha
first electrified the interwebs with his homemade bass videos nine years ago, when he was 13. The prowess and precociousness he displayed in his early You- Tube efforts was duly noted on bass forums, as players two and three times his age tried to parse his musical magic. Where did he come from? He sounds like Janek mixed with Jaco. Is he even better than those guys? He's Brazilian, of course—doesn't that explain everything?
Pipoquinha, now 22, learned to play bass the organic way, from his father and grandfather. He's grown up in the YouTube age, copping licks from bassists and guitarists alike. His style, informed by his Brazilian heritage, combines mad slapping skills in the Wooten vein, along with ferocious grooves, plus serious melodic and harmonic knowledge.
"I started with the acoustic guitar," says Pipoquinha. "I always liked harmony and Brazilian grooves both on acoustic and electric guitars. I developed my techniques by listening to lots of Baden Powell and other guitar players like Joe Pass and Pat Metheny. That's helped me on the bass to play both harmony and rhythm at the same time." Pipoquinha's bass technique reflects his understanding of the guitar, using chordal concepts and thumb-plus-three-finger techniques as a part of his arsenal.
Like all modern bassists, Pipoquinha has dealt with the legacy of Jaco Pastorius. "One recording that really stays with me is Jaco playing 'Havona' with Weather Report. That groove inspired generations of bass players, and he plays a melodic solo worthy of a low-note wizard. I have many heroes, both bass-playing and otherwise, but if we're talking bass players they'd be Jaco, Arthur Maia, Sergio Groove, Thiago do Esparto Santo, Victor Wooten, Nico Assumpção, John Patitucci, and the great Luizão Maia.
"One of my favorite recordings," Pipoquinha continues, "is Luizão Maia on 'Eu Hein, Rosa' with Elis Regina. Another would be a recording by Domingunhos—one of my heroes—on a song called 'Contrato de Separação,' which features beautiful lyrics and amazing accordion playing."
Pipoquinha is poised to make his mark on the world music scene. He has already wowed audiences at live performances in Europe and South America, in addition to scaring countless show-me-what-you-can-do internet bass-video junkies. "I want people to know that I'm ready and willing to play all over the world, and that my greatest joy is to play for people and move them with music. My idea of a great show is to touch people with my music so they can leave overflowing with joy and a feeling that music heals the soul. I'm working on a new album featuring eight of my songs, which is being produced by my great friend and idol Arthur Maia. I'm also getting more invitations to work abroad, and that's my biggest dream: playing my music all over the world. I'd love to play with Chick Corea, Mike Stern, Pat Metheny, Birele Lagrene, Hamilton de Holanda, and João Bosco."
Pedro Martins
Rock, jazz, pop, Brazil, California ... Pedro Martins has a lot of good stuff to offer. An exceptional guitarist and composer who made quite a statemant with his latest album. When guitar legend Kurt Rosenwinkel gets to hear young Pedro Martins at the Montreux Guitar Competition 2015, the two of them find themselves together in the studio almost instantly. Rosenwinkel becomes his mentor and invites Pedro Martins to play in his latest project "Caipi" - an important step on an international stage, that enabled him to make a name for himself worldwide. When he was invited by maestro, Eric Clapton, to play at his festival "Crossroads", it's clear, once and for all, what dimensions we are talking about regarding Pedro Martins
In addition to Martins showcasing his multi-instrumental skills by playing guitar, piano/synths, bass, drums, percussion, flute and singing in falsetto, he is joined by an all-star cast of supporting musicians: Brad Mehldau, Chris Potter, Kyle Crane, Federico Heliodoro, Antonio Loureiro, and Oscar Azevedo. "This album is like a book of stories that have happened in my life," says Martins. "What you can hear is actually my inner voice narrating those stories through the medium of music."
The 13 jazz-inflected Brazilian rock songs on VOX are a result of a two-year long recording, writing, and production process between Martins and Rosenwinkel. Though this is Martins' first album for Heartcore Records, his relationship with Rosenwinkel has a deeply rooted past, with Martins discovering an early demo of a song that ended up on Rosenwinkel's critically acclaimed release Caipi (a story that must be heard from Martins and Rosenwinkel directly to understand the serendipitous nature of this collaboration). Coming full-circle, Martins is now a featured member of Rosenwinkel's Caipi band and contributed guitar, keyboards and voice on the 2017 album.


Dieses Album enthält kein Booklet