---
Album Info
Album Veröffentlichung:
2021
HRA-Veröffentlichung:
04.06.2021
Das Album enthält Albumcover
Entschuldigen Sie bitte!
Sehr geehrter HIGHRESAUDIO Besucher,
leider kann das Album zurzeit aufgrund von Länder- und Lizenzbeschränkungen nicht gekauft werden oder uns liegt der offizielle Veröffentlichungstermin für Ihr Land noch nicht vor. Wir aktualisieren unsere Veröffentlichungstermine ein- bis zweimal die Woche. Bitte schauen Sie ab und zu mal wieder rein.
Wir empfehlen Ihnen das Album auf Ihre Merkliste zu setzen.
Wir bedanken uns für Ihr Verständnis und Ihre Geduld.
Ihr, HIGHRESAUDIO
1

My Lucky Card

02:35

2

She's On Fire

02:46

3

More-More-More

03:02

4

Shuffle, Step & Slide

03:10

5

Vagabond Man

03:59

6

Spanish Fly

04:01

7

West Coast Junkie

02:48

8

Stackin' Bones

03:16

9

I Was A Highway

02:34

10

S-G-L-M-B-B-R

02:25

11

Hey Baby, Que Paso

02:53

12

Desert High

03:27

Total Runtime

36:56
Info zu Hardware
Das dritte Soloalbum des legendären ZZ Top-Frontmanns Billy F Gibbons! Der eigentliche Sound des neuen Albums ist dabei auch ganz klar vom Wüsten-Setting inspiriert: "Diese Wüstenkulisse, mit wandernden Sandhügeln, Kakteen und Klapperschlangen, gibt der Sache so etwas Mysteriöses, und dieser Rahmen hat auf jeden Fall seine Spuren in den Sounds hinterlassen, die wir dort eingefangen haben", so Gibbons.
Die Arbeiten an "Hardware" fanden in den Escape Studios in der kalifornischen Wüste statt, unweit von Palm Springs. Unterstützung bekam der Rock and Roll Hall of Famer dort von seinen Co-Produzenten Matt Sorum und Mike Fiorentino, wobei auch Toningenieur Chad Shlosser Teile der Produktion übernahm.
Wie auch schon bei seinem Vorgänger Album "The Big Bad Blues" (2018), dass in Deutschland auf #8 der Album Charts Einstieg und in den USA den "Blues Music Award" abräumte, fungierte Matt Sorum (der nach seiner Zeit bei The Cult und Guns N' Roses auch bei Velvet Revolver am Schlagzeug saß) durchweg als Drummer, und auch der angestammte Gitarrist Austin Hanks war wieder mit von der Partie.
"Wir haben uns mitten in der Hitze des Sommers für ein paar Wochen dort draußen in der Wüste eingeschlossen, was an sich schon eine ziemlich intensive Erfahrung war", fasst Billy die Entstehungsphase zusammen. "Um etwas Dampf abzulassen, haben wir dann einfach alles rausgerockt – und genau darum geht's auch bei 'Hardware'. Es ist insgesamt eine richtig aufgebrachte Rockansage, die dabei aber nie vergisst, was für Geheimnisse in der Wüste verborgen sind."
Im Gegensatz zum Vorgänger "The Big Bad Blues" und auch Gibbons' Debüt "Perfectamundo" aus dem Jahr 2015, sind die auf "Hardware" versammelten Stücke nahezu ausnahmslos Originalkompositionen – mit klarem Fokus auf Rocksound. 11 der 12 Songs haben Gibbons, Sorum, Fiorentino und Shlosser gemeinsam geschrieben, die einzige Ausnahme ist "Hey Baby, Que Paso", das ursprünglich vor 30 Jahren von den Texas Tornados aufgenommen wurde.
"Dreckiger Blues trifft auf Hardrock, Surf und Tex-Mex. Der 71-Jährige führt mal rau und ruppig, mal tiefenentspannt durch einen Zwölf-Song-Parcours, der sich vor allem durch seinen Reibeisengesang und lyrische Ergüsse auszeichnet." (Audio)
"Die Verstärker glühen, die alten Gitarren jaulen, die Drums peitschen ein Album voran, das Gibbons so vielseitig zeigt wie nie. Blues, Country, Stoner, Surf-Rock und mehr wehen durch die Wüste wie ein Büschel Tumbleweed und inszenieren den mittlerweile 71-jährigen ZZ-Top-Frontmann verjüngt, relevant und ideenreich." (Good Times)
Billy F Gibbons, Gitarre, Gesang
Austin Hanks, Gitarre, Bass
Matt Sorum, Schlagzeug
Produced by Billy F Gibbons with Matt Sorum and Mike Fiorentino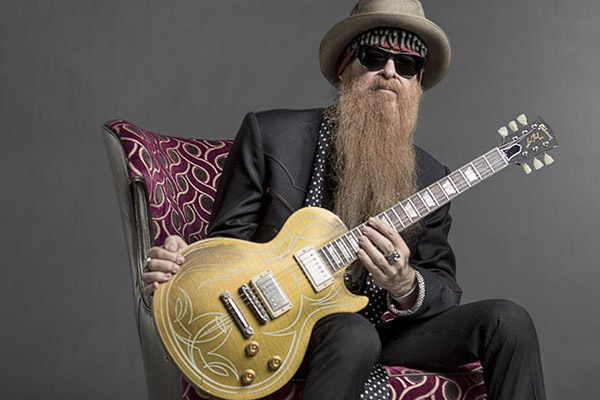 Billy Gibbons
Along with the late Stevie Ray Vaughan, ZZ Top guitarist Billy Gibbons is unquestionably one of the finest blues-rock guitarists to ever emerge from Texas. Born on either March 4 or December 16, 1950 (both dates have been given in the past), and raised in Houston, Texas, Gibbons grew up in a home that favored both classical and country sounds, but upon discovering Elvis Presley via an appearance on The Ed Sullivan Show, Gibbons became transfixed by rock & roll. It wasn't long before he discovered other early rock & rollers (Little Richard) as well as bluesmen (Jimmy Reed) via a local radio station. Soon after receiving a Gibson Melody Maker electric guitar and a Fender Champ amp for Christmas in 1963, Gibbons began emulating his heroes — forming his first band when he was 14 (the Saints). The guitarist later joined a group around the mid-'60s called the Coachmen, who specialized in more psychedelic-based sounds, inspired by the likes of Jefferson Airplane, Jimi Hendrix, and the local Texas outfit 13th Floor Elevators (led by a young Roky Erickson). Gibbons' band eventually changed their name to the Moving Sidewalks, issuing a lone album in 1968, Flash, although an early single, "99th Floor," would later receive attention when included years later on the Pebbles: Vol. 2 compilation. While the Moving Sidewalks never made a splash outside of Texas, Gibbons must have been pleased when Jimi Hendrix (with whom the Sidewalks toured with around this time) began endorsing the guitarist as one of his favorite new players to the media.
Rio Grande Mud When the Moving Sidewalks folded in 1969, Gibbons sought to form a more straight-ahead, boogie/blues-rock-based band, and after hooking up with a pair of other fellow Texans, bassist Dusty Hill and drummer Frank Beard, ZZ Top were born. The power trio slowly but steadily built up a solid following, largely due to Gibbons' tasty guitar playing and muscular riffs (especially evidenced on such renowned tracks as "La Grange" and "Tush"). Over the course of five classic albums over a six-year span (1970's self-titled debut, 1972's Rio Grande Mud, 1973's Tres Hombres, 1975's Fandango, and 1976's Tejas), ZZ Top became one of the country's top rock bands before taking a three-year break. When they returned, the musical climate had changed considerably, and ZZ Top opted to change with the times — as a more modern, electronic sound was merged with their blues-rock roots on such albums as 1979's Deguello and 1981's El Loco. But with the release of 1983's Eliminator, the new approach came together for the group, while both Gibbons and Hill happened to come across a gimmick that will be forever associated with the group: long and stringy beards that grew down to their chests. It didn't hurt that the group was responsible for some of MTV's most popular video clips of all time (which always seemed to primarily focus on good-looking girls and a snazzy 1933 Ford three-door coupe, rather than the bandmembers), "Give Me All Your Loving," "Sharp Dressed Man," and "Legs." Gibbons and Hill also became known for their assortment of matching and outlandish guitars, which were also always on display in their videos.
La Futura But the trio's newly acquired commercial direction caused some consternation among longtime fans, and by the mid-'90s, new ZZ Top albums failed to sell as well as their earlier titles had, although a large and loyal following still flocked to their shows. Following 2003's Mescalero, ZZ Top parted ways with RCA and it took them nearly a decade to deliver a new album: the Rick Rubin-produced La Futura appeared on American in 2012. Gibbons quickly followed that album with his first-ever solo project, the Cuban-inflected Perfectamundo, where he was supported by a group called the BFG's. Perfectamundo appeared in November 2015.
A longtime vintage guitar collector, Gibbons owns some of the world's most cherished and rare guitars, including a particular instrument that he's become synonymous with, a 1959 Sunburst Les Paul Standard (which he dubbed "Pearly Gates"). In addition to music, Gibbons supposedly owns several automotive-related patents in his name, is an avid painter, and collects rare African art and artifacts, amassing so many that he was forced to store them in a warehouse in Houston. Besides recording with ZZ Top, Gibbons has been known to go by the alias Justis Walkert, appearing on recordings by Jeff Healey (Feel This) and the Rainer & Das Combo (The Texas Tapes). But it's obviously Gibbons' exceptional playing with ZZ Top that he's best known for, as the guitarist has influenced a wide variety of players over the years, including the Meat Puppets' Curt Kirkwood and Pantera's Dimebag Darrell, to name just two.


Dieses Album enthält kein Booklet