---
Album Info
Album Veröffentlichung:
2022
HRA-Veröffentlichung:
21.01.2022
Das Album enthält Albumcover Booklet (PDF)
Ludwig van Beethoven (1770 - 1827): 12 Variations on 'See the conqu'ring hero comes', WoO 45:

1

Beethoven: 12 Variations on 'See the conqu'ring hero comes', WoO 45

13:09

Sonata No. 1 in F Major, Op. 5:

2

Beethoven: Sonata No. 1 in F Major, Op. 5: I. Adagio sostenuto – Allegro

18:37

Sonata No. in F Major, Op. 5:

3

Beethoven: Sonata No. in F Major, Op. 5: II. Rondo: Allegro vivace

07:21

Sonata No. 2 in G Minor, Op. 5:

4

Beethoven: Sonata No. 2 in G Minor, Op. 5: I. Adagio sostenuto ed espressivo – Allegro molto più tosto presto

20:43

5

Beethoven: Sonata No. 2 in G Minor, Op. 5: II. Rondo: Allegro

09:23

12 Variations in F Major on 'Ein Mädchen oder Weibchen', Op.66:

6

Beethoven: 12 Variations in F Major on 'Ein Mädchen oder Weibchen', Op.66

11:14

Sonata for Horn and Piano, Op. 17:

7

Beethoven: Sonata for Horn and Piano, Op. 17: I. Allegro moderato (Version for Cello and Piano): I. Allegro moderato

08:36

8

Beethoven: Sonata for Horn and Piano, Op. 17: II. Poco Adagio, quasi (Version for Cello and Piano): II. Poco adagio

01:33

Sonata for Horn and Piano, Op.17:

9

Beethoven: Sonata for Horn and Piano, Op.17: III. Rondo. Allegro moderato (Version for Cello and Piano): III. Rondo

05:02

7 Variations on 'Bei Männern, welche Liebe fühlen', WoO 46:

10

Beethoven: 7 Variations on 'Bei Männern, welche Liebe fühlen', WoO 46

10:10

Sonata No. 3 in A Major, Op. 69:

11

Beethoven: Sonata No. 3 in A Major, Op. 69: I. Allegro ma non tanto

13:43

12

Beethoven: Sonata No. 3 in A Major, Op. 69: II. Scherzo: Allegro molto

05:54

13

Beethoven: Sonata No. 3 in A Major, Op. 69: III. Adagio cantabile – Allegro vivace

09:15

Sonata No. 4 in C Major, Op. 102 No. 1:

14

Beethoven: Sonata No. 4 in C Major, Op. 102 No. 1

07:59

15

Beethoven: Sonata No. 4 in C Major, Op. 102 No. 1: II. Adagio – Tempo d'Andante – Allegro vivace

07:38

Sonata No. 5 in D Major, Op. 102 No. 2:

16

Beethoven: Sonata No. 5 in D Major, Op. 102 No. 2: I. Allegro con brio

07:26

17

Beethoven: Sonata No. 5 in D Major, Op. 102 No. 2: II. Adagio con molto sentimento d'affetto

09:39

18

Beethoven: Sonata No. 5 in D Major, Op. 102 No. 2: III. Allegro – Allegro fugato

04:48

Total Runtime

02:52:10
Info zu Beethoven: The Conquering Hero – Complete Works for Cello and Piano
Jennifer Kloetzel's lifelong journey with the music of Beethoven reaches a career milestone with a tour de force recording of Beethoven's complete works for cello and piano.
Jennifer Kloetzel's lifelong journey with Beethoven began early: she was eight years old when her teacher placed the composer's second cello sonata on her music stand, opening the door to an odyssey of intrigue and, ultimately, obsession with the composer's music. Since then, rarely has a day passed without Beethoven being a part of Jennifer's life. She has studied and performed all of the composer's duos and trios. As founding cellist of the Cypress String Quartet, she spent 20 years rehearsing, performing, and recording the string quartets.
Jennifer now arrives at a career milestone with this recording of Beethoven's complete works for cello and piano. Views vary as to what comprises Beethoven's "complete" works for cello and piano. Jennifer's discerning choice includes the five Sonatas for Cello and Piano, three sets of variations – based on arias from Mozart's Die Zauberflöte and Handel's Judas Maccabaeus – and the Horn Sonata for which the composer also wrote a cello part.
Jennifer spares no attention to detail across the entire spectrum of this significant recording project. Her performing partner Robert Koenig plays on a 19th-century Blüthner concert grand piano. The illuminating liner notes are penned by Beethoven scholar William Meredith who boldly states, "if there were only the five cello sonatas of Beethoven left of all his music, these alone would have cemented his place in history." The recording was made in the stellar acoustic of Skywalker Sound. The 3-CD set is lavishly packaged in a deluxe digipack. The title track, "The Conquering Hero" – from the opening set of variations from Handel's Judas Maccabaeus – evokes everything for Jennifer about Beethoven's music, coming from a place of triumph and joy.
Jennifer Kloetzel, cello
Robert Koenig, piano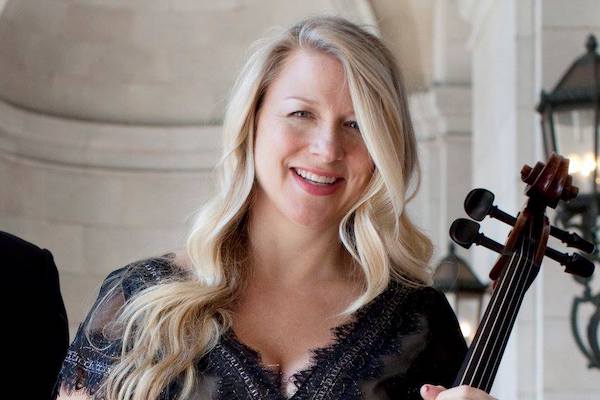 Jennifer Kloetzel
A graduate of The Juilliard School and a Fulbright Scholar, cellist Jennifer Kloetzel has concertized throughout the United States, Europe and Asia as a soloist and chamber musician. A founding member of the San Francisco-based Cypress String Quartet, Kloetzel has performed at such renowned venues as Lincoln Center, the Kennedy Center for the Performing Arts, the Chautauqua Institute and the Ravinia Festival, the Lobkowicz Palaces in both Vienna and Prague, as well as prominent colleges and conservatories worldwide.
Kloetzel is noted for her elegant playing and her vibrant tone. She is a sought-after recitalist, performing concerts for San Francisco Performances and on WQXR Radio in New York. A champion of new music, she has received the Copland Award for her work with living American composers and has premiered over 50 works, including five concertos written specifically for her. Upcoming world premieres include sonatas by Richard Aldag and Elena Ruehr and 'Inferno: Double Concerto for Viola, Cello & Chamber Orchestra' by Joel Friedman, as well as six 'companion' pieces commissioned to pair with the Bach Cello Suites.
Kloetzel has been featured regularly on National Public Radio's Performance Today, and her performances have been broadcast on radio stations from coast to coast. A passionate recording artist with 36 CD releases to date, recent recordings include the entire cycle of Beethoven Quartets and Brahms Sextets on the Avie label. In 2016, Kloetzel was invited to join the faculty at University of California Santa Barbara, where she is Professor of Cello and serves as Head of both the String and Performance areas.
Robert Koenig
Grammy-nominated pianist Robert Koenig's career as a collaborative artist and chamber musician has taken him to many of the world's most important stages including New York's Carnegie Hall and Lincoln Center, Washington's Kennedy Center for the Performing Arts, Boston's Jordan Hall, San Francisco's Herbst Theater, Tokyo's Suntory Hall, Taiwan's National Theater, London's Queen Elizabeth Hall, Paris's Louvre Museum, and Amsterdam's Concertgebouw. Recital appearances have included collaborations with musicians such as Augustin Hadelich, Sarah Chang, Hilary Hahn, Pamela Frank, Kyoko Takezawa, Esther Yoo, Paul Huang, Roberto Díaz, Zuill Bailey, Jennifer Kloetzel, the Miro and St. Lawrence String Quartets, and members of the Tokyo and Juilliard String Quartets. Koenig's partnership with legendary late violinist Aaron Rosand resulted in recital tours, in addition to a recorded legacy of live performances. His recordings include a GRAMMY- nominated CD of William Primrose's Transcriptions for Viola and Piano with violist Roberto Díaz, as well as recordings for Decca, Cedille, Eroica, Ambassador, Centaur, and CRI.
A native of Saskatchewan, Canada, Koenig is a graduate of the Curtis Institute of Music in Philadelphia. He was formerly Professor of Piano and Chamber Music at the University of Kansas in Lawrence. Since 2007, Koenig has been Professor and Head of Collaborative Piano at the University of California Santa Barbara, where he also serves as the Chair of the Music Department. His summers are spent at the Interlochen Summer Arts Camp where he is Coordinator of Collaborative Piano.


Booklet für Beethoven: The Conquering Hero – Complete Works for Cello and Piano