---
Album Info
Album Veröffentlichung:
2020
HRA-Veröffentlichung:
17.09.2020
Das Album enthält Albumcover
1

Tapedeck

00:19

2

Toxic Brother

02:37

3

Crystals in the Sky

04:04

4

I'm Your President

02:30

5

Love Your Smell

03:24

6

The Operator

05:25

7

Cybernova

04:26

8

Hit on Your Girl

06:01

9

Lonely Rider

06:08

10

Gloria

03:01

11

The Beetle

03:20

12

Desire

03:53

Total Runtime

45:08
Info zu Cyberfunk!
Das international phänomenale Psych-Rock-Trio Mother's Cake gibt sich auf seinem fünften Album passend: sky high, far out und trotzdem erdig. Über ein Jahr vorbereitet, an mehreren schlafentzogenen 72-Stunden-Sessions produziert, konzentrieren sich Mother's Cake in den zwölf neuen Tracks von »Cyberfunk!« auf das Wesentliche: sie bündeln ihre roughe Live-Energie zu einem dynamisch dichten und immer wieder überraschenden Album, das nach Vintage-Wahnsinn klingt und voll in den Moment passt.
»Cyberfunk!« entstand, dem Albumtitel zum Trotz, nahezu klassisch, zu dritt in einem Raum, immer gleich so wie es klingen soll, mit deutlich weniger Overdubs, mehr echtem Bandsound und der Magie des gemeinsamen Band-recording. Dass dabei die Vocals von Yves Krismer mehr ins Mark treffen und in den Vordergrund treten, spricht für die Entwicklung der Band. Der Weg von Mother's Cake hat die Band über hunderte von Konzerten zwischen Manchester, Melbourne und Mumbai, Auftritten mit Wolfmother, Iggy & The Stooges, Omar Rodriguez Lopez, Alice In Chains oder Limp Bizkit, dazu drei erfolgreiche Studioalben und ihr »Live at Pompeji«-Tribut auf der Ski-Schanze von Bergisl aus dem letzten Jahr direkt zurück zu den eigenen Wurzeln geleitet.
Mother's Cake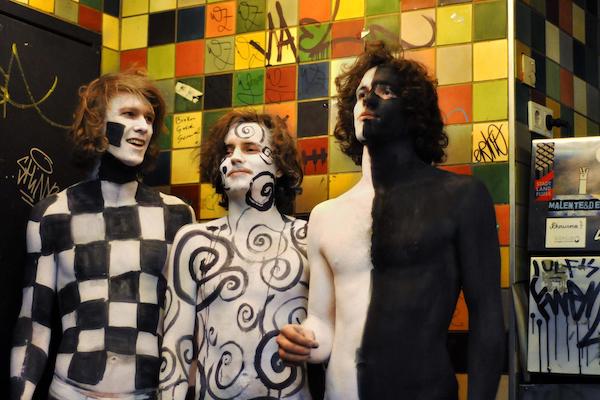 Mother's Cake
ounded in late 2008, Mother's Cake signed with GAB Music. Their debut "Creation's Finest" (release-date: 26-10-2012) was produced by Georg Gabler and got featured by Ikey Owens († 2014, member of The Mars Volta & Jack White). Creation's Finest created a big stir in national and international music press and ensured Mother's Cake a firm stand in the business.
The first single "Soul Prison" (17-08-2012) reached over 250,000 views on Youtube.
In 2013, they got awarded with the "Austrian Newcomer Award″ and played many sold-out shows including support gigs for Iggy and the Stooges, Omar Rodriguez Lopez Group, Deftones and Tito & Tarantula.
The "Endless Space Tour 2014″ led them to Australia in February 2014. They band was welcomed cordially in Down Under and successfully played 12 shows in 2 weeks. On April 4, Mother's Cake released their debut in Germany, played a tour there and announced their new video project.
"Off The Beaten Track" presents itself as a 45-minutes long movie that features a whole live-set of Mother's Cake. It was funded successfully through a crowd-funding project and was officially released on July 17, 2014.
In fall 2014, Mother's Cake supported Anathema on their Distant Satellites tour leading through 20 countries playing 42 shows in 56 days.
Their second studio album "Love The Filth" released on June 5, 2015 via the new founded label Panta R&E including the single "Gojira". Again the reviews were euphoric. As a consequence of this circumstance Mother's Cake are announced as support of Limp Bizkit on four shows, one of them in London.
In 2016, Mother's Cake headlined again in Germany, recorded their 3rd studio album and went on tour with Bobby Liebling's Pentagram and Wolfmother. On January 27th 2017, they released No Rhyme No Reason via Membran Media/The Orchard and showcased at Eurosonic Noorderslag in Groningen, The Netherlands. Sold out shows followed in Melbourne, Brisbane and Sydney at a 7- dates-tour through Australia. Only until April the band played 44 shows in Australia, Germany, Austria and Switzerland with 11 sold out shows. A special highlight was the tour's ending in Vienna with 800 people at the Arena and another 38 shows were booked for the following fall. In 2018, the heavy touring mode was kept up and so the powerhouse played more than 100 shows in the UK, Romania, Hungary, Germany, Croatia, Bulgaria, Austria and Switzerland. Additionally, they performed two shows at the Great Escape in Brighton and one at Liverpool's Soundcity, which was followed by the nomination for the Austrian Amadeus Award in the category "Hard & Heavy". In July, the band was invited to play 4 Shows with Alice in Chains. On September 17th, Mother's Cake released their 2nd live album Live at Bergisel via Membran/The Orchard /SONY, where they recorded the whole album in the famous Austrian skijumping arena in Innsbruck, accompanied by breathtaking videos documenting this mad stunt. In January 2019, the band played their first shows in India at the The Humming Tree in Bangalore and the Sula Fest near Mumbai.


Dieses Album enthält kein Booklet