---
Album Info
Album Veröffentlichung:
2018
HRA-Veröffentlichung:
03.10.2019
Das Album enthält Albumcover
Entschuldigen Sie bitte!
Sehr geehrter HIGHRESAUDIO Besucher,
leider kann das Album zurzeit aufgrund von Länder- und Lizenzbeschränkungen nicht gekauft werden oder uns liegt der offizielle Veröffentlichungstermin für Ihr Land noch nicht vor. Wir aktualisieren unsere Veröffentlichungstermine ein- bis zweimal die Woche. Bitte schauen Sie ab und zu mal wieder rein.
Wir empfehlen Ihnen das Album auf Ihre Merkliste zu setzen.
Wir bedanken uns für Ihr Verständnis und Ihre Geduld.
Ihr, HIGHRESAUDIO
1

How Deep Is The Ocean (Live)

12:48

2

500 Miles High (Live)

11:02

3

Crepuscule With Nellie (Live)

06:40

4

Work (Live)

04:54

5

But Beautiful (Live)

09:01

6

La Fiesta (Live)

07:10

7

Eiderdown (Live)

11:07

8

All Blues (Live)

11:35

9

Pastime Paradise (Live)

08:26

10

Now He Sings, Now He Sobs (Live)

16:18

11

Serenity (Live)

07:39

12

Lotus Blossom (Live)

10:12

Total Runtime

01:56:52
Info zu Trilogy 2
When an iconic pianist like Chick Corea gets together with such modern masters as bassist Christian McBride and drummer Brian Blade, perhaps it should come as no surprise that the music they create together is absolutely magical. Their 2014 release Trilogy earned universal acclaim, including a pair of GRAMMY Awards (Best Jazz Instrumental Album and Best Improvised Jazz Solo for "Fingerprints"), and confirmed the trio as one of Corea's most revered ensembles.
Despite sprawling across three jam-packed albums, Trilogy left fans everywhere clamoring for more. So when the three virtuosos reunited for another world tour, the results were captured for posterity and the highlights are now collected on the long-awaited follow-up, Trilogy 2. Set for release on October 4, 2019 via Concord Jazz, the double album is another treasure trove of sparkling energy and thrilling in-the-moment invention.
Each member of this trio is a giant in the jazz world and beyond, but the peerless chemistry they share elevates their collaborations into the realm of the truly special. Even before coming together as a self-contained unit, the three had gelled on tour with Corea's Five Peace Band, an electrifying all-star ensemble he co-founded with fellow legend, guitarist John McLaughlin, and featuring Kenny Garrett on saxophone. On their own, the trio pairs high-caliber musicianship with an easy camaraderie, making for music that is as artistically exhilarating as it is fresh and playful.
"In every group that I work with, the fun factor is the number one criterion," Corea says. "This trio is incredible fun. That's not something you can dictate, but if that's the experience then the music just flows. With Christian and Brian, we have a blast on the road."
That feeling is captured throughout Trilogy 2, which features tracks hand-picked by Corea from throughout the trio's recent world tour. The albums capture the feel of a concert program, both in the flow of the music and in the illuminating recording by Bernie Kirsh, Corea's longtime engineer. The material spans a range of inspirations, from American Songbook standards to jazz classics, reaching back into Corea's own catalogue as well as that of some of his most renowned collaborators, including Miles Davis and Joe Henderson.
Corea likens the experience of playing live with this trio to "taking a stroll down the street and having a casual conversation. We have a pretty extensive repertoire of songs, and because of the looseness of the trio each one becomes a new thing every time we approach it."
After briefly welcoming an audience in Bologna and introducing his "genius partners," Corea kicks off the program with an incisive, querying solo introduction to "How Deep Is the Ocean?" – one of only two tracks reprised from the original Trilogy. Over the next twelve minutes the trio plumbs the depths of the familiar standard, seemingly intent on exhausting every possible answer to the titular philosophical question. From the depths to the heavens, they follow up with Corea's own "500 Miles High," originally recorded by the first incarnation of Return to Forever in 1972.
The trio delves into Corea's composition book for two other pieces on the album. "La Fiesta" dates back to the first Return to Forever album and showcases the pianist's passion for Latin music, a side that he explored earlier this year with the release of Antidote, the debut of his Spanish Heart Band. "Now He Sings, Now He Sobs" is the title track to Corea's first-ever trio album (and only the second release to his name), recorded in 1968 with Miroslav Vitous and Roy Haynes. This marks his first official recording of the tune since then; McBride and Blade both requested it for this tour, and the result is the set's most expansive excursion.
"More than being a pianist," Corea says, "I always think of my basic purpose as being a composer. Though I love playing the piano, too. Thelonious Monk was a model for me in that regard. He was a composer, a piano player, and a bandleader, who defied so many conventions and created a body of work that is completely up there with Stravinsky and Mozart, in my opinion."
Monk's compositions are as ubiquitous a part of Corea's live repertoire as are his own tunes, and Trilogy 2 offers a pair of the jazz icon's eccentric pieces. "Crepuscule with Nellie" is a favorite of jazz pianists (despite Corea's admission to a lifelong misreading of the title), taken here at a warm, leisurely pace. "Work" is a more obscure selection, though a particular favorite of Corea's; it also appears on the first Trilogy, and he recently arranged it for Wynton Marsalis' Jazz at Lincoln Center Orchestra.
"'Work' is a quirk," Corea jokes. "Monk was a quirk, for that matter – the most genius, amazing quirk in the music world. His tunes are incredibly fun to play and rework."
The trio's romantic side emerges on a lovely reading of Jimmy Van Heusen's "But Beautiful," featuring lush brushwork from Blade, an elegant, wistful solo by Corea and a breathtakingly lyrical turn from McBride. The pace picks up for bassist Steve Swallow's "Eiderdown," its sharp turns unleashing a ricocheting, rapid-fire back-and-forth between Blade and Corea.
Corea's arrangement of Stevie Wonder's classic "Pastime Paradise" was sparked by a suggestion from the soul genius himself. "I've been friends with Stevie since he used to come around to listen to Return to Forever in 1973 at The Bitter End," Corea says. "A few years ago Stevie sat in with us at Catalina's in Los Angeles and we went out to dinner afterwards. We were talking about songs and I was using the term 'standards,' and Stevie turned to me and said, 'Hey Chick, what do you think about playing some new standards?' I thought that was interesting and asked, 'What do you mean?' And he said, 'You know – my music!' He was kind of kidding around, but not completely, and I thought that was a great idea."
"All Blues," of course, harkens back to Kind of Blue, the landmark album by Corea's famed former bandleader, Miles Davis. The trio takes the tune at a loose, buoyant tempo that's as infectiously fun to listen to as it undoubtedly was to perform. Corea also spent some formative years in the band of tenor giant Joe Henderson, whose "Serenity" (another McBride suggestion) is rendered in a smoldering take featuring the bassist's fleet, muscular solo. The piece is tied in Corea's memory with the closing tune, Kenny Dorham's "Lotus Blossom."
As the pianist recalls, "I spent a great, memorable week playing with Kenny at the Jazz Workshop in Boston when he and Joe Henderson had their quintet with Reggie Workman and Joe Chambers. We played 'Lotus Blossom' and 'Blue Bossa' and some of Joe's tunes. That was a really pleasant memory for me."
At the age of 78 Corea continues to generate indelible memories for audiences around the world. No doubt the performances captured on Trilogy 2 have lingered in the imaginations of the audiences fortunate enough to catch them live; now they get to live on in the minds of jazz lovers everywhere.
Chick Corea, piano
Christian McBride, bass
Brian Blade, drums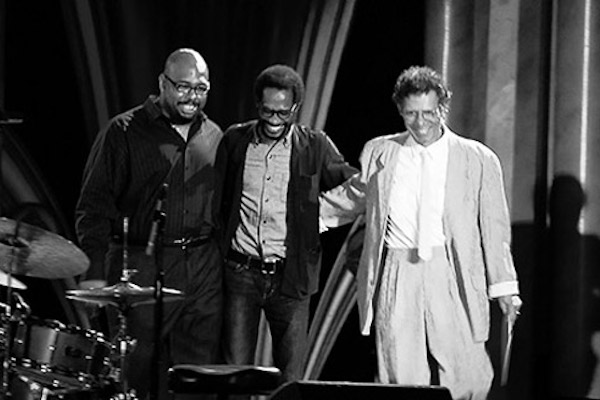 Chick Corea
Since embarking on a solo career in 1966, Chick has been at the forefront of jazz, both as a renowned pianist forging new ground with his acoustic jazz bands and as an innovative electric keyboardist with Return to Forever, the Elektric Band, and now the electro/acoustic Vigil.
His extensive discography boasts numerous albums, beginning with his 1968 classic, Now He Sings, Now He Sobs.
A DownBeat Hall of Famer and NEA Jazz Master, 22-time Grammy winner, and keyboard virtuoso, Chick Corea has attained living legend status after five decades of unparalleled creativity and an artistic output that is simply staggering.
Chick is the fourth-most-nominated artist in the history of the Grammys, with 63 nominations. He's also earned 3 Latin Grammy Awards, the most of any artist in the Best Instrumental Album category.
From straight ahead to avant-garde, bebop to fusion, children's songs to chamber music, along with some far-reaching forays into symphonic works, Chick has touched an astonishing number of musical bases in his illustrious career while maintaining a standard of excellence that is awe-inspiring. A tirelessly creative spirit, Chick continues to forge ahead, continually reinventing himself in the process.
Christian McBride
Six-time GRAMMY®-winning jazz bassist Christian McBride can be likened to a force of nature, fusing the fire and fury of a virtuoso with the depth and grounding of a seasoned journeyman. Powered by a relentless energy and a boundless love of swing, McBride's path has described a continuous positive arc since his arrival on the scene. With a career now blazing into its third decade, the Philadelphia native has become one of the most requested, most recorded, and most respected figures in the music world today.
Raised in a city steeped in soul, McBride moved to New York in 1989 to pursue classical studies at the Juilliard School. There he was promptly recruited to the road by saxophonist Bobby Watson. Call it a change in curriculum: a decade's worth of study through hundreds of recording sessions and countless gigs with an ever-expanding circle of musicians. He was finding his voice, and others were learning to listen for it.
In 2000 the lessons of the road came together in the formation of what would become his longest-running project, the Christian McBride Band. Praised by writer Alan Leeds as "one of the most intoxicating, least predictable bands on the scene today," the CMB—saxophonist Ron Blake, keyboardist Geoffrey Keezer, and drummer Terreon Gully—have been collectively evolving McBride's all-inclusive, forward-thinking outlook on music through their incendiary live shows, as chronicled on 2006's Live at Tonic. Part excursion, part education, the CMB is a vehicle built on a framework of experience and powered by unfettered creativity: a mesmerizing dance on the edge of an electro-acoustic fault line. ...
Brian Blade
has set those words to music for his first recording as a singer, guitarist and songwriter: Mama Rosa is a revealing journey through thirteen songs about family, loved ones, travels and a sense that these things that shape and inspire us have to be shared with others to complete a circle. He has been writing and recording material with words for as long as he's been making music. In fact, Mama Rosa grew naturally from the four-track home demos that he's recorded over the years and several of the original performances from those tapes can be heard on this album. Initially, Blade felt that these songs would never be heard by anyone else, but after encouragement from longtime friend Daniel Lanois, these home recordings became the cornerstones for the album. There is an initial spark close to the moment of inspiration and that intimate vibe is felt throughout Mama Rosa.
"For some time now, these songs have existed in the solitude of my room, and I got a lot of joy and satisfaction from just knowing that they existed," Blade says. "But at a certain point I questioned whether it was fear or selfishness that kept me quiet. Facing the music and the mirror, I began to ask if this was the end of the process? What does God expect of me? Maybe someone else might find some inspiration in the songs."
The lyrical themes of home, memories and loved ones, and how they shape who we are, are reflected in Blade naming the album after his grandmother. Rosa is the subject of the album's vivid opening track "After The Revival." Sung from the perspective of his mother Dorothy Blade, expecting the birth of her first son, Brian's older brother, Brady, Jr. "After the Revival" also alludes to Blade's early years at the Zion Baptist Church in Shreveport, Louisiana, where his father is pastor, and where Brian first started singing and playing the drums.
The multi-talented young veteran is already widely respected in the jazz world as drummer/composer/leader of Brian Blade and The Fellowship Band, with whom he has released three albums. He is also known as the drummer for many heroes of the music world, including Daniel Lanois, Joni Mitchell, Bob Dylan, Wayne Shorter, Seal, Bill Frisell and Emmylou Harris. Blade is always searching for the balance that gives a song a personal story with an outward reaching resonance. One such song of memories is entitled, "Second Home," a tribute to his teacher, John Vidacovich, and the city of New Orleans where Brian met Fellowship band mates Jon Cowherd and Chris Thomas. He lived in the crescent city for seven years while studying with musical masters Ellis Marsalis, David Lee, Jr. Bill Huntington, Mike Pellera, George French, Germaine Bazzle, Steve Masakowski and John Mahoney. Mama Rosa marks a new endeavor for Blade: a lovingly crafted, emotionally affecting song cycle that's deeply rooted in a rich vein of personal experience. "All That Was Yesterday", "You'll Always Be My Baby" and "Nature's Law" show Blade to be a soulful and expressive vocalist and a songwriter capable of rendering evocative stories that resonate with insight and empathy. "Revealing more of ourselves is always daunting," says Blade, "but I feel like I need to keep challenging myself and peeling away layers to get to the core of who I am and what I have to offer."
Mama Rosa's organic musical palette showcases Blade's diverse talents on acoustic guitar and drums, and one of the people who has inspired Blade for many years now, longtime friend and music maker champion, Daniel Lanois. Lanois is the featured soloist on Mama Rosa, offering perfectly formed and spiritually elevating Firebird guitar improvisations on the songs "At The Centerline," "Mercy Angel," "All That Was Yesterday" and "Her Song." In addition, guitarist Goffrey Moore, steel guitar virtuoso Greg Leisz, bassist Jenny lee Lindberg (Warpaint ), singer/songwriters Aaron Embry (Amnion), John Bigham (The Soul of John Black), Rocco Deluca and Daryl Johnson, and the Fellowship Band members Jon Cowherd, Chris Thomas and Kurt Rosenwinkel all help to serve the songs brilliantly. A deep sense of brotherhood echoes throughout the entire recording. Kelly Jones, a truly gifted songstress, blends beautifully with Blade on "Mercy Angel" and "Get There." Hearing them together brings to mind the inspiration and long history of touching duos, including Fred and Annie Mae Macdowell, George Jones and Tammy Wynette, Marvin Gaye and Tammi Terrell, Porter Wagoner and Dolly Parton, Johnny and June Carter Cash, Donny Hathaway and Roberta Flack and Sullivan and Iola Pugh (The Consolers). In addition to Blade's original compositions, the album features a memorable adaptation of Brazilian music icon Milton Nascimento's "Faithful Brother," as well as the pair of atmospheric instrumentals, "All Gospel Radio" and "Psalm 100."
"I hope that people will find some personal joy in these songs from Mama Rosa. The real challenge is to be honest with myself and to let more of who we are be seen and heard as the songs reveal themselves."
Brian Blade was born on July 25, 1970 in Shreveport, Louisiana. His mother, Dorothy Blade is a retired kindergarten teacher and his father, Brady L. Blade, Sr. is the pastor of the Zion Baptist Church in Shreveport. During his childhood, Brian would hear Gospel music in his everyday life, as well as the music of Al Green, Stevie Wonder, Earth, Wind and Fire, and the Staple Singers. In elementary school, his music appreciation teacher, Lucy Bond, introduced her students to the music of Maurice Ravel and in this class, Brian would play the recorder and various melodic percussion instruments associated with the Carl Orff pedagogy. ...


Dieses Album enthält kein Booklet