---
Album Info
Album Veröffentlichung:
1962
HRA-Veröffentlichung:
24.02.2023
Das Album enthält Albumcover
Entschuldigen Sie bitte!
Sehr geehrter HIGHRESAUDIO Besucher,
leider kann das Album zurzeit aufgrund von Länder- und Lizenzbeschränkungen nicht gekauft werden oder uns liegt der offizielle Veröffentlichungstermin für Ihr Land noch nicht vor. Wir aktualisieren unsere Veröffentlichungstermine ein- bis zweimal die Woche. Bitte schauen Sie ab und zu mal wieder rein.
Wir empfehlen Ihnen das Album auf Ihre Merkliste zu setzen.
Wir bedanken uns für Ihr Verständnis und Ihre Geduld.
Ihr, HIGHRESAUDIO
1

Boom Boom (Stereo)

02:35

2

Process (Stereo)

03:50

3

Lost A Good Girl (Stereo)

02:53

4

A New Leaf (Stereo)

02:31

5

Blues Before Sunrise (Stereo)

03:52

6

Let's Make It (Stereo)

02:30

7

I Got A Letter (Stereo)

02:46

8

Thelma (Stereo)

03:34

9

Drug Store Woman (Stereo)

02:49

10

Keep Your Hands To Yourself (Stereo)

02:13

11

What Do You Say (Stereo)

02:33

12

Thelma (Alternate Take)

03:44

13

Boom Boom (Mono)

02:35

14

Process (Mono)

03:50

15

Lost A Good Girl (Mono)

02:53

16

A New Leaf (Mono)

02:31

17

Blues Before Sunrise (Mono)

03:52

18

Let's Make It (Mono)

02:30

19

I Got A Letter (Mono)

02:46

20

Thelma (Mono)

03:33

21

Drug Store Woman (Mono)

02:49

22

Keep Your Hands To Yourself (Mono)

02:13

23

What Do You Say (Mono)

02:30

Total Runtime

01:07:52
Info zu Burnin' (Expanded Edition Mono Remastered)
Jubiläumsedition des Blues-Klassikers: Craft Recordings feiert den 60. Jahrestag von John Lee Hookers elektrisierendem Blues-Album Burnin'.
Manchmal braucht es nur einen Tag, um eine Sternstunde zu kreieren. Während im November 1961 ein junger Folksänger in New York allein mit seiner akustischen Gitarre dabei war, sein Debüt aufzunehmen, versammelte John Lee Hooker, der sich schon im April die Bühne im Gerde's Folk City mit ebenjenem vielversprechenden Talent geteilt hatte, in Chicago die versiertesten Musiker, die Motown zu bieten hatte, im Studio, um den entscheidenden Schritt in seiner mehr als fünf Jahrzehnte andauernden Karriere einzuleiten.
Auch er hatte als Solokünstler begonnen und schon 1948 mit dem treibenden "Boogie Chillen" einen Top-Hit in den R&B-Charts gelandet. Elektrische Gitarre, rhythmisches Stampfen und eine Stimme, die erlebt hatte, wovon sie sang, genügten. Als Solist konnte Hooker seiner Neigung, mitten in den Songs das Tempo zu variieren oder spontane Ideen einzuflechten, ungehemmt nachgehen. Für Sidemen jeglicher Art ein Alptraum, nicht jedoch für die sechs Cracks, die bald als The Funk Brothers Legenden wurden. Völlig unbeirrt folgten sie noch der kleinsten Wendung. Nach einer einzigen Session war alles in trockenen Tüchern.
Die ausgekoppelte Single "Boom Boom" war es dann, die bei jungen englischen Blues-Adepten das Blut gehörig in Wallung brachte. Dreißig Jahre später wurde ausgerechnet ein Werbespot zum Infektionsherd für die übernächste Generation. Die zehn noch folgenden, von Vee-Jay-Mastermind Calvin Carter produzierten Songs, darunter "Blues Before Sunrise", "Drug Store Woman" und "Keep Your Hands To Yourself" mit seinem nicht zu überhörenden Schuss "Tequila", hielten das einmal entfachte Feuer problemlos am Brennen. Zum etwas verspäteten Jubiläum wartet die Vinyl-Version neben einer gelungenen Reproduktion des ikonischen Covers mit einem von Kevin Gray feinfühlig remasterten Stereo-Mix auf.
John Lee Hooker, Gitarre, Gesang
Hank Cosby, Tenorsaxophon
Andrew "Mike" Terry, Baritonsaxophon
Joe Hunter, Klavier
Larry Veeder, Gitarre
James Jamerson, Bass
Benny Benjamin, Schlagzeug
Digitally remastered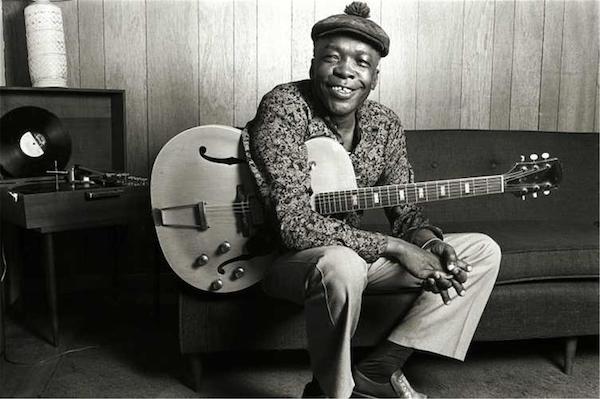 John Lee Hooker
Known to music fans around the world as the "King of the Boogie," John Lee Hooker endures as one of the true superstars of the blues genre: the ultimate beholder of cool. His work is widely recognized for its impact on modern music – his simple, yet deeply effective songs transcend borders and languages around the globe. Each decade of Hooker's long career brought a new generation of fans and fresh opportunities for the ever-evolving artist. He never slowed down either: As John Lee Hooker entered his 70s, he suddenly found himself in the most successful era of his career – reinvented yet again, and energized as ever, touring and recording up until his passing in 2001.
Born near Clarksdale, Mississippi on August 22, 1917 to a sharecropping family, John Lee Hooker's earliest musical influence came from his stepfather, William Moore ̶— a blues musician who taught his young stepson to play the guitar, and whom John Lee later credited for his unique style on the instrument.
By the early 1940s, Hooker had moved north to Detroit by way of Memphis and Cincinnati. By day, he was a janitor in the auto factories, but by night, like many other transplants from the rural Delta, he entertained friends and neighbors by playing at house parties. "The Hook" gained fans around town from these shows, including local record store owner Elmer Barbee. Barbee was so impressed by the young musician that he introduced him to Bernard Besman ̶ a producer, record distributor and owner of Sensation Records. By 1948, Hooker ̶ now honing his style on an electric guitar ̶ had recorded several songs for Besman, who, in turn, leased the tracks to Modern Records. Among these first recordings was "Boogie Chillun," (soon after appearing as "Boogie Chillen") which became a number one jukebox hit, selling over a million copies. This success was soon followed by a string of hits, including "I'm in the Mood," "Crawling Kingsnake" and "Hobo Blues." Over the next 15 years, John Lee signed to a new label, Vee-Jay Records, and maintained a prolific recording schedule, releasing over 100 songs on the imprint.
When the young bohemian artists of the 1960s "discovered" Hooker, among other notable blues originators, he found his career taking on a new direction. With the folk movement in high gear, Hooker returned to his solo, acoustic roots, and was in strong demand to perform at colleges and folk festivals around the country. Across the Atlantic, emerging British bands were idolizing Hooker's work. Artists like the Rolling Stones, the Animals and the Yardbirds introduced Hooker's sound to new and eager audiences, whose admiration and influence helped build Hooker up to superstar status. By 1970, Hooker had relocated to California and was busy collaborating on several projects with rock acts. One such collaboration was with Canned Heat, which resulted in 1971's hit record Hooker 'n' Heat. The double LP became John Lee Hooker's first charting album.
Throughout the late 1970s and 1980s, John Lee toured the U.S. and Europe steadily. His appearance in the legendary Blues Brothers movie resulted in a heightened profile once again. Then, at the age of 72, John Lee Hooker released the biggest album of his career, The Healer. The GRAMMY® Award-winning 1989 LP paired contemporary artists (Bonnie Raitt, Carlos Santana, Los Lobos and George Thorogood, among others) with Hooker on some of his most famous tracks. The Healer was released to critical acclaim and sold over one million copies. The Hook rounded out the decade as a guest performer with the Rolling Stones, during the national broadcast of their 1989 Steel Wheels tour.
With his recent successes, John Lee entered the 1990s with a sense of renewed inspiration. Not only was the decade a time of celebration and recognition for the legendary artist, but it was also a highly productive era. He released five studio albums over the next few years, including Mr. Lucky, which once again teamed up Hooker with an array of artists; Boom Boom, which aimed to introduce new fans to his classic material; the GRAMMY® Award-winning Chill Out; and a collaboration with Van Morrison, Don't Look Back, which also garnered two awards at the 1997 GRAMMYs®. Throughout the decade, Hooker's great body of work and contributions to modern music were being recognized not only by his peers, but also by a younger generation. He became a familiar face in popular culture, with appearances on The Tonight Show and Late Night with David Letterman. In 1990, a massive tribute concert took place at New York's Madison Square Garden, featuring Hooker and an all-star lineup of guest artists. One year later, John Lee was inducted into the Rock & Roll Hall of Fame, while in 1997, he was presented with a star on the Hollywood Walk of Fame. In 2000, shortly before his death, John Lee Hooker was recognized with a GRAMMY® Lifetime Achievement Award, and just one week before his passing, ever true to form, the bluesman spent his final Saturday night playing a now-legendary show to a packed house at the Luther Burbank Center for the Arts in Santa Rosa, CA.
The Hook continues to live on: His music can regularly be heard in TV shows, commercials and films, and many of his tracks have also found a second life sampled in new songs – by the likes of R&B star Brandi, hip-hop legend Chuck D and French electronic musician St Germain, among many others. Most recently, his iconic recording, the 1962 Vee-Jay Records single "Boom Boom," was inducted into the 2016 GRAMMY® Hall of Fame.


Dieses Album enthält kein Booklet