---
Album Info
Album Veröffentlichung:
2018
HRA-Veröffentlichung:
16.02.2018
Das Album enthält Albumcover Booklet (PDF)
Michael Hersch (1971- ): Images from a Closed Ward:

1

I. —

07:13

2

II. —

01:23

3

III. —

07:04

4

IV. —

02:00

5

V. —

04:15

6

VI. —

01:03

7

VII. —

08:19

8

VIII. —

01:13

9

IX. —

06:53

10

X. —

03:08

11

XI. —

10:06

12

XII. —

06:51

13

XIII. —

05:46

Total Runtime

01:05:14
Info zu Michael Hersch: Images from a Closed Ward
The genesis of composer Michael Hersch's Images from a Closed Ward, recorded here in its revised version by the FLUX Quartet, traces back to his time in Italy in 2000, while Hersch was a Fellow at the American Academy in Rome. During his residency, Hersch encountered an exhibit of etchings inspired by a new translation of Dante's Inferno by American artist Michael Mazur. The two recognized in each other a shared sensibility and cultivated a collaborative working relationship and admiration. The piece we hear on this recording was inspired by Mazur's series of etchings and lithographs of inmates in a Rhode Island mental institution in the early 1960s. Whether the music is harsh and violent, or wrenchingly introverted, it retains a quality of utter psychological and spiritual isolation. Michael Mazur's powerful artwork, alongside often shocking photographs by Gianni Berengo Gardin, Jerry Cooke and others, are included in the accompanying CD booklet, lending context to the presentation of Hersch's music.
The Philadelphia Inquirer wrote of the music, "Much of the piece uses the string quartet medium to create sonorities that might be paradoxically described as vividly pale, against which there are dabs of more bold colors or short themes, vaguely pointing in several possible directions that are left unpursued. Rarely is there a completed thought: All movements end inconclusively, often with several seconds of designated silence that freezes the musical idea in suspended animation. … Emphatic, fortissimo dissonance suggests unsolvable crisis. One movement tosses and turns, like an ill person trying to find a position without pain. … This isn't at all what W.B. Yeats had in mind when coining the term 'terrible beauty,' but it fits ... the journey left you in a figurative blindfold taken off momentarily to glimpse another previously unimaginable terrain."
"Like the series of lithographs and etchings by Michael Mazur that inspired it, this 13-movement string quartet by Michael Hersch is dark and unsettling. And like those black-and-white images of inmates of a mental hospital in the 1960s, Mr. Hersch's music is beautiful in a timeless, eternal-night sort of way. The fine Blair Quartet brings intensity and suspense to the dense harmonies that move by turns with creeping dread and desperate urgency." (The New York Times)
"Commissioned by the Blair String Quartet, who throw themselves into the recording as if not only their life but the composer's as well depended on the relentless intensity of every bar, Michael Hersch's 'Images From a Closed Ward' demonstrates the extreme musical and emotional lengths to which a composer and a string quartet will go these days to maintain a serious relationship. Hersch's grim graphic quartet responding to Michael Mazur's etchings and lithographs of inmates in a Rhode Island psychiatric hospital during the early 1960s lives a separate though equally haunted life from its visual inspiration. It tells no narrative story, only disquieting human agony. Although the music's searing pain and endless despair, desperately trying to escape mortality - which erupts most violently in the 10-minute 11th movement - never really subside, a radiant core seems to emerge in the third of the music's 13 untitled movements. This core leads gradually over time to the possibilities of peace through release and consolation ..." (Gramophone Magazine)
The FLUX Quartet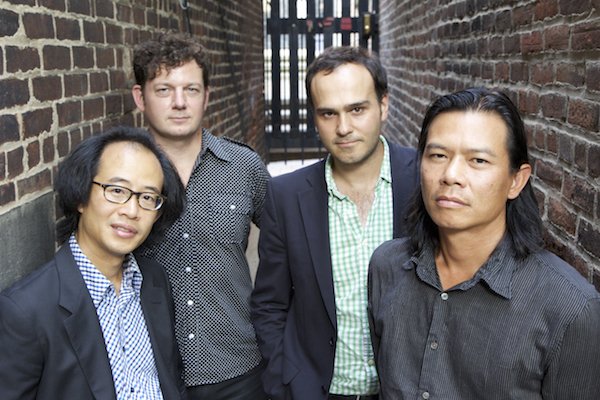 FLUX Quartet
(Tom Chiu, Conrad Harris, Max Mandel and Felix Fan) was founded in the late 90's and is strongly influenced by the irreverent spirit and "anything-goes" philosophy of the fluxus art movement. The quartet has since cultivated an uncompromising repertoire that follows neither fashions nor trends, but rather combines yesterday's seminal iconoclasts with tomorrow's new voices. Alongside late 20th-century masters like Cage, Feldman, Ligeti, Nancarrow, Scelsi and Xenakis, the FLUX Quartet has premiered more than 100 works by many of today's foremost innovators, including Michael Byron, Julio Estrada, David First, Oliver Lake, Alvin Lucier, Marc Neikrug, Matthew Welch; the group has also performed with many influential artists, including Thomas Buckner, Ornette Coleman, Joan La Barbara, Wadada Leo Smith, Henry Threadgill and many more.
The quartet has performed at Carnegie's Zankel Hall, the Kennedy Center, the Chihuahua International Arts Festival in Mexico and at the Samuel Beckett Centenary Festival in Ireland, as well as such art institutions as the Kitchen, EMPAC and the Walker Art Center. Their radio credits include NPR's All Things Considered, WNYC's Soundcheck and WFMU's Stochastic Hit Parade.The group's discography includes recordings on the Cantaloupe, Innova, Tzadik and Cold Blue Music labels, in addition to two critically acclaimed releases on Mode Records that encompass the full catalogue of string quartet works by Morton Feldman. The two volumes feature String Quartet No.1 and String Quartet No.2—seminal large-scale late works by the iconic composer.
As part of its mission to support future musical pioneers, FLUX actively pursues commissions with recent grants from the American Composers Forum, USArtists International, Aaron Copland Fund, and the Meet The-Composer Foundation. The group also explores new voices from its numerous college residencies throughout the US, including Wesleyan, Dartmouth, Williams, Princeton, Rice, and the College of William and Mary.
The spirit to expand stylistic boundaries is a trademark of the FLUX Quartet, and thus the quartet avidly pursues projects with genre-transcending artists working in mixed media. These artistic synergies have led to an acclaimed recording with experimental balloonist Judy Dunaway, collaborations with choreographers Pam Tanowitz and Shen Wei, and the 3-D video work Upending with digital art-ensemble, OpenEnded Group. Most recently, FLUX appeared both on film and the soundtrack of River of Fundament, the latest work by visionary artist Matthew Barney and composer Jonathan Bepler.


Booklet für Michael Hersch: Images from a Closed Ward